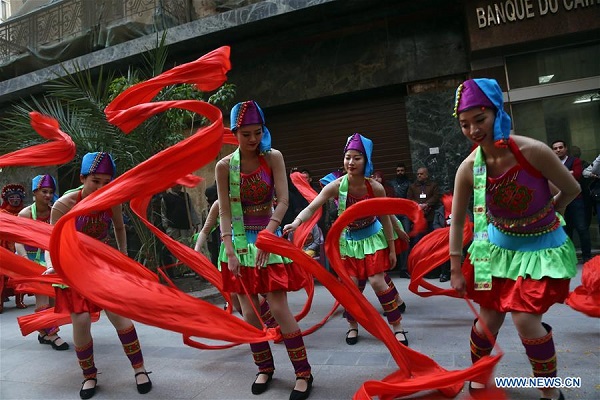 [Photo/Xinhua]
The Chongqing Disabled Art Troupe from China is winning hearts with its ongoing dance show in the Egyptian capital Cairo.
Through its performance of traditional Chinese dance, the troupe members, who suffer from hearing disabilities, have won admiration and respect.
Aya Salam, an 18-year-old college student, says she was impressed by the harmony of the artists and their ability to perform in such a professional way.
"Their disabilities have deprived them of hearing the music, but their senses and passion for life have made them more creative and persistent," Salam says.
"I really loved the show and I will put Chinese traditional arts on my agenda," she adds.
Samy Mohammed, a sales manager, also says she was moved by the performance of the Chinese artists.
"Most of us do not know much about Chinese traditional arts. But the shows bring us closer to China," he explains.
Since relations between China and Egypt were upgraded to a comprehensive strategic partnership in 2014, cultural exchanges have hit a peak, with many artists, cultural and musical delegations paying frequent visits to both countries.
Through such cultural activities, both countries hope to boost friendly ties under China's Belt and Road Initiative.
Speaking about how the visit can help, Liao Dan, the general counsel of the art troupe, says: "With the Belt and Road Initiative, the global community can do much more than before to make the world a better place for disabled people.
"We are very happy to see that people here love our performances. And we are also impressed by the passion and the atmosphere here, which has helped us perform better."
According to Liao, the troupe will perform in Cairo for a week as part of the third edition of the Awladna International Forum for Arts of the Gifted.
"We will also perform at the closing ceremony. We are all excited about it," says Liao.
In addition, he says the performance is aimed at introducing Chongqing, a southwestern Chinese city featuring mountains and rivers, to the world.
"The performers are from special schools in Chongqing. The selection process takes about two months," Liao adds.
Most of the performers have not received formal training in dance or singing before, he says.
Experts and trainers mainly focus on rhythm to teach those with hearing disabilities, by using drumbeats. And the performers use their bodies to sense the vibrations of the drum and learn the rhythm.