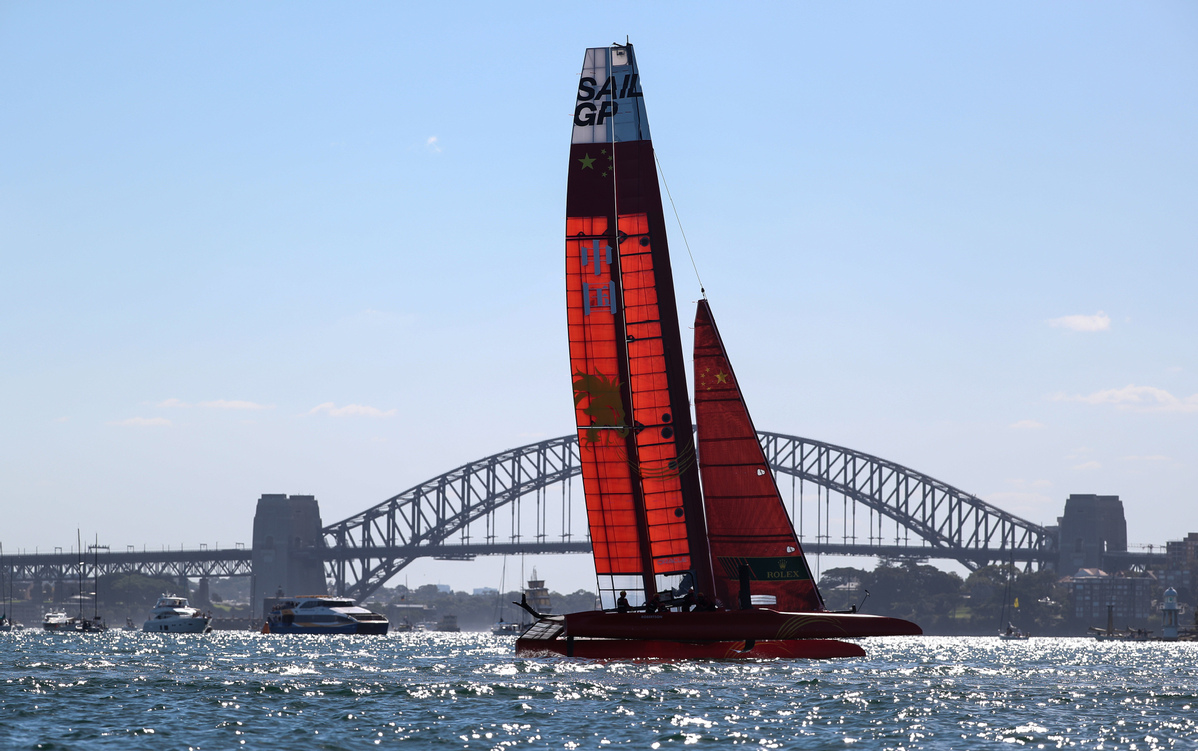 China's SailGP team, skippered by New Zealander Phil Robertson, in action on day two of the international SailGP event in Sydney Harbour, Australia, on Feb 16, 2019. [Photo/Xinhua]
SYDNEY-The Sydney Conservatorium of Music staged the Middle Kingdom Festival on Tuesday night, showcasing a blend of Eastern and Western music by world-class performers and marking the Lantern Festival in the harbor city.
A range of Chinese and Australian singers and musicians from some of the highest musical institutions in their countries proved their proficiency in Italian and Chinese opera by performing works from the Tang Dynasty (618-907) to the present day, featuring composers from the baroque and romantic eras right through to Andrea Bocelli.
While the event featured more than 15 artists, at the center of it all was concert chairman and artistic director, Chai Changning. A longtime resident of Sydney, Chai is widely recognized as one of the best Chinese flutists of his generation.
He has played extensively with orchestras from around the world and worked on a prolific number of movie scores, including The Last Emperor, which received an Academy Award for best soundtrack.
Chai explains that part of what he was trying to achieve for the festival, now in its sixth year, was hinted at by its name, "the Middle Kingdom Festival-it's where the East meets the West," he says.
"I always believed the East and the West have common ground to share through music-the universal language."
Performing alongside Chai was organist James Forsyth, who says that spending time with his old friend and collaborator has not only helped to introduce Chinese music to him, but culture too.
"I've enjoyed working with Chai Changning for 30 years here in Sydney and we have done projects together and performed concerts all over the place," Forsyth says.
"I'm very happy and honored to be part of tonight's concert. I've enjoyed the mix of music from Italian opera to Chinese opera, to folk songs and the mix of Western and Eastern instruments."
Chai says that when he began to create the program for the evening, he tried to take into account the different tastes of the audience.
One of the challenges was Australia's unfamiliarity with Chinese music-something which was especially true when Chai first moved to Sydney in the late 1980s.
Since then he has tried to help Australian music lovers differentiate between the different genres of Chinese classical music.
"When I came here 30 years ago, I only brought Chinese classical music. Tonight I bring Chinese opera from the 1300s, Tang Dynasty music from the sixth century-and of course Tibetan music, which I love," Chai says.
As Western Sydney University's vice-chancellor and president, Barney Glover says of the event: "Musicians from both past and present play an important role in the cultural exchange process through their art and performances.
"Music is helping to unite our two countries, and has become a bridge linking the people of both nations so they can all appreciate, enjoy and celebrate this musical experience."
On the night of Lantern Festival in Sydney, Italian composers like Verdi and Scarlatti sat comfortably beside Chinese maestros such as Wang Shengli and Xu Jingqing, marking a kinship, which goes beyond cultural boundaries-precisely what Chai hoped to achieve when he talked of the East meeting the West.