Wanbook, a bookstore in the Maxone cultural and commercial complex, has glass book walls extending to 240 meters long and 18 meters high. It has become a popular hangout for local residents in Xi'an, Shaanxi province. [PHOTO BY LI WENBO/FOR CHINA DAILY]
The latest China Bookstore Industrial Report places focus on branding, Wang Ru reports. 
Bookstores in China have seen four phases of development, with the latest and ongoing focus needed on branding, according to the 2018-19 China Bookstore Industrial Report.
The report was released at this year's China Bookstore Conference in Beijing on Jan 8. Sponsored by the Books and Periodicals Distribution Association of China, Bookdao New Publishing Institute and Time Publishing and Media, the conference aims to promote physical bookstores and discuss the sector's future development.
The report says bookstores in China "cultivated minds" in the first phase after the Xinhua Bookstore opened in the 1930s, focused on spreading culture and thought in the second phase during the 1990s before moving on to improving visual beauty in the third phase, which started in late 2011, when online bookstores started to appear.
The focuses of physical bookstores in the first two phases were challenged by the appearance of online bookstores.
"Beautiful bookstores" developed in the third phase attracted people temporarily but failed to develop in a sustainable way, the report adds.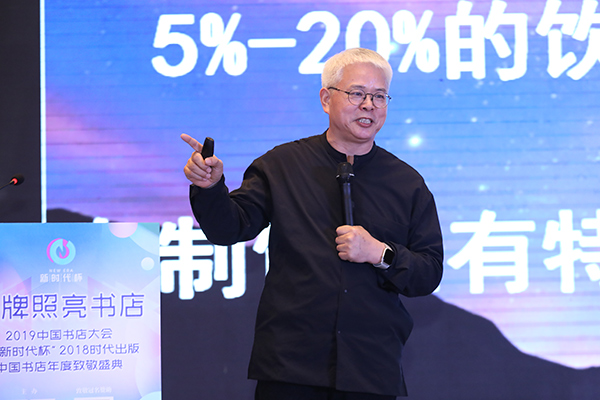 Cheng Sanguo, the founder of Bookdao New Publishing Institute, speaks at the conference.  [Photo provided to China Daily]
"We all know physical bookstores should be beautiful enough to attract readers and integrate business formats such as holding cultural activities, developing cultural and creative products, selling beverages and so on, instead of selling books alone. But in many cases, we simply copy the model," says Cheng Ling, the general manager of CAA China Brand Consulting.
"We should consider these: So many places can offer cultural recreation, why should people go to bookstores? There are so many distinctive bookstores, why should people choose only one?"
She says the solution is to improve the brand power of physical bookstores, which means to enhance the brand's influence on readers to make them buy more books.
Cheng says it's important to make a brand "meaningful, different from others and outstanding enough". She says to be "meaningful", the brand should appeal emotionally to customers.
She gives the examples of corporate slogans such as Nike's "Just do it" and Apple's "Think different".
"The slogans symbolize the companies' values," Cheng says. "It is the basis to improve brand power."
Cheng Ling, the general manager of CAA China Brand Consulting, speaks at the 2019 China Bookstore Conference held in Beijing on Jan 8. [Photo provided to China Daily]
And, brand power can increase when a brand is "different" from others, she says, citing the example of Morioka Shoten, a Japanese bookstore that chooses only one book to sell every week and designs various activities related to the book-which is "very different from its counterparts around the world".
Finally, she adds, "outstanding" means the brand "should be the first thing that people recall when referring to products of its kind".
She cites yet another example: Naobaijin, a Chinese health brand, is probably one of the first names that springs to mind when many Chinese people think of health products, since it started using the tag line "No gift is acceptable this year except Naobaijin" in its commercials.
The report says new changes in China's bookstore industry were apparent last year. Some online companies such as Read at Ten and Yitiao started to open physical bookstores since the number of online users of its web stores grew more slowly and offline bookstores began to attract more readers, which helped their brands' growth.
In addition, last year, more bookstores opened in villages linked to culture and tourism. For example, Diamondream's Fujian Guling store is located in the former villa of general Li Shijia (1894-1970), located in a mountain in Fuzhou, the capital of East China's Fujian province. Customers can enjoy both the natural sights and reading there.
Bookstores' connection with cities also deepened last year.
Ding Junjie, a professor of the Communication University of China, says: "Bookstores make people feel the quality of daily life. They enable people to understand the value of leisure and enjoy the process."
Many provinces have issued guidelines to promote physical bookstores in recent years.
Xi'an, the capital of Shaanxi province, was selected as "Bookstore Capital of the Year" at the conference, which has the highest ratings in terms of number of bookstores, reading rates and policy support.
People who work in the bookstore sector have the goals of promoting culture and doing business, Cheng Sanguo, the founder of Bookdao New Publishing Institute, says.
Contact the writer at wangru1@chinadaily.com.cn