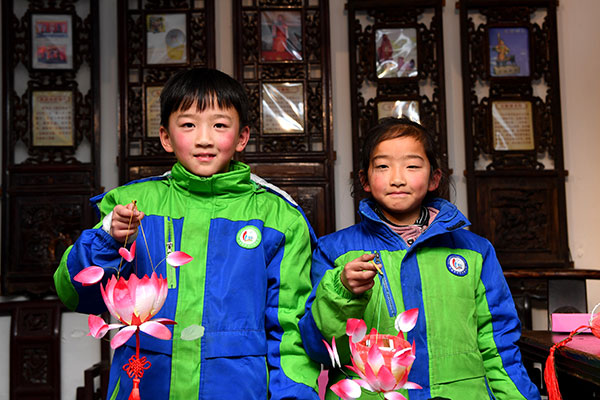 Two primary school students display lanterns they made recently under the tutorship of Zhang Juntao, a traditional lantern maker at his folk art museum in Zhengzhou, Henan province. Zhang is a seventh-generation craftsman and his family has been making lanterns for over two centuries. [PHOTO BY LI JIANAN/XINHUA]
"Listen to the shape of the piece, don't play it note by note," a piano master tells her eager, young student. "Don't be afraid to use the pedal; it adds resonance and passion," she adds, pointing to her student's foot.
Her young Chinese student's nimble fingers flow through the passages of Liszt's etude. Responding to the instruction, the student presses the pedal and adds color and nuance to her next passage.
Eagerly watching this classic exchange are rows of piano teachers sitting in a recording studio at the Ostin Music Center of University of California, Los Angeles, which houses a Yamaha DCFX Disklavier piano.
The master coaxing the student through her passages is Inna Faliks, a concert pianist and head of the UCLA's keyboard department.
While Faliks sits at her piano on the UCLA campus, her student, Meng Xinyuan, is over 10,000 kilometers away in Beijing at the Central Conservatory of Music, linked through Yamaha's Remote Lesson Technology.
It's the first time that US and Chinese educational institutions have been linked using it. The Yamaha Disklavier is an instrument capable of transmitting highly nuanced performance data-the actual depth and speed of keystrokes and the subtle gradations of pedal movements-between similarly equipped pianos over the internet.
The technology enables artists and educators to instruct students remotely using the internet-connected instrument, which mirrors two pianos that are far from each other, even in different countries.
Now, teachers like Faliks can watch and listen to their students perform remotely on a large viewing screen, while their piano mirrors their student's exact performance. These technical advances enable teachers to observe and comment on the subtle nuances of the student's performance from afar.
"It's a game changer for piano pedagogy and long distance education," says Bonnie Barnett, head of Yamaha's division of artist's services, who flew in from New York headquarters to attend the event.
Commenting on the technology, Faliks says: "With the unique technology, schools can have access to top level teachers from all over the world to teach their students remotely."
Barnett says: "It allows us to bring quality music training to areas where it would not be available otherwise. It ... connects musicians from all over the globe. And that can make all the difference to someone struggling to learn."
In China alone, there are 50 music halls equipped with this technology, providing 20 remote music lesson programs per month.
Faliks believes the technology will facilitate strong relations between different cultures.
"We all have our own culture and inner worlds, but music links us all."
After her recent performance and master class tour in China, Faliks says: "I was so impressed by their (Chinese music students') drive, dedication and love of music. They were always so well-prepared, gave 100 percent, and were open to learning and taking chances to develop their art."
Those who participated in the event comprised music school teacher delegates from China, including the Wuhan Conservatory of Music, the Sichuan Conservatory of Music, the Xinghai Conservatory of Music, the Mianyang Normal University and the Guangdong Literature and Art Vocational College.
Professor An Bingbing, one of the participants, head of the Music Education College of Sichuan Conservatory of Music, says: "With the improvement of Chinese people's living standards, more people are interested in piano and other instruments. The remote technology is a brand-new music learning method. It helps to break boundaries and connects teachers and students in the United States and China."