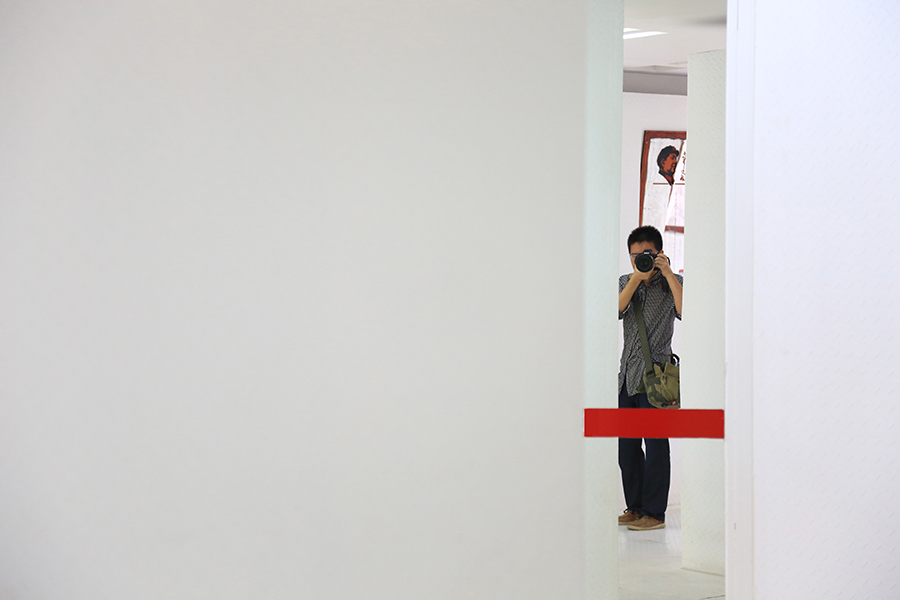 Photographer Huang Yi. [PHOTO BY HUANG YI/FOR CHINA DAILY]
Museum buff Huang Yi is using photography to inspire others to view history in a new way, Fang Aiqing reports. 
Huang Yi claims he is an ordinary museum visitor, but his more than 2 million followers on Chinese micro-blogging platform, Sina Weibo, would agree he is more than an enthusiast.
Living in Wuhan, Hubei province, the 34-year-old is a financial practitioner and spends much of his spare time traveling to visit museums, snapping the exhibits and sharing them via his Sina Weibo account afterward.
It was on a trip to the Shaanxi History Museum in 2012 where he discovered the fun of photographing cultural relics and was surprised by their beauty when captured through the lens.
Since then he has been to more than 200 museums at home and abroad, including dozens in Britain, the United States, Russia, Japan, Singapore, among others.
Though he never posted a portrait of himself online, he was recognized by several groups of followers during a visit to Liaoning Provincial Museum in Shenyang last September.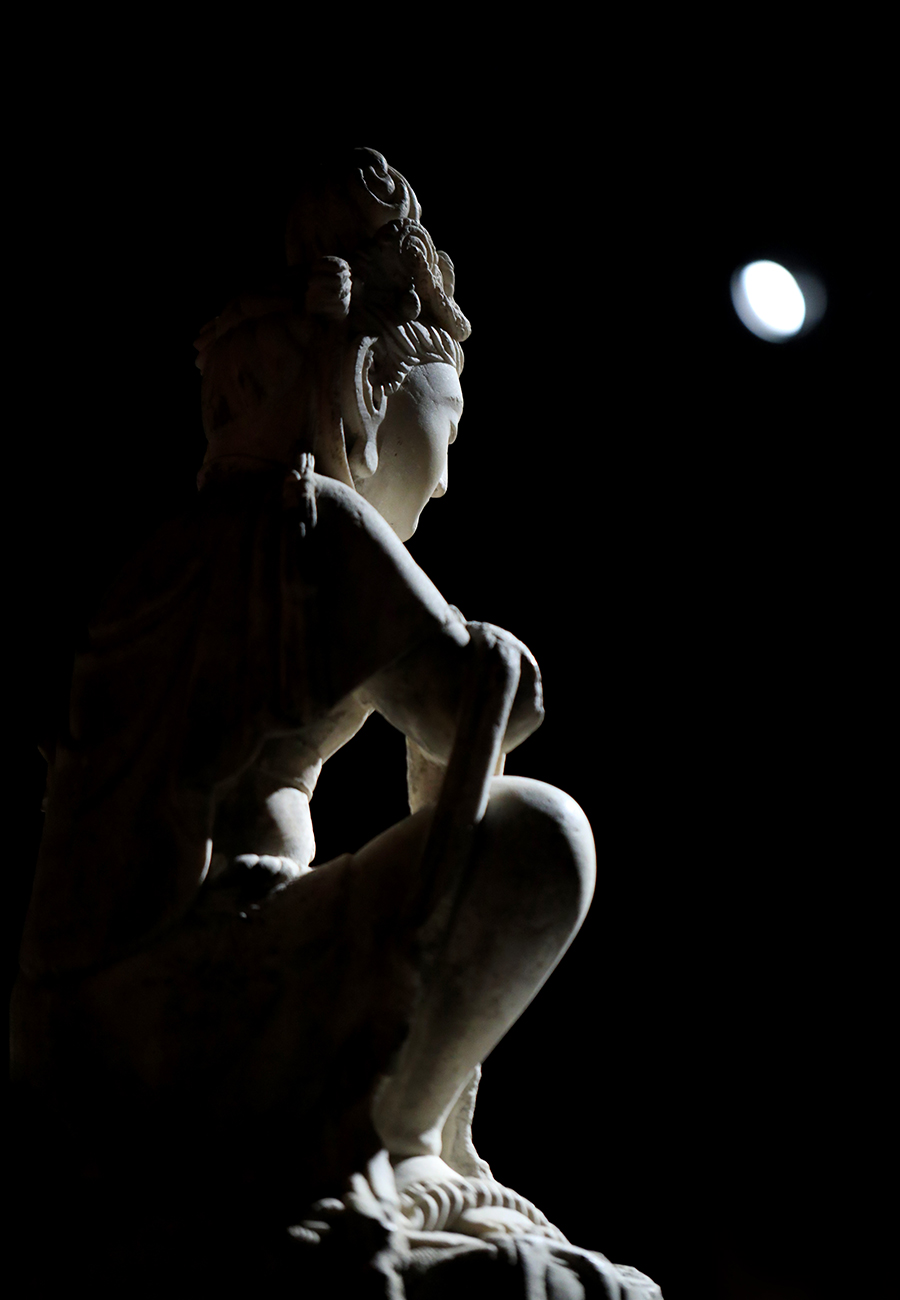 A stone bodhisattva at Shanghai Museum. [PHOTO BY HUANG YI/FOR CHINA DAILY]
He was attending an exhibition of paintings from ancient China. He was so excited seeing Auspicious Cranes, a painting by Zhao Ji (1082-1135), or Emperor Huizong of the Northern Song Dynasty (960-1127), that he took a photograph of it and posted it on the spot. Soon, he was asked by a visitor from Tianjin if he was Dongmaiying from Sina Weibo.
"I recognized you because you are the most attentive visitor here," the visitor told Huang, who was surprised. More unexpected encounters swayed his decision not to post in real time again.
However, the visitor was right. Huang does have a keen eye for detail. Many of his pictures present details that most visitors would barely notice at a glance, nor would you find them highlighted on the exhibits' information cards.
His works do not necessarily show every exhibit in its entirety. Chunmeihuli, a user of zhihu.com, a question-and-answer website in China, thinks his work is more artistic, rather than from a purely observational perspective.
When it comes to those relics which involve patterns or figures of humans, Huang pays meticulous attention to the facial expressions, the body's sense of movement, the beauty of the body's curves and the smooth drapes on their garments, which largely represent the delicacy of the exhibits.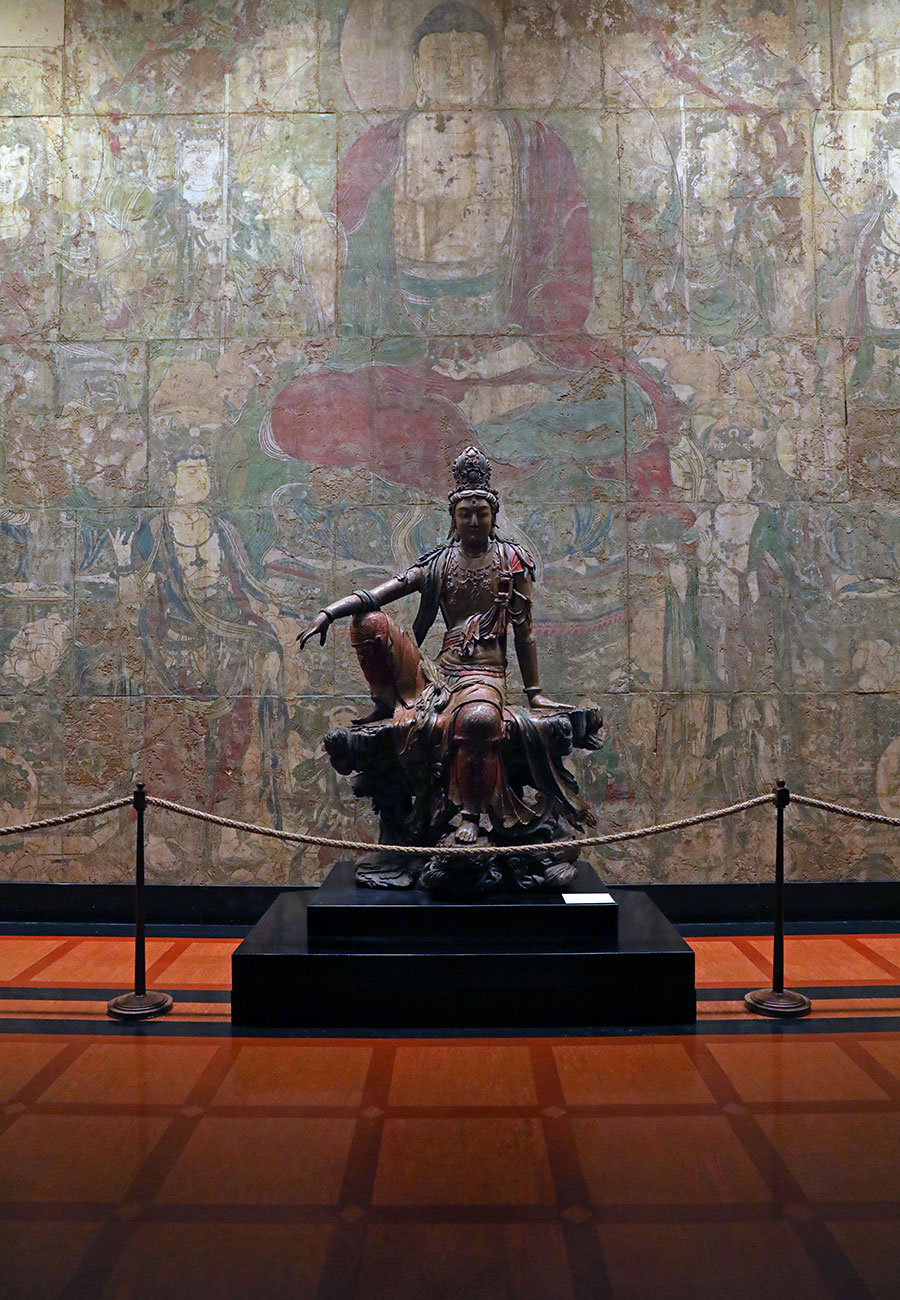 A Liao bodhisattva at Missouri's Nelson-Atkins Museum of Art. [PHOTO BY HUANG YI/FOR CHINA DAILY]
With one photo of a tomb figure from the Tang Dynasty (618-907) and housed at Xi'an Museum-a horse-riding woman, holding a konghou, a plucked stringed instrument-Huang deliberately chose a low shooting angle to make it appear as if she is charging at the viewer.
In many cases, Huang makes full use of the museum lights. The luminous spots become part of what constitutes the appeal of his photos.
For instance, in a photo taken at the Shanghai Museum, the positioning of the spotlight shining on a Tang-Dynasty stone bodhisattva offers the squatting figure a "moon" to enjoy as if it were "night", while the lighting in a picture of a dancing tomb figure at the Hunan Museum delivers him a playmate-his larger shadow.
When looking at Huang's pictures, one can barely see traces of the glass windows that surround his subjects. Huang prefers to photograph against a dark background. His trump card, as he referred to it jokingly, is to wait for someone (preferably not too thin) wearing dark clothes to pass by and unwittingly provide his backdrop.
Fengjiangjiang, another zhihu.com user, was impressed by Huang's persistence when photographing relics and artifacts because it's so time-consuming and requires a lot of patience.
According to Huang, he will not do too much research in advance. Rather, he prefers to see interesting pieces on-site and tries to dig up more information on them later online or via books and any other sources that are available to him.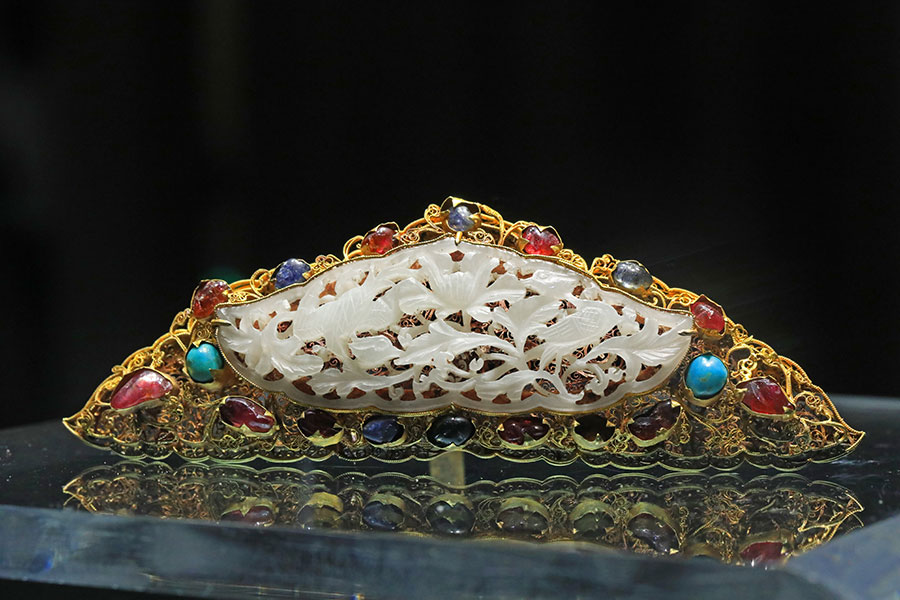 A Ming head ornament. [PHOTO BY HUANG YI/FOR CHINA DAILY]
Huang is aware of the limited information one can receive through a single visit, and says he always discovers something new or an alternative highlight on repeated visits to those museums that have a constant appeal to him.
Like a treasure hunter, he can often spot details or delicate relics that will surprise and wow the viewer. For example, he shows photos of a lotus-shaped famille-rose porcelain cup from the reign of Emperor Guangxu (1875-1908). The green "pedicel" served as a straw to take in liquid from the bottom of the cup where there is a hole that links to the hidden channel.
He thinks it's a pity that many people don't get the full idea of the relics' elegant features and interesting uses.
Upon seeing some exhibits echoing similar ones kept in other museums, he pays close attention to the differences between them.
"I seldom get bored or annoyed by not being able to shoot some of the exhibits," he says. "For me, it's a hobby rather than something that I struggle to 'persist' at."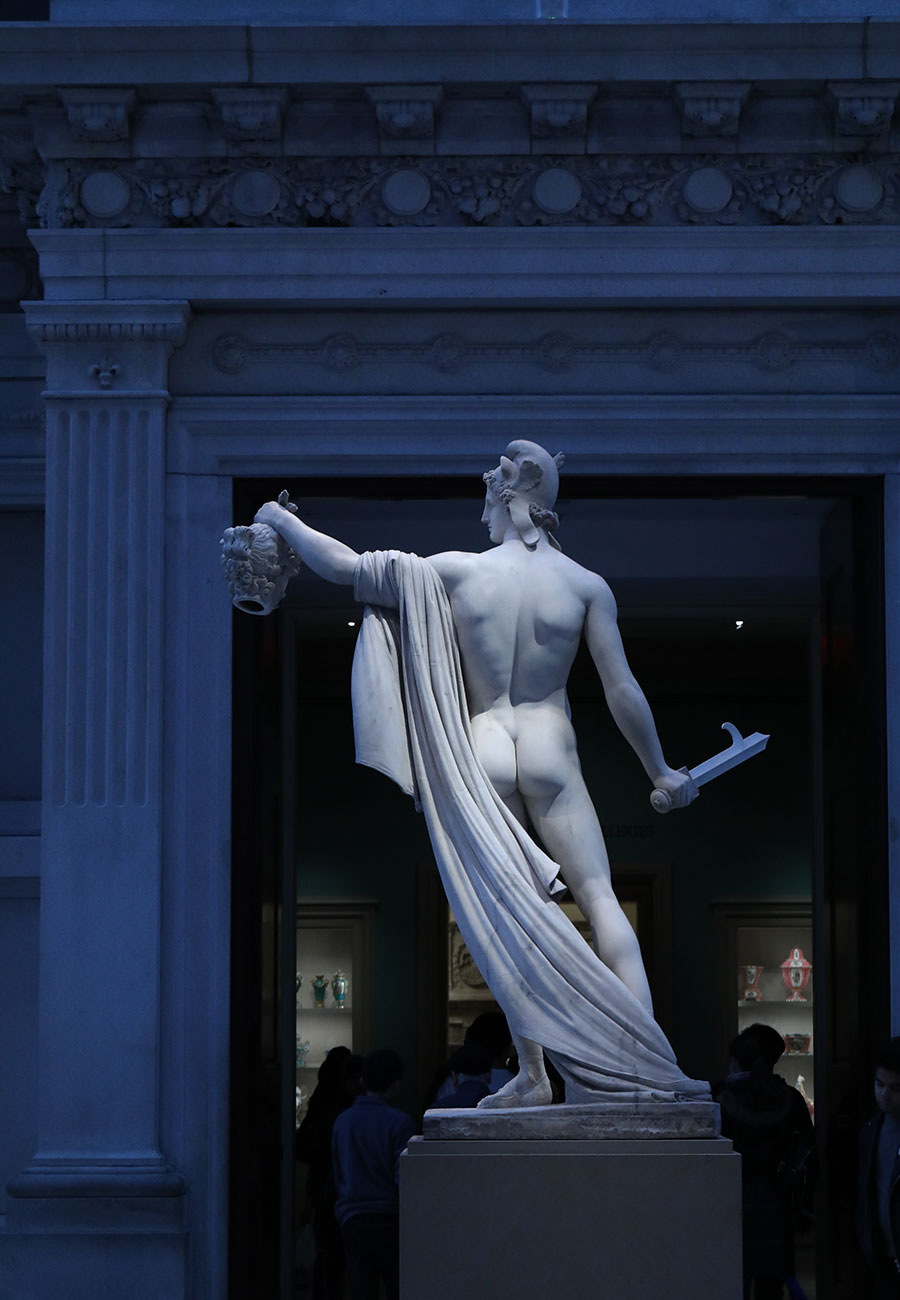 Perseus with the Head of Medusa at NYC's Metropolitan Museum of Art. [PHOTO BY HUANG YI/FOR CHINA DAILY]
He estimates that he has photographed around 100,000 items during the past seven years, not only those on display at museums with household names, but also those distinctive, yet lesser-known ones, such as Qingzhou Museum in Shandong province, which stands out for its collection of Buddha figures and is China's only top-level museum housed in a county.
His followers include museum professionals, as well as amateurs, and some of his works have been reposted and used by social media accounts run by domestic museums.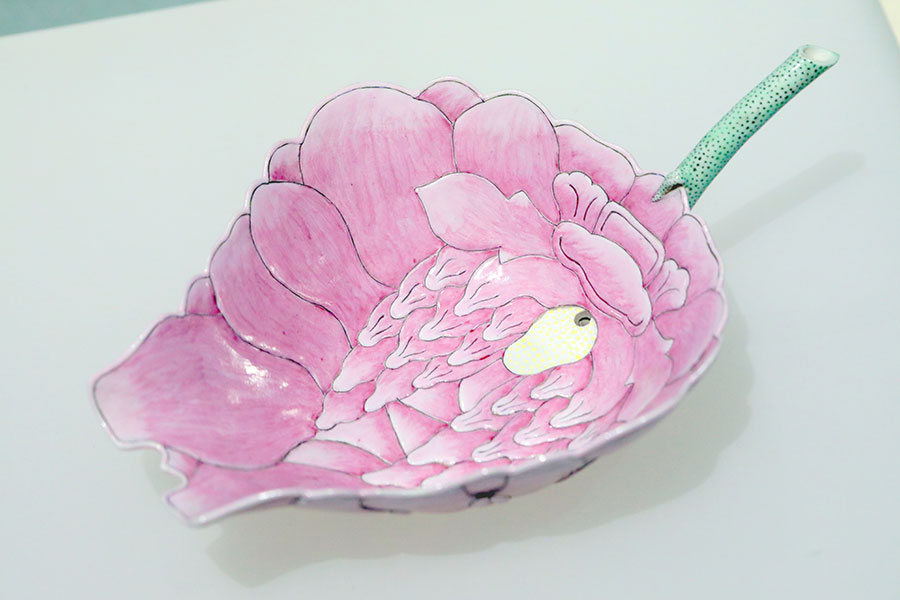 A Qing-Dynasty cup. [PHOTO BY HUANG YI/FOR CHINA DAILY]
Additionally, Q&A sessions and discussions about the museums and their exhibits frequently occur with his Sina Weibo posts and their follow-ups.
Huang says he has witnessed a recent boom in museum attendance in China-not only at big, popular museums but all kinds of museums-especially since 2017 after such cultural variety shows like The Nation's Greatest Treasures and Every Treasure Tells a Story became a hit with viewers.
This is quite bittersweet for someone like him who now has to wait more to grab an opportunity to take a photograph in the crowd.
"However, some followers told me that they were inspired by my work and started photographing museums and the exhibits themselves. I'm glad about that," says Huang.
Contact the writer at fangaiqing@chinadaily.com.cn
A Ming porcelain. [PHOTO BY HUANG YI/FOR CHINA DAILY]