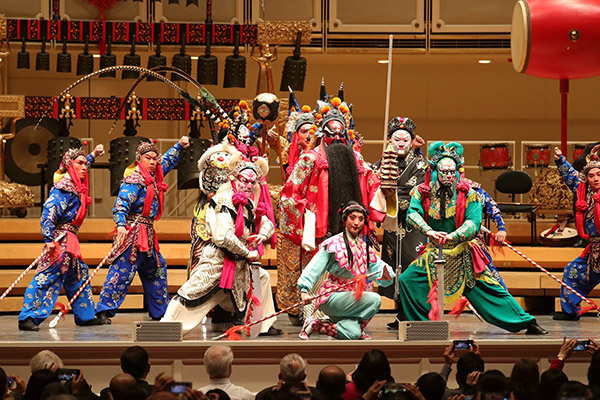 The Hubei Chime Bells National Chinese Orchestra and the China National Peking Opera Company jointly stage a Spring Festival show at the Chicago Symphony Center on Feb 10. [PHOTO BY WANG PING/XINHUA]
"Without music, life would be a mistake."
The words of Friedrich Nietzsche must have eluded no one, as artists adopted a plethora of music genres to ensure this year's Lunar New Year celebrations in the United States were a success.
From Peking Opera's stylized singing to Frank Sinatra's evocative tunes and music maestro Tan Dun to dashing young composer Du Yun, and Western instruments such as the violin to the traditional Chinese zither, melodies of classics and modern favorites spoke directly to the ears and hearts of audiences in settings as diverse as the solemn Kennedy Center in Washington or a bustling transportation hub in New York City.
The first day of the Spring Festival holiday fell on Feb 5 this year, but merrymaking on both sides of the Pacific began about one week in advance and will last through Lantern Festival on the 15th day of the first lunar month.
For two countries that speak languages as disparate as English and Mandarin, music, as a universal language, easily comes to its own in bridging the communication gap.
The New York Philharmonic presented its eighth edition of its Lunar New Year concert at the Lincoln Center in New York on Feb 6, featuring the US premiere of Oscar-winning Chinese composer Tan's violin concerto Fire Ritual, which is influenced by the worship and court music of ancient China, and blends Western and modern elements-hand cymbals like the ones used in Peking Opera were even used by a Baroque violin ensemble.
Having celebrated Lunar New Year for eight years, the New York Philharmonic intends to "continue it pretty much indefinitely" because both locals and Chinese people here love it, says Bill Thomas, the orchestra's executive director.
"Music is a universal language. We always hope what we do will help a broad world community, including the relationship between our two nations," he says.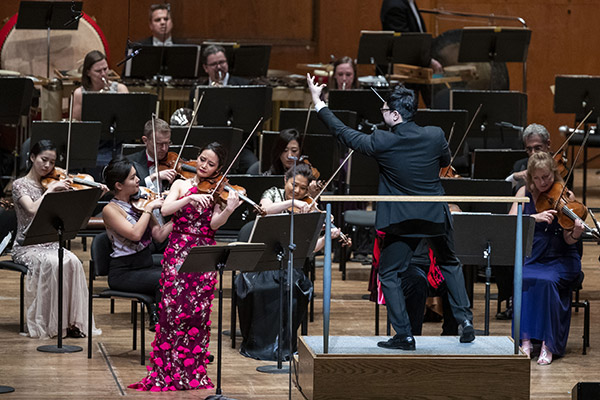 Musicians of the New York Philharmonic perform Chinese musician Tan Dun's violin concerto Fire Ritual at its eighth Lunar New Year concert at the Lincoln Center in New York on Feb 6. [PHOTO BY WANG PING/XINHUA]
The orchestra now travels regularly to Shanghai in summer, thanks to the growing population of classical music aficionados in the Chinese metropolis.
A mini concert featuring two traditional Chinese string instruments, the guqin and guzheng, was held at the Metropolitan Museum of Art in New York on Feb 9 as part of Spring Festival celebrations. Two artists playing Chinese classics such as A Night of Flowers and Moonlight by the Spring River and Invisible Mountain added a vibe of tranquility to the crowded museum.
"This is just beautiful," a spectator who identified himself only as Carlos says. "I've never heard something like this before."
A free one-hour symphony concert was staged in the Oculus, the new transit hub of the World Trade Center, holding hundreds of busy commuters spellbound on Feb 8.
Popular Western songs such as Sinatra's New York, New York and a number of famous Chinese music pieces such as Jasmine Flower, Ode to the Yangtze River, were performed by the Asian Cultural Symphony, a local ensemble of nearly 100 artists of various ethnic groups and backgrounds.
At the Disney Hall in downtown Los Angeles, the Los Angeles Philharmonic staged two concerts over Feb 6-7. They centered on rousing and melodic classics, such as Li Huanzhi's The Spring Festival Overture, Camille Saint-Saens' Introduction and Rondo Capriccioso, and the world premiere of a new piece by Shanghai-born, Pulitzer-winning composer Du.
Du's performance perhaps marked the first time that Xinchang Diaoqiang Opera, a traditional Chinese art form that originated from Zhejiang province, had been heard by an international audience. She took inspiration from the ancient opera and aims to reimagine the future of Chinese opera in a contemporary context.
"I want to showcase the diversity of Chinese culture to the world through music," Du, also a 2019 Grammy nominee, says.
"It's such a pleasure to see another side to music-from a culture from the other side of the world," says a local resident named Silvie.
"I've always wanted to see a Chinese New Year celebration, and when these tickets became available, I just couldn't miss it," says Louisa, who is originally from Cuba.
Megan Martineau, artistic administrator of the LA Phil, says, "The Chinese New Year program was a big priority for us. US audiences are very open to learning about the culture of China and engaging in the celebration of Lunar New Year as well."
The Hubei Chime Bells National Chinese Orchestra and the China National Peking Opera Company put on performances at the Chicago Symphony Center on Feb 10, featuring traditional chime bells, music and recognized opera pieces.
"Our annual Chinese New Year Celebration concert has become a highly anticipated tradition at the Symphony Center," says Jeff Alexander, president of the Chicago Symphony Orchestra Association.
Alexander says the Chicago Symphony Orchestra has just finished a tour in Shanghai and Beijing, and this year marks the fifth annual Lunar New Year concert presented by them.