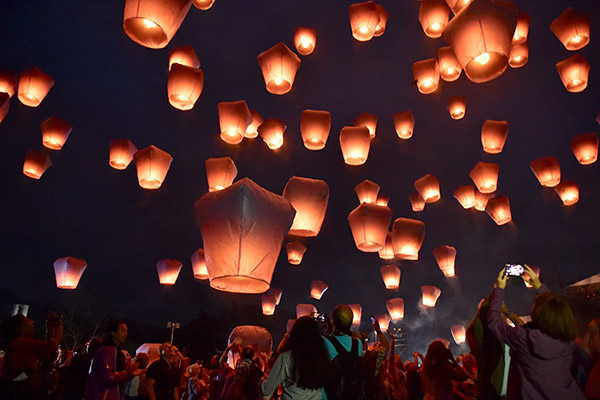 [PHOTO PROVIDED TO CHINA DAILY]
Clad in loose yellow pants with gold sequins, Deng Binguang and Tang Zaipeng along with 18 other members from their troupe, performed a lion dance show on China Central Television's Spring Festival Gala on Feb 4. The annual gala on the eve of Lunar New Year is one of the most watched entertainment programs worldwide, viewed this year by 1.17 billion people.
For this lion dance performance, 10 iron poles of heights between 1.7 meters and 2.25 meters and width of 38 centimeters each were fixed on movable platforms inside a CCTV studio, and Deng and Tang gave a dazzling show. This was challenging because routine lion dance performances use poles that are lower than 1.2 meters.
Deng and Tang work for the Bilintang Lion Dance Troupe in Foshan, Guangdong province, whose origin dates back 200 years to the Qing Dynasty (1644-1911).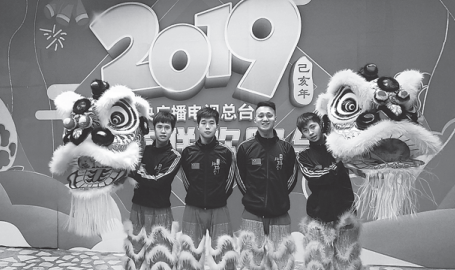 Members of the troupe, including Deng Binguang (second from right), pose for a photo at the CCTV studio. [PHOTO PROVIDED TO CHINA DAILY]
In China, lion dance has a history of more than 1,000 years and is divided by different performing styles, based on regions. Performed on occasions such as the new year or the setting up of a new business, the traditional entertainment is popular not only in the country but also among overseas Chinese.
Some other parts of Asia also have local lion dances.
Foshan is the birthplace of Nan Shi, or southern-style Chinese lion dance that originated in Guangdong. The city is also known for martial arts.
"Lion dance performances can be seen in our hometown whenever people celebrate holidays," says Deng, 29, who was born in a village in Tengxian county, Guangxi Zhuang autonomous region.
It was the first time he had performed at the CCTV gala. He learned to practice kung fu as a child and joined a local lion dance team at the age of 8. Deng says he was drawn to the cloth lions and the sounds of drum, cymbals and gongs that accompanied the performers when he watched them in his younger days.
"I was impressed by the performers' breathtaking techniques. Their movement from pole to pole made it feel as if they were flying," says Deng.
From squatting to jumping, and making a cloth lion blink to manipulating its head on poles, Deng spent over a year mastering the basic techniques about lion dance.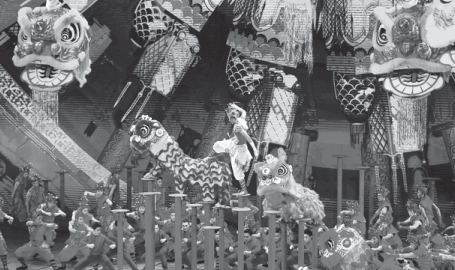 Bilintang Lion Dance Troupe performs at CCTV's annual Spring Festival Gala on Feb 4. [PHOTO PROVIDED TO CHINA DAILY]
"Falling from the poles is normal for beginners. You just climb up again and again to practice," Deng says. "It's about courage, persistence and hard work."
In 2008, he met Chung To-yan, the director of the Bilintang Lion Dance Troupe, who invited Deng to join. Deng is now the head coach of the team of about 300 members. With its headquarters in Foshan, the company has 10 branches in the country, including Shenzhen, Shanghai and Chengdu, Sichuan province.
Chung, 60, who was born in Hong Kong, dropped out of school at a young age due to poverty and started practicing lion dance techniques.
"Besides technique, my teachers also taught me about traditional Chinese culture and the etiquettes of lion dance," says Chung.
But in late 1980s, Chung suspended his career as a lion dance performer and started to run a business since he struggled to make ends meet.
Like many other traditional art forms in China, lion dance also faces a decline due to the poor income it generates for performers and the physical risks involved while performing. In 2008, Chung returned to Foshan and gathered some veteran performers, aiming to revive the Bilintang lion dance style.
He led the team to join in international lion dance competitions and popular TV shows to introduce and promote Bilintang lion dance. In 2018, the team participated in 29 international competitions, including the ninth Malaysia International Lion Dance on Stilts Competition, and won 12 gold medals.
Chung also works with local schools to stage lion dance performances, hoping to cultivate young people's interest in the old art form.