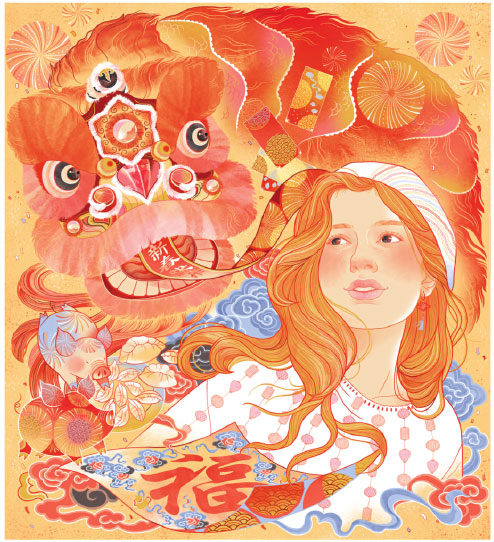 Celebrations are now staged in many countries
A lion dance team in Southern California, mainly made up of Westerners, has impressed university professor Jia Wenshan.
"The troupe runs a business that provides performances for various clients to observe festive occasions, be they weddings, anniversaries, birthday parties and so on," said Jia, professor of communications at Chapman University in Southern California.
Some aspects of Chinese culture, including lion dance performances, have integrated well into areas of society in the United States, particularly on the east and west coasts, he added.
Scholars believe that Spring Festival celebrations have also become part of cultures in other countries as a result of China stepping up its efforts to go global.
New York and some other states in the US have made Lunar New Year a public holiday. This is particularly unusual given that Chinese New Year does not have a set date in the Gregorian calendar, and falls annually between Jan 21 and Feb 20.
Celebrations such as parades, concerts and shows are increasingly held in cities across the US.
The most notable events include Chinese New Year parades in San Francisco and New York, and the Golden Dragon Parade in Los Angeles. Most parades feature floats, costumes and firecrackers, while red lanterns are strung across streets.
Rhys Whalley, a resident of Manchester, United Kingdom, said that in recent years celebrations in London and his home city have become increasingly significant.
"This year, Manchester hosted a big celebration with dragon dancing, fireworks, and lanterns hung across Chinatown. I visited the celebrations with my family, and had a great time," he said. "My two children, age 3 and 7, both loved the experience."
Food is also an important part of the celebrations. Don Reed, who was born and lives in New York City, celebrated Spring Festival with friends at a restaurant in Lower Manhattan by eating dumplings and hotpot on Feb 5, Lunar New Year's Day.
"It's the third year I have celebrated Chinese New Year with my friends, and I really enjoy it - the vibe, the decorations and the food," Reed said, adding that every year he has learned more about Chinese culture from different celebrations.
He said that last year he learned that, according to Chinese tradition, fish is a very important lucky food for Spring Festival because the word "fish" in Chinese has the same pronunciation as a word meaning "remain" or "surplus", implying increased prosperity in the coming year.
"My friend cooked the fish for me and explained the meaning behind it. I think it's very interesting," Reed said.
At the RedFarm restaurant on New York's Upper West Side, dumplings are generally priced at four for $16. The holiday menu featured a $20 pair of black truffle chicken soup dumplings and -more spectacularly - an eight-pound (3.6 kilograms) Alaskan king crab with truffled cauliflower sauce for $750.
At Atlas Kitchen, a recently opened, art-inspired modern Chinese restaurant in New York, special dishes included udon noodles with crumbles of golden fried dough and foie gras for $48, Bloomberg reported.
During the holiday, Disney California Adventure Park offered "Asian eats" that included Mickey Mouse-shaped tofu and purple yam macaroons. Houseware giant Willi-ams-Sonoma offered a slew of Lunar New Year products and its website promoted a set of nine Year of the Pig cupcakes for $80.
Jia, the university professor, said the celebrations for traditional Chinese holidays not only "reveal many intricacies and a vital part of the texture of Chinese cultural practices, but also offer glimpses of the nature of Chinese culture such as its beliefs, values and ethics, which inform such practices."
Ivona Ladjevac, head of the regional center for the Belt and Road Initiative at the Institute of International Politics and Economics in Belgrade, Serbia, said the philosophy behind Spring Festival as well as the lunar calendar is an attraction for foreigners.
"We have seen that in recent decades interest in China has grown among Westerners, particularly in traditional Chinese medicine and the way of life, such as feng shui. In this way, China has become more interesting and attracted a lot of foreigners willing to know more about the country, its people, way of life, culture and holidays," he added.
Chang Xiangqun, director of the Global China Institute, a think tank in London, said Chinese New Year icons, such as the 12 animals of the zodiac, have already been accepted by many foreigners.
Jia, who is also a research fellow at the National Academy of Development and Strategy at Renmin University of China, said one of the reasons for the popularity of the Lunar New Year in the US is because "China has been going global on a deeper level."
"During the past 40 years, since China launched its reform and opening-up policy, the country has immersed itself in globalization," Jia said.
"Not only are more and more Chinese goods being shipped globally, but more and more Chinese people have been going global in various forms, such as corporate missions, educational exchanges, global tourism, and so on.
"They have been trying to make themselves understood in light of their cultural practices such as holiday celebrations, including Spring Festival."
Foreigners interviewed who celebrate Spring Festival said they learned about it from their Chinese friends or families.
Nick Beswick, who is married to a Chinese and lives in London, said he got to know about Chinese festivals when he studied Chinese at university in the UK, but experienced them firsthand when he first visited the country.
"The thing that struck me most about my first Spring Festival was the fireworks being set off across Beijing - they were all you could see and hear wherever you went," he said.
"Now I have a Chinese family, it's all about spending time together, eating dumplings, chatting, playing games. It's just as important to me now as Christmas.
"I've done all sorts of things at Spring Festival. When I was a student, I loved the atmosphere at the temple fairs, and the fireworks. I've had all kinds of meals with friends and their families, and now with my wife and her family.
"I love the sense of togetherness and excitement. I have to say, though, I'm not a big fan of the Spring Festival Gala on China Central Television. It seems to get worse every year."
Jason Chu, a New York resident who works at a French restaurant in the city, said he once celebrated Spring Festival in college with his US classmates. "It was fun - we made dumplings together and they were delicious," he said.
He said his restaurant sees many Chinese tourists during Spring Festival every year, most of them traveling with their families together for the national holiday.
Whalley, the Manchester resident, said he worked in China from 2004 to 2013, and enjoyed celebrating Spring Festival with friends and family.
"Spring Festival is a very special time for me and my family. I love the family gathering and the experience of making dumplings together. I enjoy the feeling of being woken up by firecrackers in the morning," he said.
"These celebrations are an important part of my fond memories of China."