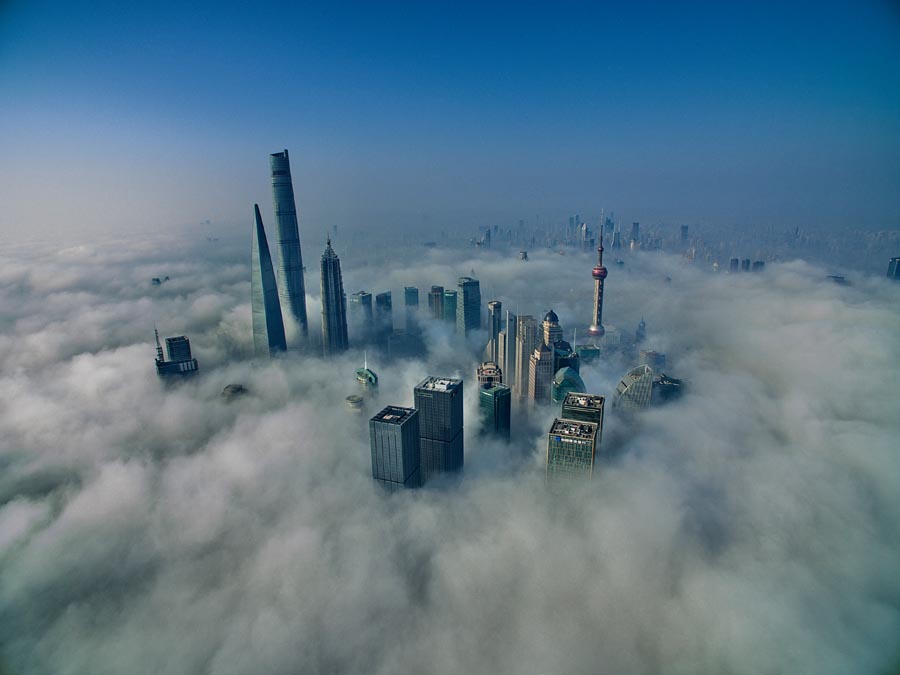 Skyscrapers in Lujiazui financial district are seen shrouded by clouds in this drone image. [PHOTO BY ZHENG XIANZHANG FOR CHINA DAILY] 
Whether he's capturing cities, landscapes, portraits or people, Zheng Xianzhang's unique sense of aesthetics always shines through in his images, Cao Chen reports in Shanghai.
Just like Shanghai's development over the past decades, Zheng Xianzhang's life has been defined by a succession of major changes.
But there is one constant in his life that has survived till this day: photography.
In local photography circles, there is a quiet reverence for the 65-year-old who is well-known for his visual documentation of the city. In fact, many of his works have been collected by the Shanghai government and used in national or international exhibitions that showcase the city's development.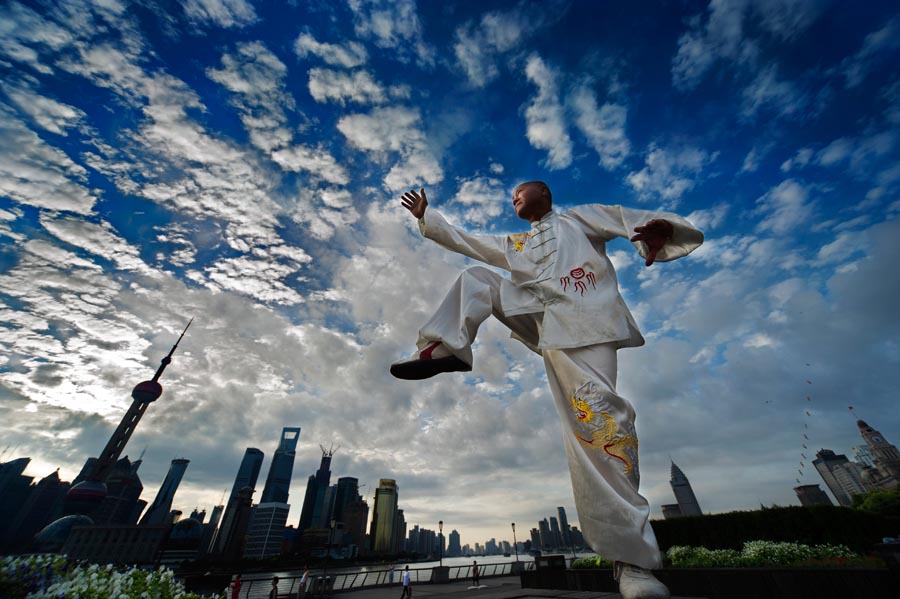 A man performs tai chi on the Bund against the backdrop of Pudong New Area. [PHOTO BY ZHENG XIANZHANG FOR CHINA DAILY]
When Shanghai applied to become the host city of the 2010 World Expo, about 80 percent of the images in the application report were captured by Zheng. This historic report which won Shanghai the bid is now stored at the Shanghai City Planning Exhibition Hall.
Zheng's passion for the craft started when he was an adolescent in the 1970s. During those times, a film camera cost about 100 yuan ($14.8), a substantial sum considering that his family's average monthly salary was a meager 15 yuan. Unable to afford a camera, Zheng resorted to borrowing from friends and acquaintances to satiate his desire to capture the precious moments in life.
"Cameras were considered a luxury. They were not as pragmatic as bicycles used for commuting or televisions for entertainment. The printing of pictures also cost a fortune. The cost of developing a single film strip was the equivalent of several months of wages," recalls Zheng, who also sought to learn more about photography through magazines and books.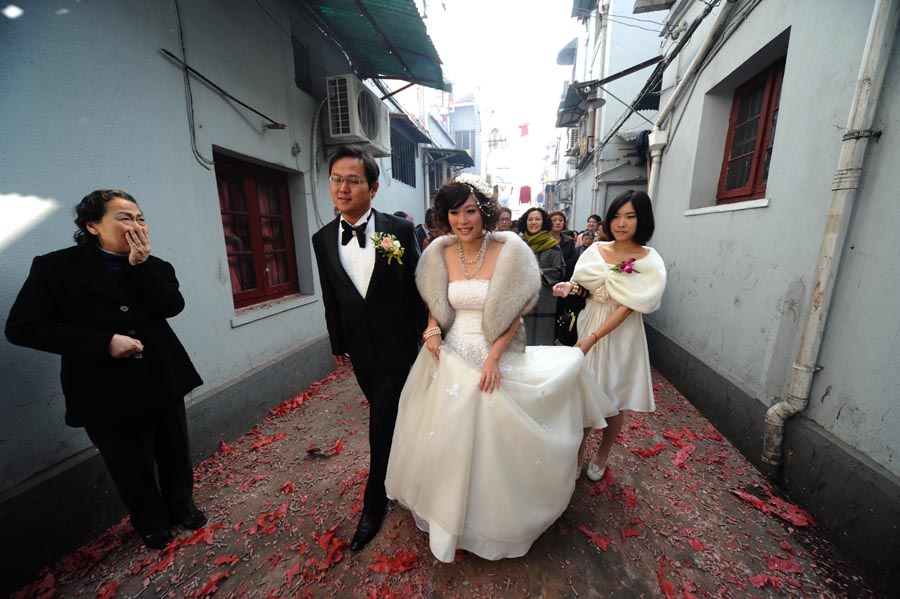 A wedding party parades down a shikumen alley in Yangpu district. [PHOTO BY ZHENG XIANZHANG FOR CHINA DAILY]
In 1972, after graduating from high school, the 18-year-old Zheng was sent to Antu county in Northeast China's Jilin province, because of the late Chairman Mao Zedong's call for urban youth to experience rural labor.
Life during this period was tough, and he had no time to pursue photography.
But Zheng got to revisit his interest after he was appointed as the secretary of the county government. Due to the nature of his duties, he had spare time to use the rudimentary wooden camera obscura that his father had made. He also acquired chemicals to fix and develop films from Shanghai.
During this period, his photography subjects were mostly the locals of Antu. After developing the images, he would cut decorative edges around the photos before giving them as presents to the locals. This made him very popular in the community.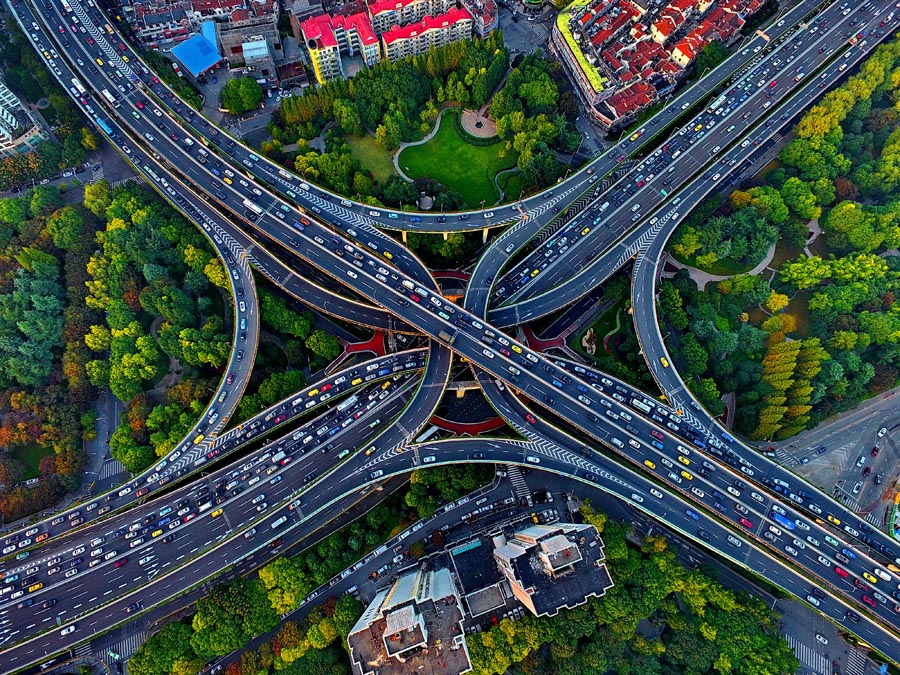 A drone captures a bird's-eye view of the North-South Elevated Road and Yan'an Elevated Road. [PHOTO BY ZHENG XIANZHANG FOR CHINA DAILY]
In 1978, when former Chinese leader Deng Xiaoping proposed that children could take over their parents' careers after they retired, Zheng stepped into his mother's footsteps, becoming a mechanic in a textile factory in Shanghai. As the authorities were impressed by his previous experience, Zheng was quickly promoted to a Communist Youth League leader of the factory.
In this role, he was responsible for organizing activities such as ballroom dancing, reading and stamp collecting. He also took the opportunity to form a photography group comprising just eight people. Group members were provided with a room for printing and enlarging the photos.
"We traveled around Shanghai and its neighboring cities, like Hangzhou and Suzhou, to take photos of scenery, people and daily life, and participated in photography competitions," says Zheng.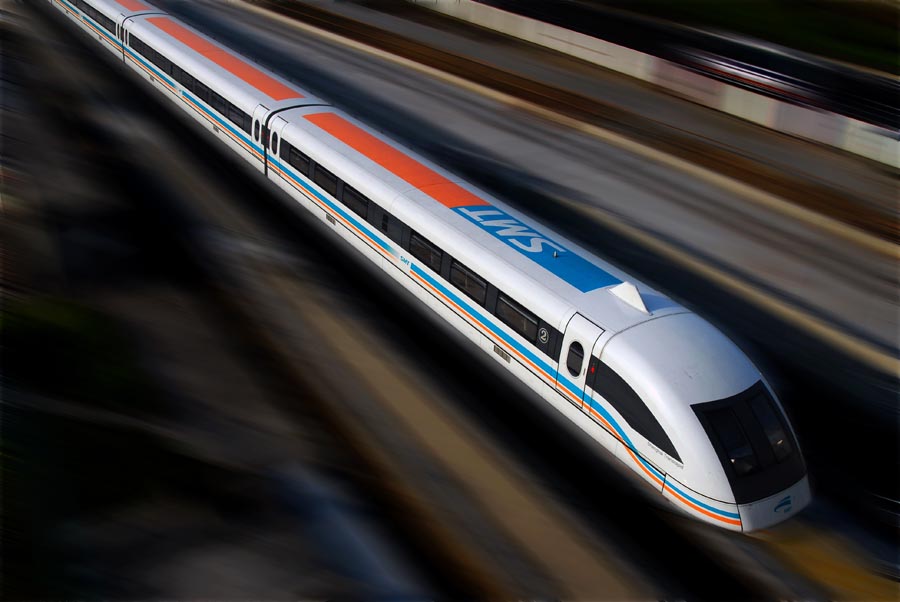 The Shanghai maglev train [PHOTO BY ZHENG XIANZHANG FOR CHINA DAILY]
During this period, he also managed to earn a bachelor's degree in Chinese culture at East China Normal University in Shanghai.
In 1989, Zheng was presented with the opportunity to go to Japan to study for a master's degree in Chinese and Japanese culture at Tokyo University of the Arts. As a kind friend was willing to cover his tuition fees, all Zheng had to worry about was saving enough money for his daily expenses and photography needs.
"I took on many part-time jobs in order to buy a set of the most advanced Nikon camera and lenses. People who had 10,000 yuan in the 1980s would be considered millionaires in present-day China. My camera equipment then cost around 35,000 yuan," he quips.
Having ready access to camera equipment helped his skills to grow quickly. Before long, Zheng was attending several photography activities and competitions with Japanese photographers. He excelled in human portraiture and stood out with his unique sense of aesthetics.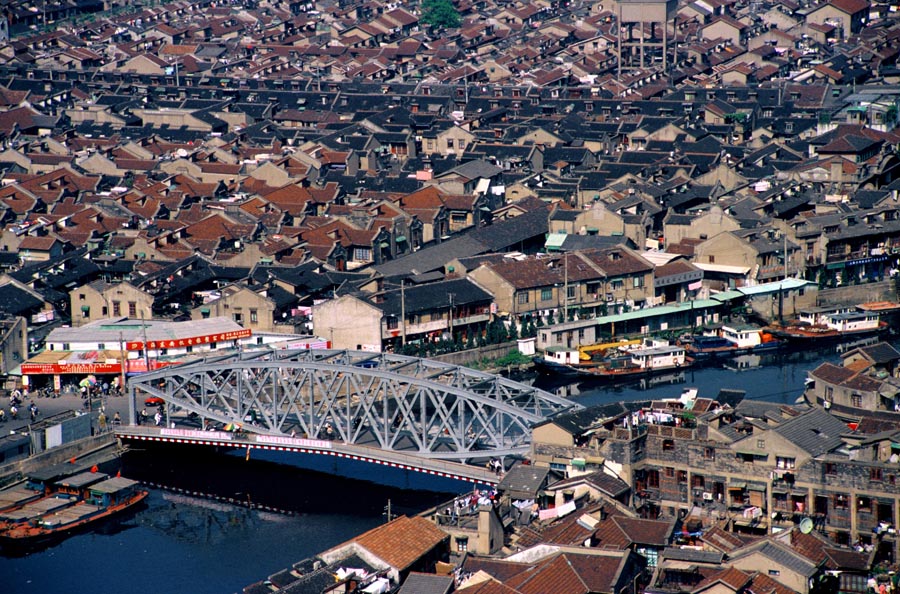 A view of Zhejiang Road Bridge spanning Suzhou Creek in Jing'an district in 2009. [PHOTO BY ZHENG XIANZHANG FOR CHINA DAILY]
In 1996, Zheng returned to Shanghai and worked as a photographer at the Shanghai Pictorial. Two years later, the company published his works on nude photography in a book that was the first of its kind in China.
Besides documenting the beauty of the human body, Zheng was also deeply interested in capturing landscapes. Suzhou Creek, one of the branches of the Yangtze River in Shanghai, as well as residents of shikumen buildings along the river banks, have always been his prime subjects.
Through his photos, people can see the changes in the water body, from when it was heavily polluted in the 1990s to when it was cleaned up after a series of environmental measures were implemented by the city government.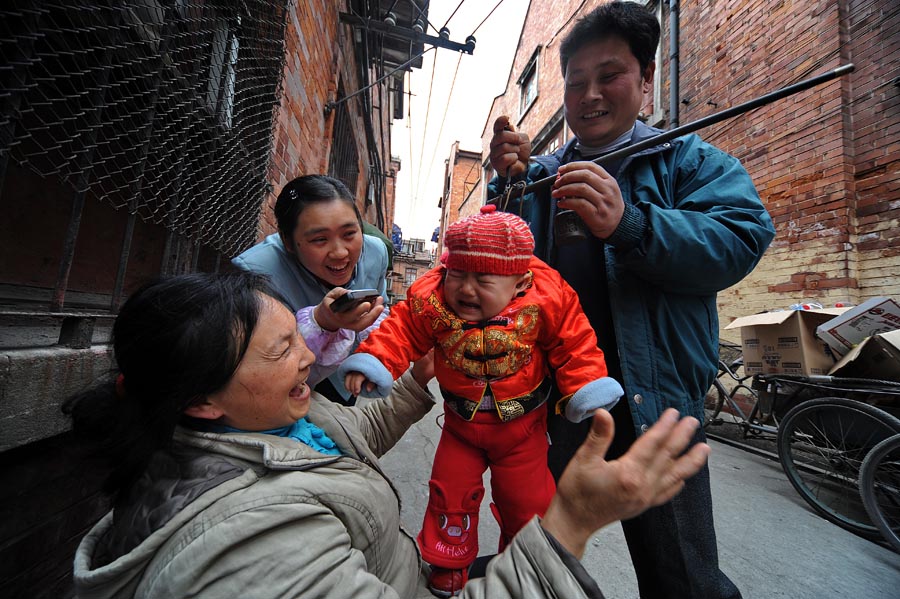 A man weighs a 100-day-old infant. [PHOTO BY ZHENG XIANZHANG FOR CHINA DAILY]
One of his most notable projects was on a residential neighborhood in Putuo district that used to be the city's largest shanty town. He can still remember the time he was invited into one of the homes in this area.
"It was shocking to see how a tiny 4-square-meter room could have been the home for this old couple. When I took their picture, the couple said they had been waiting for years to be relocated to a bigger, more comfortable home. They weren't sure if they would still be alive when they finally got to move," he says.
In early 1990s, the per capita living space in Shanghai was less than 4 square meters. Now the housing situation in the city has totally changed. Authority statistics show that the per capita living area was 36 sq m by the end of 2018.
Despite his age, Zheng is still very much active in the photography scene. Luo Ying, the deputy editor-in-chief of the Shanghai Culture Publishing House and former deputy editor-in-chief of the Shanghai Pictorial, is one person who can testify to this.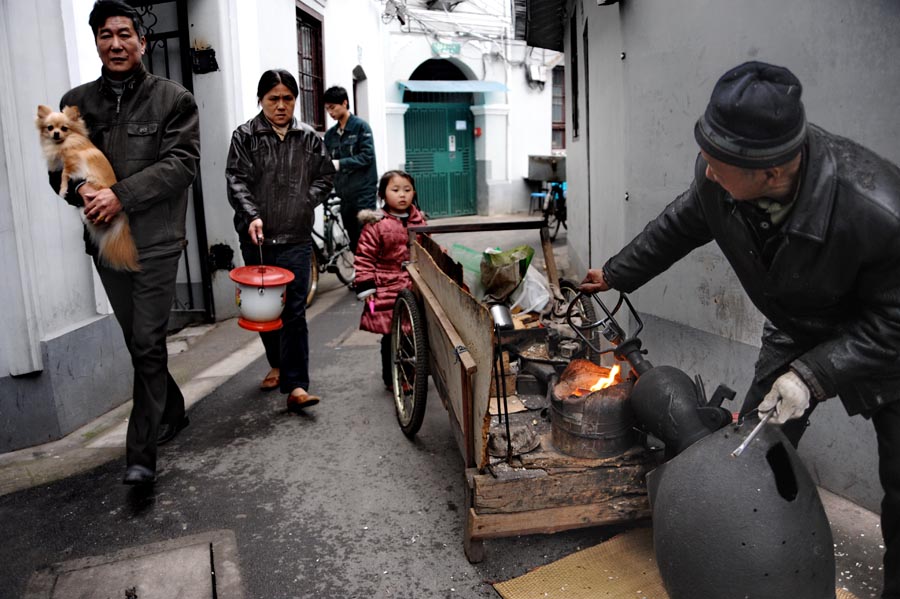 A man (right) makes popcorn using an old popcorn machine in a shikumen alley in 2004. [PHOTO BY ZHENG XIANZHANG FOR CHINA DAILY]
She recalls that Zheng, during the summer of 2013, would park himself along the Bund at four in the morning every day for a month just to catch the perfect shot of the sun rising over Pudong New Area.
But Zheng isn't bothered by this seemingly exhausting process.
"Photography allows me to get closer to people's lives, make new friends and listen to new stories. I love it," he says.
"For me, photography is more than a hobby. This is a career, and one where I have a responsibility to record the progress of a city and its people."
Contact the writer at caochen@chinadaily.com.cn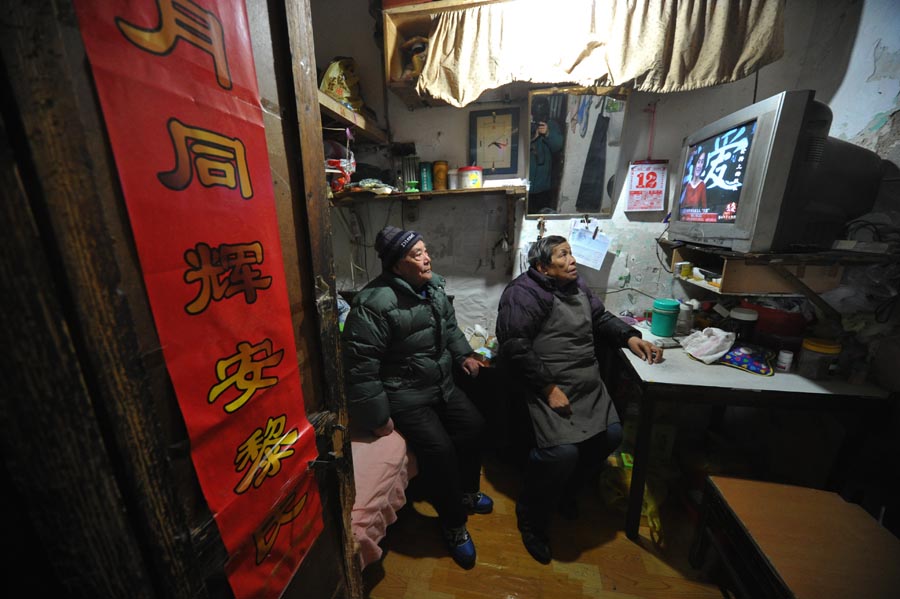 An elderly couple watch TV in their 4-square-meter apartment in a shikumen building, which was demolished in 2017. [PHOTO BY ZHENG XIANZHANG FOR CHINA DAILY]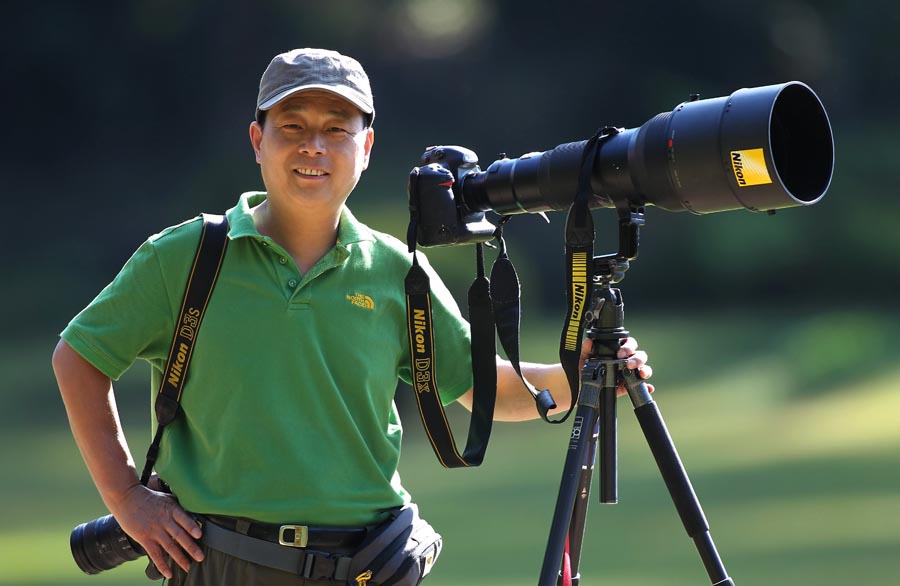 Shanghai photographer Zheng Xianzhang in Sri Lanka in 2013. [PHOTO PROVIDED TO  CHINA DAILY]
A view of Shanghai Pudong New Area in 2018 [PHOTO BY ZHENG XIANZHANG FOR CHINA DAILY]