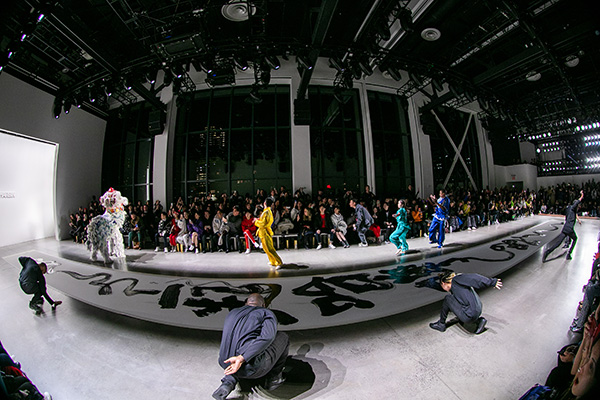 The show integrated Chinese traditions and Western street art on Feb 9, 2019 in New York city.[Photo provided to chinadaily.com.cn]
For those who love both fashion and beer, there's good news: Harbin Beer, together with a number of well-known artists came to the New York Fashion Week for the first time in the event's history, though it is usually hard to integrate them together to send cultural signals to the general public.
While China is celebrating Lunar New Year, New York Fashion Week is also on.
So, Harbin Beer, a brand owned by Anheuser-Busch InBev, the world's largest brewer by production volume, together with its artistic director of "China Vogue"; Chinese calligraphy artist Zhu Jingyi; young designer Chenpeng and New York brand PONY, were invited to the fashion week to debut a crossover show integrating Chinese cultural elements and American street art in Manhattan.
During the show, tradition and fashion combined in fresh collaboration, artfully blending Chinese art with Western trends.
The "China Vogue" led by Harbin Beer from China showed the world a new image of young, innovative Chinese fashion culture as it made its crossover into New York Fashion Week.
Matt Che, vice-president for marketing at AB-InBev's APAC region, said that as the first beer brand to land at New York Fashion Week, Harbin beer blends cultural confidence with the new fashion that the younger generation loves, interpreting the "new trend" in a cross-border way.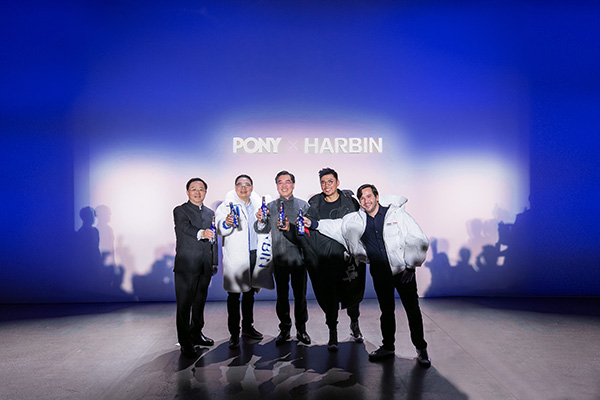 Huang Ping, Chinese Consul General in New York, Pedro Earp, AB-InBev Global CMO, Frank Wang, AB-InBev APAC VP of Legal and Corporate Affairs Matt Che, AB-InBev APAC Marketing VP from China and around the world together.[Photo provided to chinadaily.com.cn]
The show brought together drama and art as it presented a fusion of Peking Opera and R&B; extreme sports dressed up with Chinese kung fu moves; a traditional lion dance mixed with hip-hop elements and a performance combining traditional Chinese music and Western electronic music by the New York band The Either.
The show integrated Chinese traditions and Western street art, with special collections from Chinese brand Chenpeng.
This blend sparked fresh energy in the fashion world, positioning China Vogue as a growing tide from Harbin Beer.
Traditional culture is attracting increasingly more attention from the younger generation. And it is in this context that Harbin Beer's show was listed at New York Fashion Week.
"The new generation demands a voice," said Pedro Earp, AB-InBev's global CMO. "And Harbin Beer is taking the initiative to undertake this mission as a cultural messenger to bring "China Vogue" to the global stage.
"In the new era, this is the identity and cultural confidence of the Chinese at home and abroad," he said.
Earp added even though Harbin Beer is no stranger to Chinese consumers as it sponsors music festivals, cultural fairs, sport events and big-ticket shindigs, it has set a new benchmark for Chinese brands entering the world stage.