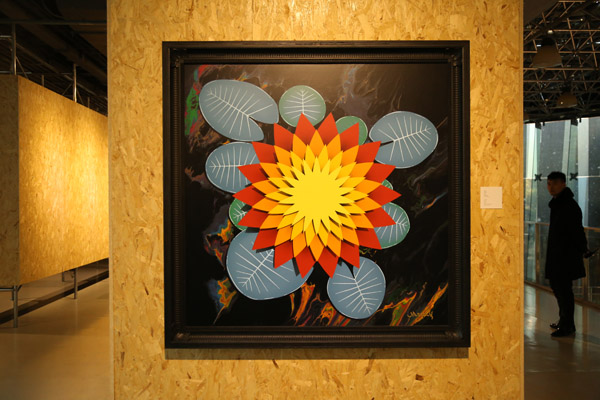 A graffiti painting by artist Zevs, entitled Lotus III [Photo provided to China Daily]
JonOne, a graffiti artist from New York who now lives in Paris, recently left some secret messages on a street of Shanghai.
"Come look for the artist's signatures on Fuzhou Road where you can buy all kinds of paint and brushes," says Miriam Sun, executive director of the Museum of Contemporary Art Shanghai.
The 56-year-old US citizen, whose birth name is John Perello, is one of eight artists featured in a new exhibition, Post Contemporary - Urban Graphic 7019.
It is the first showcase of graffiti art in a public museum of Shanghai, according to Sun.
The show, which opened on Jan 24, will run through April 24.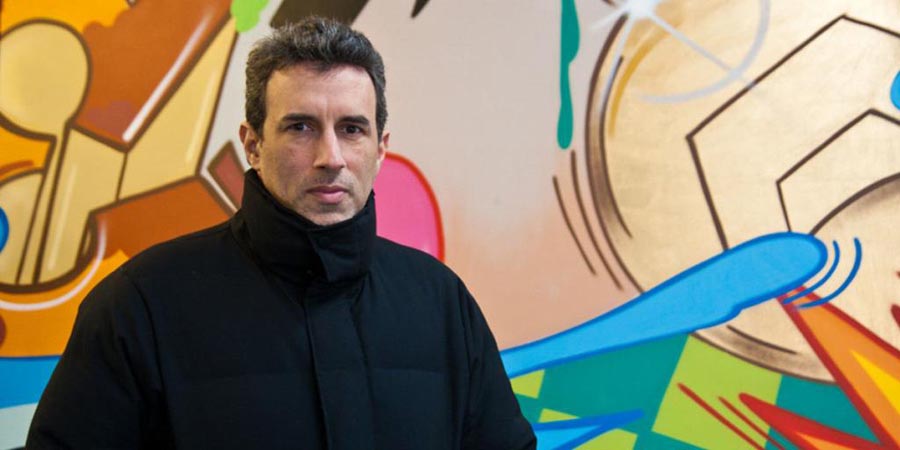 One of the graffiti artists featured at an ongoing MoCA Shanghai exhibition is John Matos (Crash) [Photo provided to China Daily]
JonOne painted at the opening, working on a seven-meter canvas with a DJ performing.
According to Gong Mingguang, the director of MoCA Shanghai, some of the other artists featured will also visit the museum during the exhibition.
Speaking about how the museum prepared for the exhibition, Gong says: "We decided to leave some walls blank, and place scaffolds in the exhibition hall to recreate the original work sites of the artists on the street. So, the artists can visit the exhibition to create new works on site."
Speaking about his work, JonOne, who first visited Shanghai in 2009 for his first exhibition in China, says: "I am very much inspired by Chinese calligraphy. And at that time I noticed how calligraphy was very important for the Chinese culture."
He recalls seeing people writing on the floor using a brush and water at the People's Park, and "I decided to do likewise."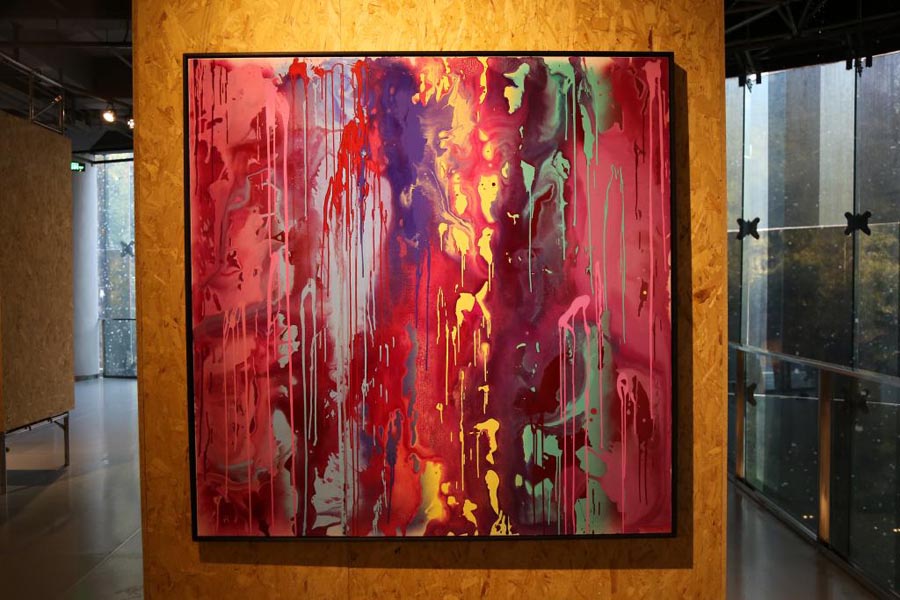 A painting by Tancrede Perrot (Tanc). [Photo provided to China Daily]
JonOne's works are mostly abstract, characterized by their fluidity and abundance of movement. In 1987, JonOne moved to Paris, and since then has become a recognized contemporary artist. In 2015, he received France's Legion of honor.
JonOne has no training in painting. But as a youngster in the 1970s and 1980s he used to see graffiti by artists such as Crash on trains passing by in Harlem, New York.
Crash, born as John Matos, who is also featured at the exhibition, first made his mark by crashing the computer of the school. And, when he turned 13 he began to follow the older teens to train yards and began "bombing", which means to paint lots of surfaces in an area. His name then began to appear on trains moving through New York.
In 1980, Crash turned from train yards to galleries. And he curated the exhibition Graffiti Art Success for America at Fashion MODA, which was widely recognized as the landmark for the beginning of the graffiti movement.
Graffiti remains popular today as a core part of urban pop culture around the world, just like rap, hiphop and skateboarding, says Chang Hyun-ham, whose support made the exhibition possible in Shanghai.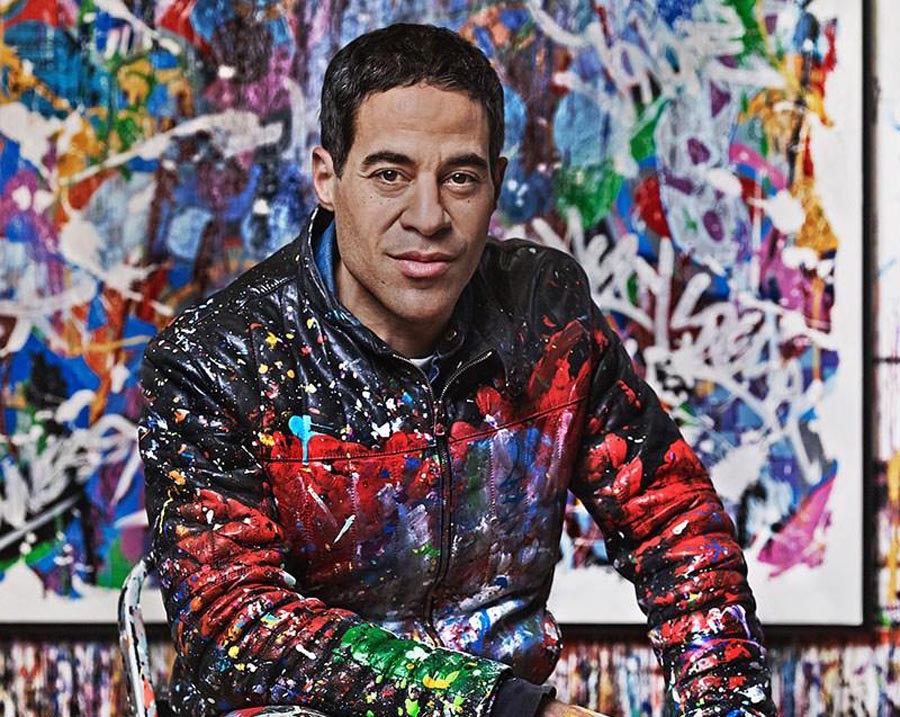 JonOne, a leading figure in the graffiti movement of the 1980s and 1990s [Photo provided to China Daily]
The 55-year businessman from South Korea began to collect graffiti art 15 years ago, and is among prominent collectors in the world.
Chang says graffiti began from a pop culture movement in the 1980s, and has developed into an important part of contemporary art, "just like Michelangelo to the Renaissance".
The exhibition has been co-curated by MoCA Shanghai's executive director Sun and Jisoo Lim, who is an independent exhibition organizer from South Korea.
Street art as a subculture was born on the streets of New York, and has become a symbol of the contemporary age and artistic intervention in modern life, says Lim.
Graffiti is about expressing messages from the heart in colorful images and striking texts that demand and command our gaze.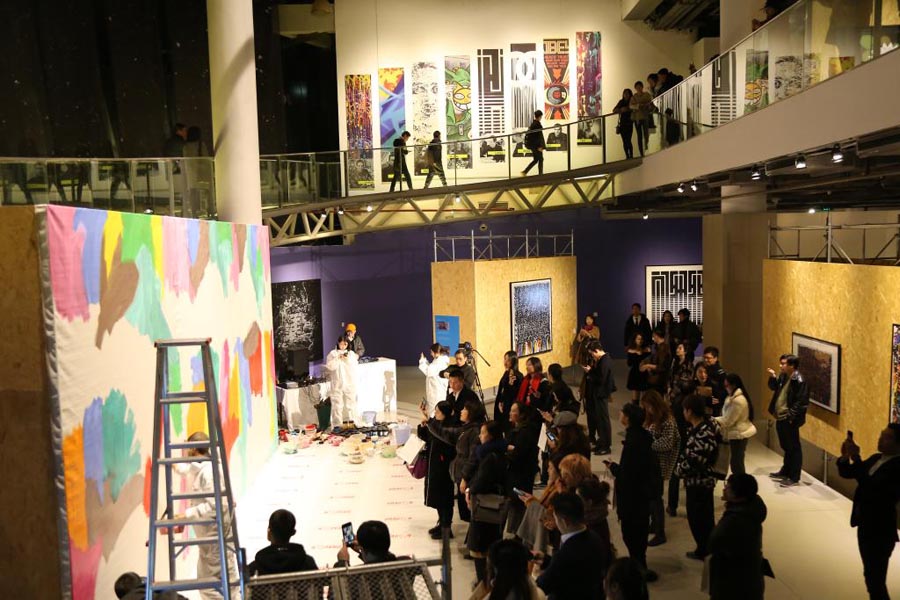 Visitors watch US graffiti artist JonOne painting at the exhibition's opening at MoCA Shanghai on Jan 24. [Photo provided to China Daily]
"It has swept through cities around the world like a tidal wave, leaving behind indelible memories of youth," Lim says.
The eight featured artists came of age in the 1970s and 1980s, and have a shared background.
They are pioneers who moved from the margins of cities into the center of the art world, according to Lim.
"And together they have punched holes through wall after wall between the 1970s and 2019, and between the East and the West," says Lim.
In China there are very few graffiti artists recognized by established institutions, says Sun, and collectors of graffiti in China are even fewer.
"So, we hope that visitors to MoCA Shanghai can experience the urban moments and traces captured and rendered by the artists, moved by their passion for art, and their path-breaking courage."
zhangkun@chinadaily.com.cn