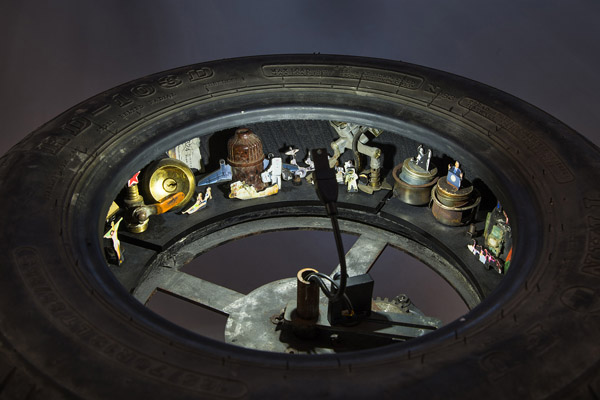 A detail of miniature scenes in discarded tires in Chinese artist Hu Weiyi's work, Pulp Landscape 5 [Photo provided to China Daily]
Three new media artists, who work with recycled objects, are setting their art in motion at a groundbreaking exhibition in Guangzhou, Lin Qi reports.
Despite the differences in their cultural backgrounds and ages, British artist Peter William Holden and Chinese artists Hu Weiyi and Tong Kunniao all utilize everyday objects and draw on their individual experiences to produce eye-catching works that arouse critical thought on the dramatic changes taking place in the relationship among people, technology and the material world.
Their mixed-media installations and sculptures, often grand in scale, offer viewers an enthralling audio and visual environment while hinting at the sense of unease people feel as they ponder the future landscape of human society.
Works by the three artists are being shown at an exhibition titled Dionysian Super-X| Physical Hilarity through Feb 28 at Guangzhou's chi K11 art space.
Hu Bin, the exhibition's curator and deputy director of the art museum at the Guangzhou Academy of Fine Arts, says: "The show examines how the leap from traditional media to new media has helped to reshape people's lives and alter the way we think."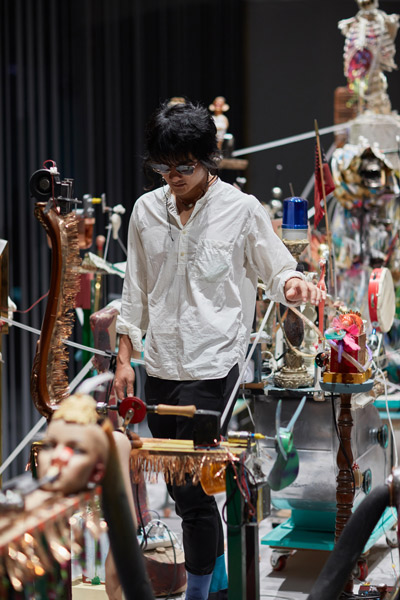 Artist Tong Kunniao recycles daily objects to create the work, Mixture, which is shown in Guangzhou [Photo provided to China Daily]
He says that when people jump into this ocean of technology, both their levels of enjoyment and desires are magnified to such an extent that artists are often needed to step in and offer people an alternative perspective on their behaviors of indulgence.
Hu says that while all three artists featured in the exhibition recycle overlooked objects from day-to-day life in their creations, each of their highly personalized styles offers the audience an unusual insight.
Holden, 49, a UK-born artist who now lives in Germany, creates installations that blur the boundaries between sculpture and cinematography. He has brought three kinetic works that combine objects, computers and music to the exhibition.
Each of his works features multiples of single objects - a glove, a hat and an umbrella - used in sequence. Manipulated by mechanical devices, lines of neatly arranged gloves, hats and umbrellas appear to "dance" robotically along to music.
Holden imbues these objects with a sense of spirituality and romance, achieved without the aid of human movement. He describes these works as "ephemeral animations" and "choreographies that are created when sculptures are set in motion".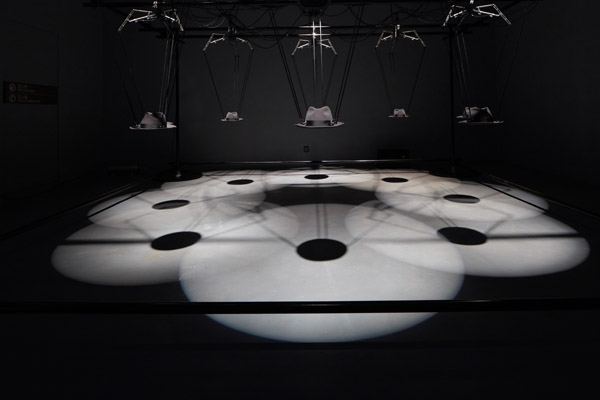 British artist Peter William Holden's work on show, The Invisible [Photo provided to China Daily]
Shanghai-born Hu, 29, is recognized as a rising star in new media art. His creations evolve from his mission to release as much energy as possible from each of his works through a continual process of being displayed and altered to fit the surroundings of exhibition venues. His works represent the vitality of new media art, which differs from traditional art forms such as painting, which are produced by hand and difficult to replicate.
In his exhibited work Pulp Landscape 5, Hu places dozens of everyday products inside several discarded tires to form miniature scenes, before projecting these "landscapes" onto screens.
Hu collects objects such as old toys and used tools and other objects that "seem inferior to people" from the suburbs and middle areas between cities. He repurposes these objects to stage theatrical scenes inside the tires and project them onto big screens, which somehow manage to evoke a magical, playful feeling in the viewer.
Hu's works rebuild the connection between everyday objects and people's physical desires - which he says are fulfilled "not by the so-called technology but by the sense of ease it brings".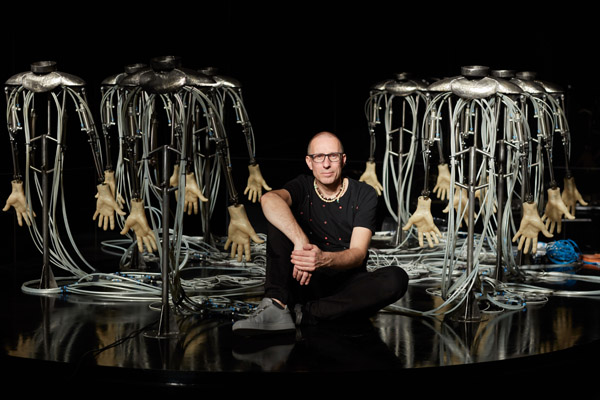 Peter William Holden in front of his other work, Vicious Circle, which is also being shown in Guangzhou. [Photo provided to China Daily]
Beijing-based Tong, 29, grew up in Changsha, Hunan province, a city that is famous for fermented tofu. He says the used and abandoned objects featured in his works have a similar quality to the stinky tofu, since it looks unpleasant but has an intrinsic value. His eye for detail has earned him the nickname, "talent scout of rubbish".
In his installations, Tong mixes and matches a range of recycled products to form fantasy gardens and fantastic toys. Both humorous and bizarre, his works exude the hidden powers of these discarded items while hinting at the potential dangers that await the human race that has put itself in a dominant role.
Contact the writer at linqi@chinadaily.com.cn