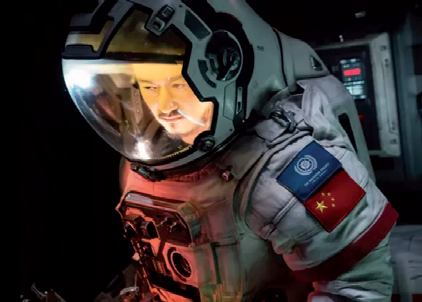 A poster of The Wandering Earth
The Wandering Earth, the first blockbuster sci-fi film made in China, is No 1 worldwide, grossing more than $300 million so far and opening to packed movie houses and positive reviews in the US.
The global box-office take for director Guo Fan's movie in 3D-IMAX and standard format was as of Sunday, according to Variety.com.
In China, the movie earned $304 million in its first six days, with IMAX screens accounting for 12 percent of the film's total estimated gross, Variety said. It opened on Lunar New Year, the beginning of the weeklong holiday that is traditionally a peak box-office period in China.
In the US, where it was released on Feb 8 and will be shown at AMC theaters in 22 cities, the box-office take is a little more than $2 million, according to box office tracker Mojo. The film also will be shown in three cities in Canada and throughout Australia.
The Wandering Earth revolves around the imminent explosion of the sun. It is an adaptation of a short story by Liu Cixin, whose novel The Three-Body Problem won the Hugo Award in 2015. That was China's first win of international science fiction's highest honor.  
The movie stars Chinese action hero Wu Jing, the writer, director and star of Wolf Warrior 2, the military action film that earned a record $850 million in China in 2017.
In New York City, the film is being shown 13 times daily at an AMC theater on West 42nd Street in the Times Square area. Almost all the people waiting to get into the theater on Tuesday were Chinese.
"The movie is really popular in my friends' circle, and many friends recommended it," Kyle, a 23-year-old recent graduate student at Stony Brook University in New York, told China Daily on Tuesday.
In California, a check of AMC theaters on Tuesday showed some movie houses sold out and plenty of tickets available at others.
At an AMC theater in Santa Clara, a box office employee told China Daily that the film has been the No 1 movie there in the past week. "It's been showing for a week, and it's almost sold out every show time," she said.
"I think the film is at the same level with Hollywood sci-fi films," said Senny Shen, a computer engineer in Silicon Valley who had just left a theater on Tuesday.
Shen said Chinese audiences can resonate with the film more readily than Hollywood superhero movies, "though several times, the film seems focused too much on sensation-seeking".     
"Visually spectacular, with big ideas and emotional, intimate human drama, like novelist Liu Cixin's masterpiece The Three-Body Problem, but on a smaller scale. Astonishing imagery," wrote Twitter user Michael R. Perry. "I love 'hard' sci-fi and Chinese movies."
"Guo Fan's epic sci-fi blockbuster is pulchritudinous, quite humorous and surprisingly schmaltzy. Despite its insubstantial script and middle-of-the-road performances by its ensemble, the film still manages to delight its audience with its huge action-filled sequences and staggering visuals," wrote a user named Lau on Twitter.
On imdb.com, an online film database, a user named wilsonny wrote: 
"This is so far the best sci-fi Chinese movie I have ever seen. Honestly speaking, this movie is far better than similar Hollywood movies."
"After watching tons of thousands of Hollywood science-fiction movies or superhero movies, I already had no interest or hope for Chinese film because of many reasons. But this one indeed blew my mind and I just can't wait to watch it again," said another user on imdb.com. 
So far, the film has scored 7.9 out of 10 on IMDb, with more than 3,000 users rating it. 
Many US movie reviewers have given the movie solid marks.
The Wandering Earth is "frequently breathless'', said a review on The Verge website. "The country's first big-budget science fiction epic is often familiar, but it does spectacle on an impressive scale,'' said the review. "This is frequently a gorgeously rendered film, with an emphasis on intimidating space vistas that will look tremendous on IMAX screens.'' 
"The Wandering Earth shows that China no longer needs Hollywood imports to provide Chinese audiences with blockbuster movies. If China no longer requires Hollywood, then Hollywood can no longer rely on China,'' said the Forbes' reviewer.
"The special effects are certain to be measured against Hollywood's'', and "the preliminary reviews have been positive,'' said The New York Times reviewer after seeing the film in Beijing.
The film's budget reportedly reached nearly $50 million. Much of it was filmed in the new Oriental Movie Metropolis, an $8 billion studio in the coastal city of Qingdao, built by the real estate and entertainment giant Dalian Wanda. The Wanda Group is the majority owner of AMC theaters in the US.
Director Fan Guo told the Times: "As long as this one does not lose money, we can continue to make science-fiction films."
Nancy Kong and Ruinan Zhang in New York, Lia Zhu in San Francisco and Yinmeng Liu in Los Angeles contributed to this story.