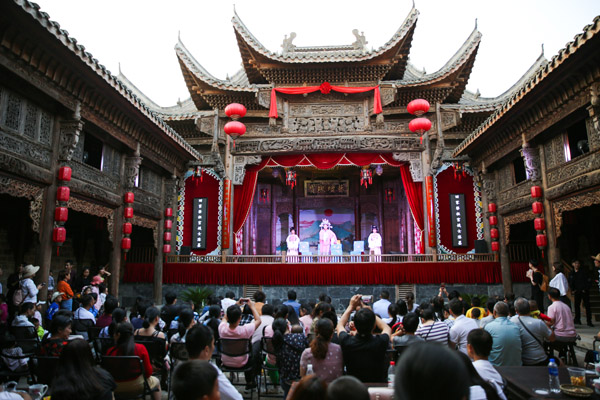 Locals and visitors from around the country enjoy a Huagu Opera performance at a theater in the old town of Tongguanyao in Changsha, Hunan province. [PHOTO/ZENG YONG FOR CHINA DAILY]
An old Hunan art form sees revival during Lunar New Year, Liu Xiangrui reports.
Deng Xia, a fan of Huagu ("flowery drum") Opera, a local art form of Yueyang in Central China's Hunan province, barely misses such shows at the One Yuan Theater.
"It has enriched the cultural life of residents like me," Deng, 35, says.
"In the past, we could appreciate the Huagu Opera, mostly during important festivals such as Lunar New Year, but now we can watch it often."
The One Yuan Theater, located in Rongjiawan town of Yueyang, has staged 30 to 50 Huagu Opera shows annually since 2012, with the audience numbers for each show sometimes touching 1,000.
"Some people bring along stools or are even willing to stand through a show of two or three hours," says Deng of the theater that has a seating capacity of 800.
To enjoy a show, each viewer has to pay only 1 yuan ($0.15) as admission fee to the theater, as the programs are covered by government funding. The initiative to provide regular and nearly-free shows to local residents has been successful in bringing the once-dead cultural heritage back to life.
Yueyang Huagu Opera originated more than 200 years ago. It is mainly popular in a dozen counties and cities in not just Hunan, but also in the adjacent Hubei province and the eastern Jiangxi province.
In its long development process, the opera has widely absorbed features of Yueyang folk tunes and artistic factors of other opera types to form its own style. Traditionally, Huagu Opera had no full-time performing troupes, and was only performed by amateur artists, most of whom were local farmers, during slack farming seasons on temporary stages.
In 2007, Yueyang Huagu Opera was recognized by the State Council, China's Cabinet, as a national intangible cultural heritage for its cultural, historical and artistic significance.
In recent years, measures have been taken by the local government to promote the art form.
The One Yuan Theater, which aims to cultivate more audience, has been a successful attempt, says Yi Wen, an expert of Huagu Opera, who works at a local cultural center in Yueyang.
"Traditional culture still means a lot to the local people. Even some younger residents have shown their interest in the opera," Yi says.
The shows at the One Yuan Theater are performed by a troupe that's affiliated to the cultural center where Yi works. Currently, there are about 30 members in the opera troupe, with ages ranging from 20 to over 60. The average age of the per-formers is 40, according to Yi. Being listed as a national intangible cultural heritage has drawn more efforts toward protecting the art form.
"Most of the young performers were recruited after the opera was listed as national intangible cultural heritage," Yi adds.
The local government's support in recent years includes adding to the troupe members' livelihoods and taking on costs for regular shows at the One Yuan Theater into its annual budget plan, Yi says.
Liu Liurong, 50, a leading member of the troupe, says she has witnessed the enhancement of the opera over the past years. Having performed such shows for more than 30 years, Liu is recognized as a provincial-level inheritor of the art since 2009. She says she had dreamed of standing on stage since she was in middle school.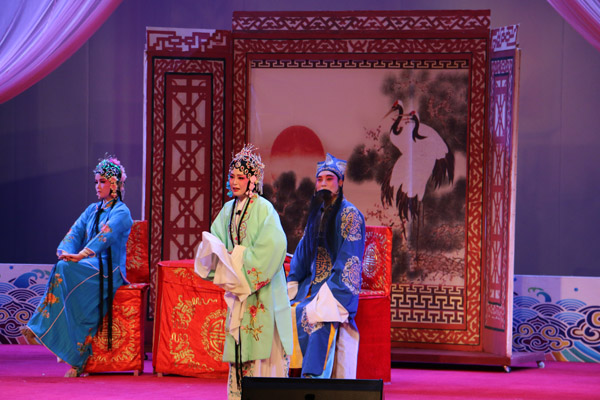 Huagu Opera performers from a troupe affiliated to a cultural center in Yueyang, Hunan province, on stage. [PHOTO PROVIDED TO CHINA DAILY]
Persistent in learning the art form, Liu successfully persuaded her parents, both farmers, to finance her opera studies by selling a family ox.
The 1980s was a glorious time for Huagu Opera, Liu says.
"People had limited means of entertainment, and opera performances were just like live concerts to them. Almost every township and some villages had their own such opera troupes. Fans were really passionate about it and you could hear them hum tunes no matter where," she says.
But Huagu Opera experienced difficult times in the 1990s, when most of the troupes, including Liu's, were disbanded.
"The troupe members then had to leave and make a living in other fields," says Liu, whose husband also worked as a percussionist in her troupe before that.
Huagu Opera started to recover slowly in the early 2000s, when the central government sought to better protect China's traditional cultural heritage.
A local government-backed troupe was formed in Yueyang in 2006, and younger people have been recruited annually into the troupe since.
Yang Long, 27, is one of the young performers who joined the troupe then.
He became an apprentice of Liu in 2008, and has grown to be a representative young actor in the troupe. He was one of the key actors who performed Yueyang Huagu Opera at a provincial cultural event last year and won the gold medal along with the team. Yang says he joined the troupe's training class encouraged by his father, who used to be a Huagu Opera performer.
"People of my age usually think performing Huagu Opera is not a cool thing. I saw it that way at first. But as I learned more about it, I found it very interesting because of the cultural and traditional elements of the shows," says Yang, adding that more people, including the younger generations, are learning about the art form since the One Yuan Theater opened in 2012.
In recent years, Yang has helped bring changes to the opera by creating new plays and adding modern elements in settings, music and costume, to cultivate a younger audience.
Besides shows at the One Yuan Theater, their troupe also travels to rural areas to perform, especially during important occasions such as the Spring Festival holiday. It sometimes takes two to three hours by road to reach a rural performing site. To save time, troupe members often complete their makeup and other preparations on trucks on the way to the shows.
Many people enjoy Huagu Opera as part of Spring Festival, and those who work in faraway places look forward to watching such shows during their brief stay in their hometowns.
"So we sacrifice some of our holiday time to entertain them," Liu says.
Elderly villagers are the most loyal fans of this traditional art form, she adds. Some recognize regular performers after a few encounters, and offer them tea and snacks during breaks in shows.
"These are very touching moments for us," Liu says.
She also feels encouraged by the rise in the number of younger fans like Deng Xia.
"When I hear the classic tunes of the opera, I remember my grandfather," Deng says.
Her grandfather, whom she lived with as a child, was an opera fan and often hummed the tunes at home. Deng says she spends her free time pursuing her hobby in opera singing. She has joined the training class operated by the cultural center in Yueyang and occasionally plays minor roles in the troupe's shows.
"It's easy to find people who share the same interest in Huagu Opera now," says Deng, who trains by singing at a local park.
Influenced by her, a few of her colleagues have become Huagu Opera fans.
In recent years, Liu has put in great effort in passing down the heritage, and has taken in more than a dozen apprentices. She also trains people, both senior citizens and children.
"I believe it is very important to let the local people know about the existence of this art form and have an interest in it," Liu says.
Rongjiawan town has six other registered but privately-owned troupes as well as nearly 30 other performing groups, who play a role in promoting the heritage, Yi from the cultural center says.
In 2008, an inheritance and research institute of Yueyang Huagu Opera as well as an opera society, whose 200 members mainly consist of opera lovers and folk artists from the town and nearby areas, were formed.
"We have also made efforts in research, documenting and recovering traditional plays in recent years," Yi adds.
Contact the writer at liuxiangrui@chinadaily.com.cn