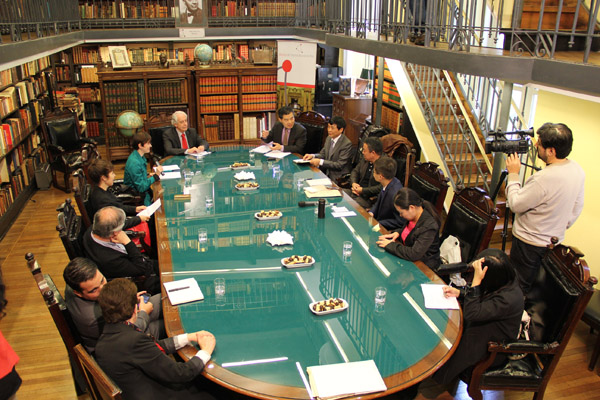 Chinese writer Cao Wenxuan (sixth from right) and Sun Xintang (seventh from right), deputy director of the Confucius Institute Latin American Regional Center, talk with local officials at the National Congress of Chile in 2016. [Photo provided to China Daily]
A major push is now on to take contemporary Chinese literature to an untapped audience, Yang Yang reports.
On July 10, 2017, around 300 locals gathered at Medellin Public Library, the venue for the Medellin International Festival of Poetry in Colombia, to listen to recitations by many poets.
After Chinese poet Zhou Sese read her poem Zuihou De Tiwen (The Last Body Temperature), Leo Munoz, a Colombian poet, started reading the Spanish version that was translated by Sun Xintang, deputy director of the Confucius Institute Latin American Regional Center.
In the packed hall, 41-year-old Sun stood beside Zhou and Munoz.
It was a poem Zhou had dedicated to her mother who died a year earlier. It started with "Mom's body is still warm/Only if my mom's body/Is warm/I still have mom".
As Munoz read on, Sun raised his head to look at the audience, and found tears running down Paraguayan poet Shirley Villalba's face. She was in the first row, and behind her, some other members of the audience were also wiping their eyes.
After the recitation, applause broke out, and people, young and old, men and women, came to hug Zhou.
"I was deeply touched by the scene. The empathy, which transcended geographical boundaries, cultural differences and language, was established through the poem, and with my translation," says Sun, recounting his participation in the poetry festival.
He started working for the Confucius Institute in Latin America six years ago.
Sun says there is a big "trade deficit" of literature between China and Spanish- or Portuguese-speaking Latin American countries.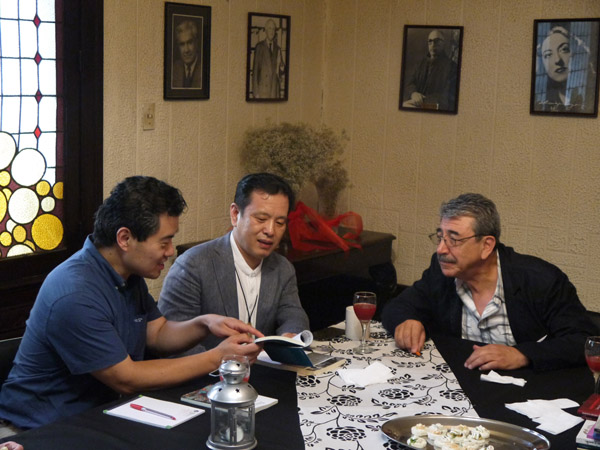 Chinese writer Li Jingze (center) talks with Roberto Rivera (right), president of a Chilean writers' association. [Photo provided to China Daily]
In China, Gabriel Garcia Marquez's One Hundred Years of Solitude, translated by Fan Ye and published in 2011, has been on bestseller lists for years, and Nobel laureate Pablo Neruda is a favorite of many Chinese. Also, Roberto Bolano's 2666 inspires empathy in many Chinese readers. Not to mention, how influential they are to contemporary Chinese writers like Nobel laureate Mo Yan.
In August, Chilean writer Paulina Flores was invited to the Shanghai Book Fair to interact with Chinese writers and readers as the Chinese translation of her debut work, Que Verguenza (Humiliation: Stories), was published in the country. Also that month, the Chinese version of Bolano's novella By Night in Chile was released.
When Chinese writers deliver speeches in Latin America, they name many local writers, but comparatively, Latin American readers know very little about Chinese literature, says Sun.
"Even scholars and writers-their knowledge of Chinese literature is limited to ancient classics such as The Art of War and Tao Te Ching, and ancient Chinese poets like Li Bai and Du Fu. They cannot name a contemporary Chinese title," he says.
"It is largely because there are very few contemporary Chinese literary works translated into Spanish or Portuguese. Moreover, the quality of translation is not good enough because many of them are translated from English or French," he says.
"So far, Latin American publishers and readers have paid attention only to Europe, especially Spain and France, and North America, but with more knowledge of Chinese literature, Latin American readers will be able to understand Chinese culture better," he says.
It is a shame that Latin American readers don't have access to more contemporary Chinese literature, since this is one of the most important cultural sources with noteworthy achievements, he says.
However, in recent years, with Sun and his colleagues' efforts, things have started to change.
In 2013, Sun, who has been passionate about literature and translation since middle school, became the director of the Confucius Institute at the National Autonomous University of Mexico after teaching Spanish at university and translating Spanish literature for 10 years.
He then launched the program, "Lectures by Chinese Writers", to take Chinese writers and poets to various events in Latin America.
In 2015, Sun landed his current position and, since then, he has expanded the literary activities to more countries.
So far, the Confucius Institute has taken more than 30 Chinese writers and poets, including A Lai, Liu Zhenyun, Li Jingze, Mai Jia, Xu Zechen, A Yi, Lu Min, Hao Jingfang, Cao Wenxuan, Xi Chuan and Zhou Sese, whose works have been already translated into Spanish, to visit the region, "so that I can recommend their works to students at Confucius Institute branches and local readers", Sun says.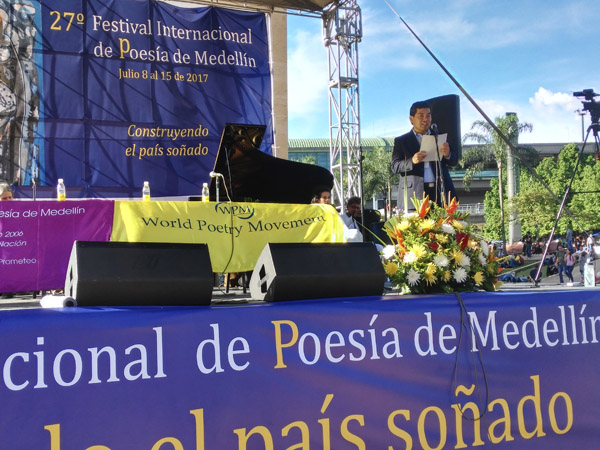 Sun speaks at the opening ceremony of the Medellin International Festival of Poetry in Colombia in 2017. [Photo provided to China Daily]
Under Sun's guidance, more than 100 events have been hosted at local branches of the institute and associated places, as well as international poetry festivals and book fairs.
Also, Chinese writers have visited local writers' associations, libraries, publishers and universities, delivered lectures and had interactions with local writers and scholars.
Additionally, Sun gets Sinologists to translate and publish contemporary Chinese literature in Latin America.
For example, since 2012, he has supervised the compilation of a series of outstanding contemporary Chinese literary works.
Thanks to his efforts, works by Chinese writers, such as Li Jingze's Qingniao Gushiji (Blue Bird Story Collection); A Lai's Fairy Circle; and Selected Contemporary Chinese Poems, have been translated and published in Chile, Colombia, Argentina and Peru.
In November, Chinese writer A Yi, at Sun's invitation, went to Chile and Argentina for 28 days, and communicated with local writers, Sinologists, critics, scholars and readers.
A Yi says he was surprised to see how well-connected Sun is in the local literary circles.
"He is a contemporary Zhang Qian," A Yi says of Sun.
Zhang was a diplomat, adventurer and explorer of the Silk Road in the Western Han Dynasty (206 BCAD 24).
Now Pablo Rodriguez, a Chilean Sinologist, is translating A Yi's collection of short stories into Spanish, and it will be published in the second half of this year.
In recent years, the learning of Chinese has become increasingly popular in Latin America. As China grows economically powerful, trade and communication between China and Latin America is also growing.
Last year, 41 Confucius Institute branches in Latin America offered nearly 3,000 classes with more than 50,000 people registering to study tai chi, kung fu, calligraphy, papercutting and Chinese cooking.
Sun sees literature as the key, saying: "Contemporary Chinese works are one of the most important channels for foreign students to study the Chinese language and culture."
In the last five years, a growing number of Chinese literary works have been published in Chile, such as Mai Jia's Decoded, Liu Cixin's The Three-Body Problem and Lu Xun's Kong Yiji and A Madman's Diary. Both Decoded and The Three-Body Problem sold more than 5,000 copies each.
As for the future, Sun says: "We need to introduce more Chinese writers and their works to Latin America … But the key is to nurture more Latin American Sinologists and translators."
Contact the writer at yangyangs@chinadaily.com.cn