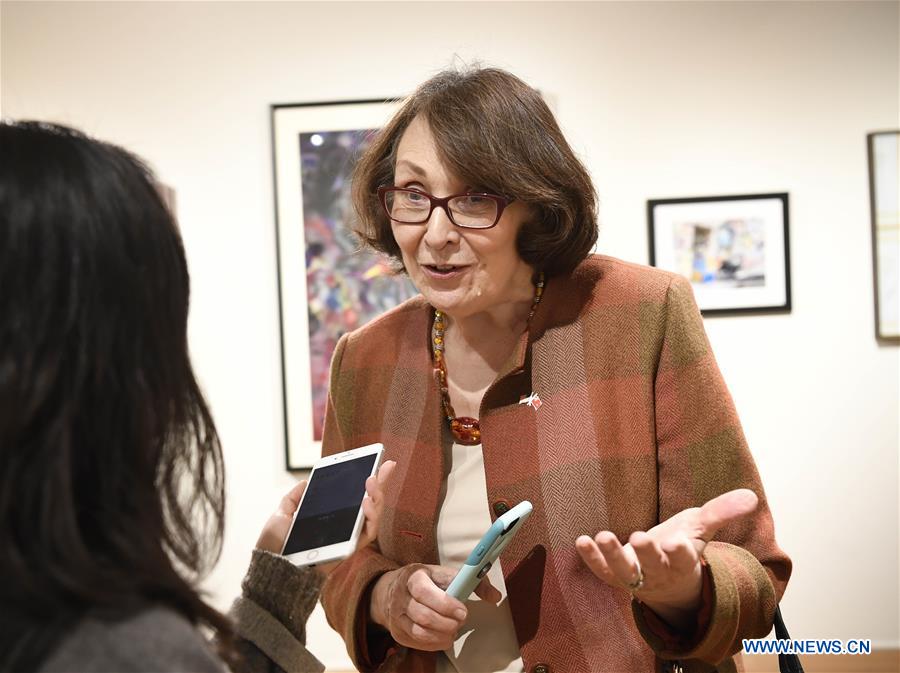 Betty McGinnis, president of the non-profit organization World Artists Experiences, is interviewed at the Maryland Hall for the Creative Arts in Annapolis of Maryland, the United States, Feb 5, 2019. [Photo/Xinhua]
A 13-year-old American boy's first lion dance performance was a bit different than usual. He held up the lion's head, his younger sister, brother and another little girl stood beneath the tail, and the four of them struggled to go in circles before losing the "tail" shortly after.
"It's so difficult because you really have to coordinate, you have to hold it up and blink and move, there are a lot of moving factors," the boy told Xinhua. "It was really cool."
The boy and his siblings from Odenton, Maryland, were joining hundreds at a Chinese craft demonstration at the Maryland Hall for the Creative Arts, located in the state capital Annapolis, on Tuesday, the first day of the Lunar New Year.
The mother of the three, Annette, who only gave her first name, told Xinhua they have done "a little bit of research" on lion dance before going to the event, and her son, who has learnt Chinese for three years, watched the Spring Festival gala at school to better understand the Chinese New Year.
Chinese artist Zhang Longze told Xinhua that the enthusiasm of local residents was way beyond his expectation. "So many people came. They don't just look and walk away, they asked me many questions, and I'm running out of name cards," he said.
Zhang presented exquisite paper cuttings, drawing "wows" all the time. When he started making cute clay animal sculptures at the scene, a couple of kids gathered at his table and kept staring at his hands, until their parents dragged them away to see something else.
While the kids were obsessed with clay pandas and dumplings, Jim Hodges and his wife Monica were taking a precious photos in clothes from the Qing Dynasty (1644-1911).
"It was so beautiful. I love the bright color and the embroidery, so beautiful," Monica told Xinhua after trying on a pink dress that was once worn by ancient Chinese literati.
The couple's daughter and son-in-law used to teach English in Guangzhou for a year, and Monica visited them during the Chinese New Year 10 years ago. "Lots of firecrackers, red lanterns, it made me kind of jealous that I didn't get to go," Jim said.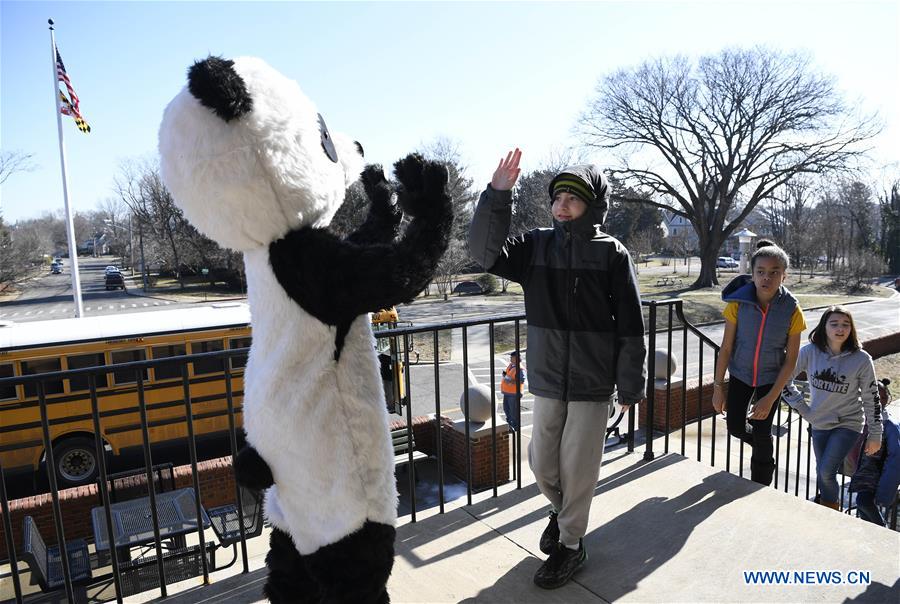 A student greets a giant panda doll before performance at the Maryland Hall for the Creative Arts in Annapolis of Maryland, the United States, Feb 5, 2019. [Photo/Xinhua]
Jim told Xinhua that he read a book years ago about the life of Gladys Aylward, a missionary to China, and the book ignited his interest in the Asian country. "I've always wanted to go see the Great Wall, the Forbidden City... so that's why we came here so we could soak up a little bit more of the culture," Jim said.
For Floretta Keeney, a just retired pianist and organist from Annapolis, the colorful glazed porcelain was the most impressive exhibit. "They are like a piece of heaven," Keeney told Xinhua. "Extremely beautiful."
Keeney said she was also excited to receive a paper-cut rooster. "Somebody gave this to me, and told me this is my zodiac sign" she said, holding it carefully with two hands.
The craft demonstration is part of the Chinese Spring Festival celebrations presented by the non-profit World Artists Experiences, which aims to "bridge international understanding through cultural and citizen diplomacy."
Betty McGinnis, president of the organization, told Xinhua that she has been bringing Chinese culture to the local community since almost 15 years ago. "Many people look forward to the Spring Festival now, while they didn't even know what the Spring Festival was before," McGinnis said.
She said groups from different Chinese provinces have come to Maryland, and this year it's a group from Guangdong. "I think every group has been just fantastic," McGinnis said, adding that it's "marvelous" for the local community to learn about the different provinces and regions in China.
"It's a really great way for them to learn about unique cultures and the many of the intangible cultural heritage of China," she said.
Besides crafts activities, the celebrations this year also include performances, which feature classic Chinese songs and dances, puppet show, acrobats and the Cantonese Opera.
Kyle Leming, a high school student who watched a performance on Tuesday, told Xinhua he thought the show was "awesome." What he enjoyed the most was the wire walking acrobatic show, and the traditional music ensemble.
"That's the kind of music that most Americans associate with Chinese, and to see it actually performed is just really cool," he said. "The instruments are very different."
Leming, who has been learning Chinese for six years, said the language is "super interesting" despite the heavy workload. He said as China becomes increasingly important, knowing the language will definitely help him later on in life with jobs and beyond.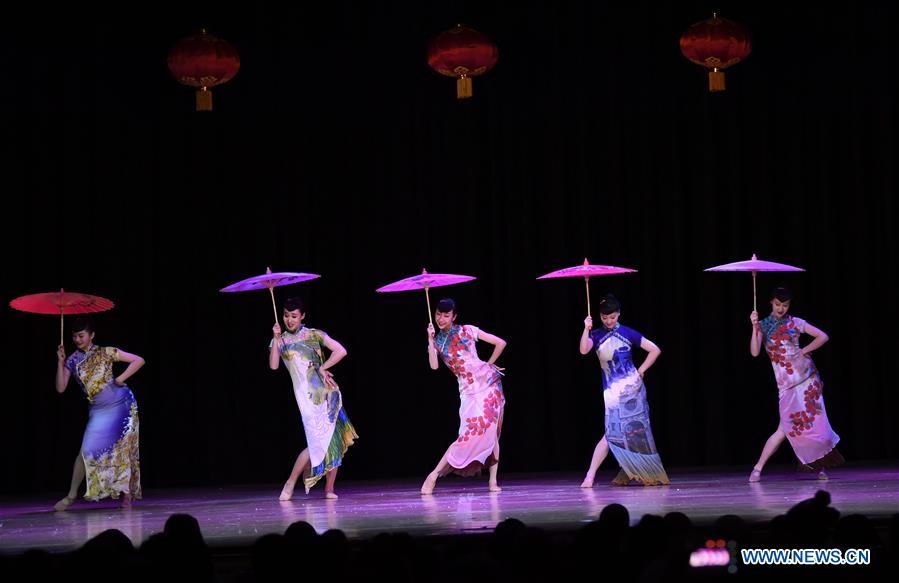 Artists perform a dance at the Maryland Hall for the Creative Arts in Annapolis of Maryland, the United States, Feb 5, 2019. [Photo/Xinhua]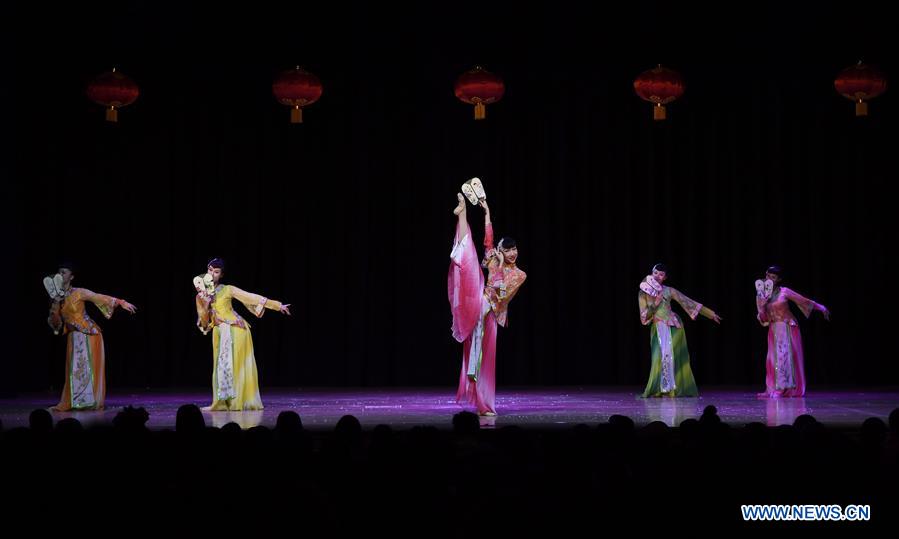 Artists perform a dance at the Maryland Hall for the Creative Arts in Annapolis of Maryland, the United States, Feb 5, 2019. [Photo/Xinhua]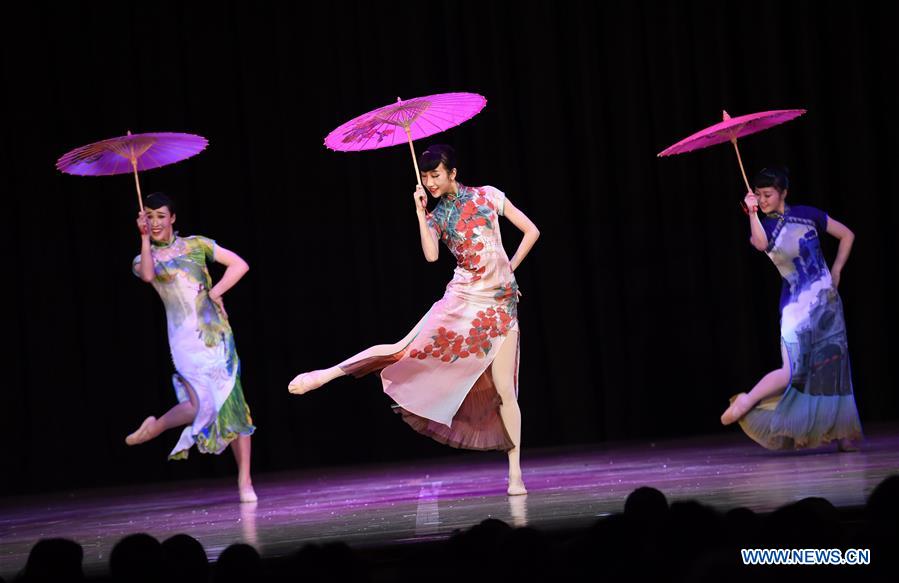 Artists perform a dance at the Maryland Hall for the Creative Arts in Annapolis of Maryland, the United States, Feb 5, 2019. [Photo/Xinhua]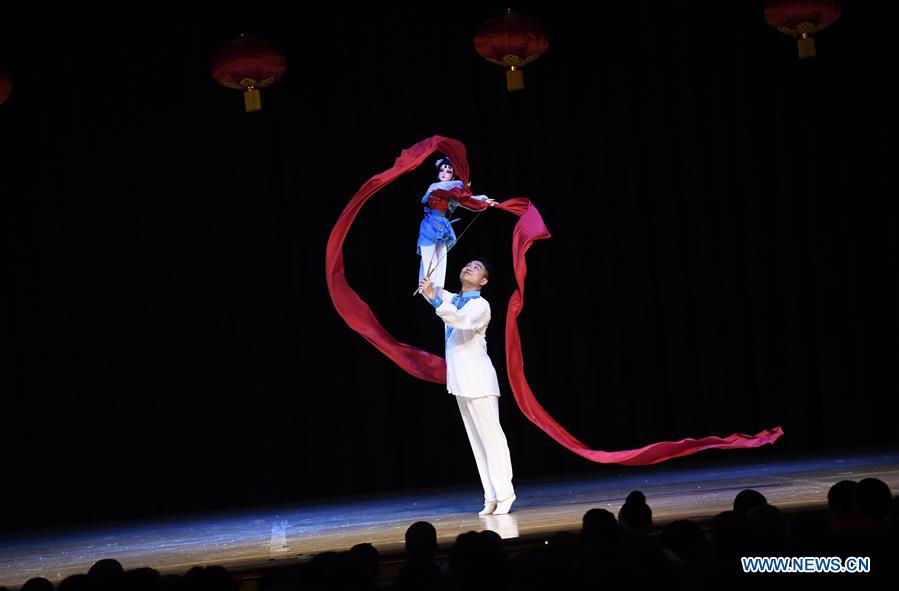 An artist performs puppet show at the Maryland Hall for the Creative Arts in Annapolis of Maryland, the United States, Feb 5, 2019. [Photo/Xinhua]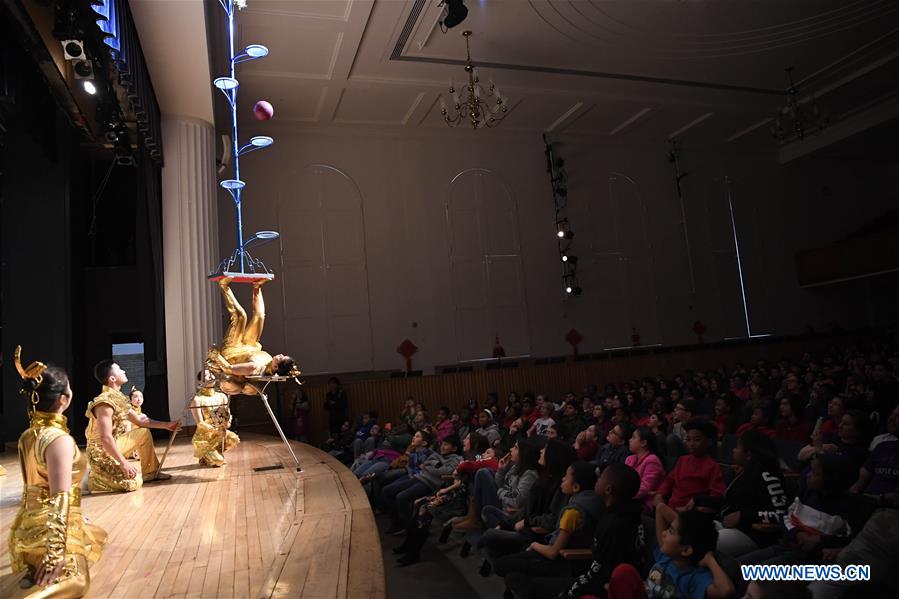 Artists perform at the Maryland Hall for the Creative Arts in Annapolis of Maryland, the United States, Feb 5, 2019. [Photo/Xinhua]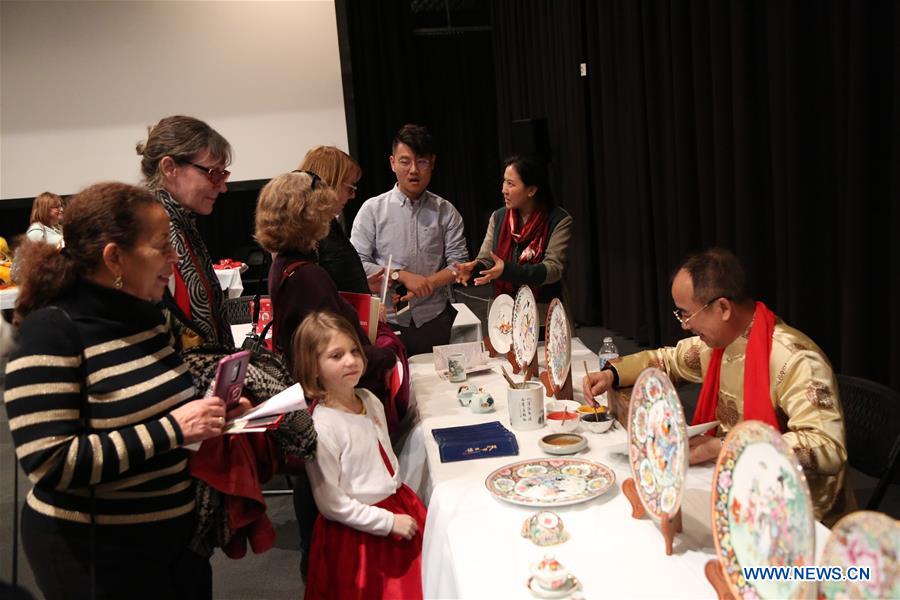 People visit a Chinese craft demonstration at the Maryland Hall for the Creative Arts in Annapolis of Maryland, the United States, Feb 5, 2019. [Photo/Xinhua]