[PHOTO BY LU PING/CHINA DAILY]
Young people are increasingly open to working in fast-developing cities in the Yangtze River Delta, as integrated development moves forward, Zhou Wenting reports. 
Like many of her peers, Wu Chenghui was only interested in landing a job in either Shanghai or Beijing -major Chinese cities that are deemed to have the best job prospects and highest salaries.
But Wu, who is a senior at Shanghai Maritime University, later realized that the opportunity cost for Beijing is too high after having to travel to the capital twice for job interviews.
With competition for jobs in Shanghai as fierce as ever, her focus has shifted since the start of last year to fast-developing, smaller cities that are in need of talent.
During a Dec 2 job fair in Shanghai that was jointly organized by human-resources authorities from Shanghai, and Zhejiang, Jiangsu and Anhui provinces, one of the jobs she applied for was at the Industrial and Commercial College of Anhui University of Technology in Maanshan city.
"Anhui has been undergoing rapid development over the past few years. Also, the Anhui-based University of Science and Technology of China has been making great strides in artificial intelligence and quantum technology. And this has in turn resulted in the formation of a cluster of high-tech enterprises and schools in the province," says the 23-year-old.
The job opportunity at the college, she adds, is one product of this prosperity in the province. The school is a joint venture between the Anhui University of Technology and Shenzhen Sunwin Intelligent Co.
"Compared with neighboring Zhejiang and Jiangsu, Anhui is more tranquil and it suits those who want to teach and work on research projects," Wu says.
"But it doesn't mean that I will compromise for a relaxed life. There is no city where young people can settle down without hard work."
Li Ming, deputy director of the Shanghai Human Resources Service Center, points out that job applicants' choices have become more diverse, especially when other cities now have their own competitive edges in different fields. Moreover, the salaries for fresh graduates within the delta region don't vary much.
He adds that the number of employers from outside of Shanghai attending the job fair has been growing over the past few years. Last year, 100 out of the 540 employers were from other places.
In fact, the annual job fair is usually held only in April. Last year, the organizers decided to hold another event in December to promote talent flow in the delta.
The Yangtze River Delta region includes Shanghai, and Zhejiang, Jiangsu and Anhui provinces. The 26 major cities in the region contribute nearly 20 percent of China's GDP and account for 10 percent of the country's population.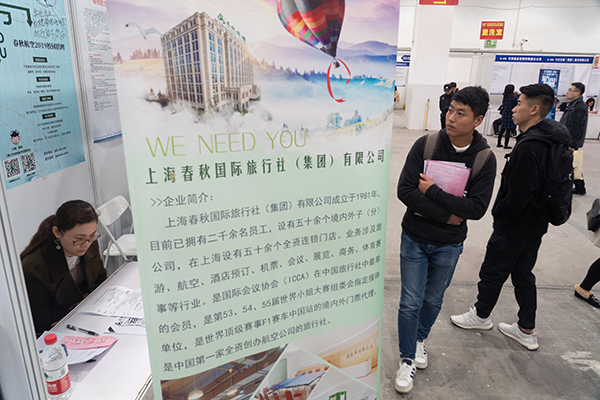 A participant walks past a recruitment poster at a job fair jointly organized by human-resources authorities from Shanghai, and Zhejiang, Jiangsu and Anhui provinces at the Shanghai Mart on Dec 2. [PHOTO BY GAO ERQIANG/CHINA DAILY]
During the China International Import Expo in Shanghai on Nov 5, President Xi Jinping listed the integrated development of this region as a key national strategy, which also highlights the important role of Shanghai in the nation's opening-up initiatives.
Most positions offered at the job fair were in key industries related to the region's long-term plans, such as modern manufacturing, biotechnology, computer software, foreign-trade logistics, scientific research and education.
Li says that human-resource authorities in the delta had signed a framework agreement on talent matters in March. It includes efforts to promote the flow of talent within the region.
"We're also planning to hold such job fairs in other provinces in the delta," he said.
A human-resources manager surnamed Zhang with Zheshang Insurance in Hangzhou, Zhejiang, says she has also noticed a change in job-application patterns.
"In the past, nearly all the university graduates, regardless of whether they are Shanghai natives, only wanted to work in the municipality. Now, some are willing to venture outside the city in search of opportunities," says Zhang, who attended the job fair to hunt for new employees.
"I believe one of the reasons behind this new trend is the integrated development of the Yangtze River Delta, which has been upgraded over the years and mentioned a lot last year. The region now offers the young generation good career prospects in a big, interconnected market."
Wang Yun, deputy director of the Hefei City Public Employment and Human Resources Service and Management Center, says: "Previously, only Anhui natives showed interest in our local enterprises, but now we are receiving an increasing number of resumes from applicants residing in other parts of the delta."
But not everyone is keen to leave their hometown in search of jobs. Lu Siwei, who majors in marketing at the Shanghai Ocean University, only applied for roles in such enterprises as airlines and foreign banks that are based in his home city of Shanghai.
The 22-year-old and her mother agree Shanghai is still the place with the best opportunities for personal development.
Xiao Fei, a recruitment manager at Spring Airlines, says that Shanghai is still the top choice for most graduates in the delta, regardless of whether they are based in the city.
"Many people still believe Shanghai is a superior location because it is an international hub that offers relatively higher salaries," he says.
Job-hopping millennials
Another reason behind the growing trend of working in other cities is the younger generation's penchant for job-hopping.
According to a survey by the professional-networking site Linked-In, younger people are doing so more often than their predecessors.
The LinkedIn report published in November found that those born between 1990 and 1994 move to another city to start a new job once every 18 months. Those born after 1995 do so once every 10 months.
In contrast, those born in the 1970s and 1980s do so every three and 2.5 years, respectively.
Chen Mei, senior manager of content marketing at LinkedIn China, says that the generation born after 1990 grew up in the age of the internet and social media. So, they have a stronger self-awareness, which drives them to be more adventurous in their careers.
Sang Yikang is one such person. He applied for roles in enterprises based in Shanghai and Hangzhou at the job fair. The 25-year-old native of Handan city, Hebei province, says he believes there are good job opportunities in trade and finance that he wishes to explore. And he does not mind job-hopping between the two cities in the future.
"Different cities are offering favorable policies to attract young graduates, and these places also have abundant job opportunities and space for future development. I'm interested in trying different options. I think we should be brave and experience different things when we are still young," says Sang, a master's student of international business at the Shanghai University of International Business and Economics.
Zhou Mo, a 25-year-old who has worked three jobs in Beijing, Shenzhen and Shanghai since he started his career three years ago, says he is used to this semi-nomadic way of life and would be happy to continue doing so for the foreseeable future.
"I prefer following industry-development trends instead of locking myself to a destination," says the native of Jiangsu's capital, Nanjing.
Like Zhou, Deng Xiaoyan, a native of Jingdezhen, Jiangxi province, relocated from Shanghai to Shenzhen two months ago to pursue new opportunities within the internet industry. Another reason she chose Shenzhen is because of its friendly culture.
"In Shanghai, there are still many locals and it takes time for migrants to integrate into the way of life there. But it's different in Shenzhen. There is a saying here that, 'everyone is Shenzhenese when they come to Shenzhen'," says Deng, who plans to settle down there soon.
Contact the writer at zhouwenting@chinadaily.com.cn