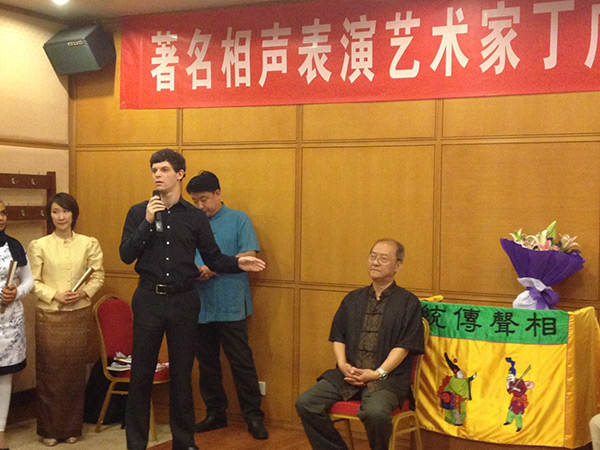 American Jesse Appell (left) has learned Chinese crosstalk from celebrated performer Ding Guangquan (right). [Photo provided to China Daily]
"I'm from the northeast, too," Jesse Appell says in a thick dongbei accent, before swiftly adding for his audience's relish, "from the northeastern United States."
Appell is in full swing giving one of his free performances in a cafe in east Beijing as a member of the Danliren (stand-alone) Comedy Company.
Appell, 28, who has lived in Beijing for six years, has performed in many comedy variety shows in China, such as the Diss Family, and has become a well-known foreign artist on the local comedy scene. He is also the founder of the US-China Comedy Center, which brings together comedians from the two countries.
Over those six years, Appell says, he has watched comedy in Beijing flourish, attracting bigger and ever more loyal audiences. Soon after arriving in the capital to study Chinese in 2012, he started learning crosstalk from one of the most celebrated exponents of the genre, Ding Guangquan, when just a few people were doing stand-up comedy or talk shows, which are Western imports.
Appell says Ding, who died in January last year and had tutored more than 300 foreign students from more than 70 countries over the past 20 years, was his most important Chinese mentor, someone who taught him a lot not only about comedy but also about how to conduct himself. Ding constantly stressed the importance of communicating and interacting with students, listened patiently to their views, and let them think independently and be active in discussions, Appell says. He is now writing a book about him.
"Only in China do I not consider myself the odd man out," he says. "I am always curious about the outside world, while many people in America I have known don't care about it."
Appell is talking in a husky, tired-sounding voice. It's late on a Friday night following an impromptu comedy show at the US-China Comedy Center with his Oh Yeah comedy team, most of whose members are young Chinese.
He says that when he was young he had attention deficit hyperactivity disorder, and medicine he was required to take got him down.
"In China, I have been able to make full use of the positive side of ADHD with my talent for comedy."
He is proud that he is such a rare species in Beijing, performing Chinese stand-up comedy while doing improvisational comedy.
"Stand-up comedy requires a lot of time to write jokes and stories, while impromptu comedy fully taps a performer's skills, reactions and ability to work with team members, cultivating the self-confidence of performers. However, all this takes a lot of time and energy."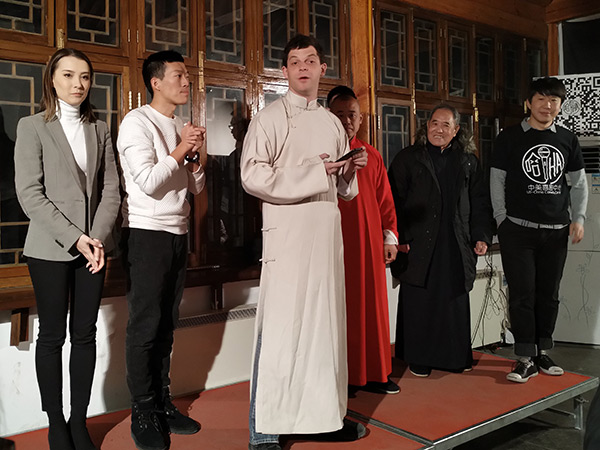 Appell (center) performs at the US-China Comedy Center in Beijing. [Photo provided to China Daily]
He sometimes feels tired, he says, and wonders whether he should focus on just one kind of comedy, like his old friend Shi Jiefu. Shi is the founder of Danliren Comedy, a company that specializes in offline stand-up comedy shows and talent training, and which acquired tens of millions of yuan of financing from Youku in May.
Ultimately though, Appell is too passionate about both forms to give up either one, and so, emulating his friend Shi, he has set up his own comedy company, jumping through all of the official hoops to do so.
Another Chinese friend of Appell, Wu Fan, is a comedian who works full time for Danliren, including offering his skills as a tutor, and differs from Appell and some of the other comedy stars who have become well-known for their online shows, in that he prefers to do live performances.
Wu, 33, has trained more than 100 part-time comedians, including policemen, journalists and university students, and his shows are highly popular, but he is keen to do more live shows, which he feels is a better way of promoting himself. Even mediocre comedians can cash in on the internet because, he notes, it is not difficult to be noticed online.
Without hesitation, though, Wu gives Appell a thumbs-up and commends him for his rich stage experience, profound performance skills in stand-up comedy, impromptu comedy and crosstalk. His performance has strong appeal, good rhythm control and reaction, Wu says.
Appell inspired him a lot, Wu adds, and he participated in the free impromptu comedy training program of the US-China Comedy Center before joining Danliren. There he was surprised by the quick-fire creativity of improvisational comedy created through "say-yes" teamwork, which is far removed from the hard, solitary thinking required when preparing for a solo stand-up comedy show.
However, they always exchange experiences when they both appear on the bill for Danliren. In October, during Appell's performance, there was an act of paying money during which Appell pulled out some cash from his pocket, and Wu suggested that he should take out his mobile phone to pay, which could be more realistic.
Earlier, Wu was a part-time actor with Mahua FunAge, a comedy company that produced many popular stage plays and comedy films.
And the jokes or stories they told related to feeling down and accepting the realities of life in a way that produces optimism, he says. In any case, comedians look at life in a playful way, and that is why young people are fond of stand-up comedy and talk shows, he says.
Appell and Wu, drawing on two different cultures and working in two different ways, are intent on ensuring that their audiences always see the funny side of things.