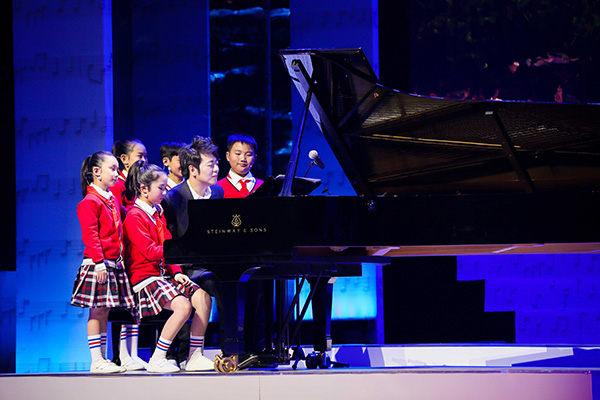 Pianist Lang Lang performs with a group of student singers from Xiongan. [Photo provided to China Daily]
A charitable program is laying the foundation for arts education in Xiongan's rural areas, Liu Xiangrui reports. 
A concert at the Tianqiao Performing Arts Center in Beijing on Friday brought together several bigname artists, including internationally acclaimed pianist Lang Lang, pop singer Xu Wei, ballet dancer Qiu Siting, percussionist Zhang Yangsheng and violinist Lao Li. But the real stars of the show were children like 10-year-old Wang Xinyao, who comes from a rural part of Xiongxian county, which is now part of the Xiongan New Area in northern China's Hebei province.
Xinyao sang her favorite song, You Raise Me Up, which she believes echoes to her own story of a girl from the countryside, empowered by a once-out-of-reach education in the arts.
Only five months ago, Xinyao hadn't received any professional arts training and could only sing some off-pitch children's songs. That was all she had been taught in her school's music classes.
She has since learned to read music and can perform more complicated songs like the classic folk tune, Jasmine Flower.
"Singing has made me more confident," says Xinyao, who has joined her school's newly founded choir. "I dream of becoming a music teacher so that I can teach others what I've learned."
The concert was livestreamed on nearly 20 popular platforms to encourage children who love art, especially those in rural areas, to show their talents and chase their dreams.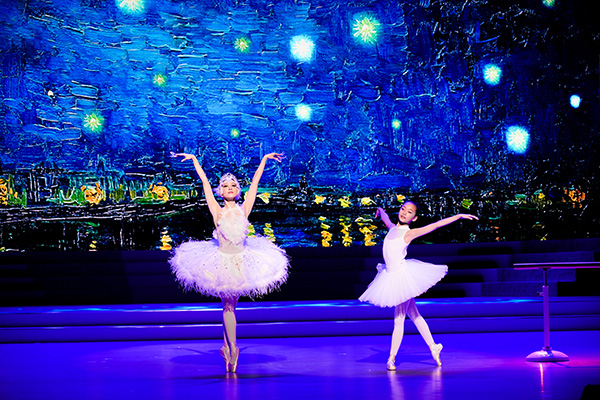 Zhao Chencong, a student from the Duancun primary school in rural Xiongan, Hebei province, performs onstage with professional ballet dancer Qiu Siting. [Photo provided to China Daily]
The event co-organized by tech company Tencent and the Beijing Hefeng Art Foundation enabled Xinyao and other rural children to realize their dreams of performing on a national-level stage.
Hefeng and Tencent brought professional teachers from Capital Normal University to Xiongan and offered weeklong intensive training to 700 local art and music teachers in July 2018.
The classes were livestreamed to teachers in other rural regions, too.
"These trained teachers are like seeds. They can help spread quality arts education to many students in rural areas," Hefeng's founder and honorary chairman Li Feng says.
Li has been dedicated to promoting quality arts education in the countryside for about six years.
He believes the arts can inspire children, and stimulate their imagination and creativity while boosting their confidence.
Quality education in the arts is common in cities. But it's rare in China's vast countryside, where he estimates about 60 million children have no access to quality music and painting classes, due to a lack of proper spaces and teaching personnel, and the presence of exam-oriented education.
His foundation has brought training in fine arts, dancing and music to rural students across China.
"All they need is an opportunity," Li explains. "You notice how an education in the arts changes them."
Li's foundation and Tencent decided to partner to launch the campaign a year ago.
"As an internet-based company, Tencent hopes to make its own contribution in this field," says Cheng Wu, vice-president of Tencent.
"With professional institutions like Hefeng, we can explore new models of 'internet plus art education' by using new technologies, such as artificial intelligence, to let the seeds of art be sown in more rural children's hearts."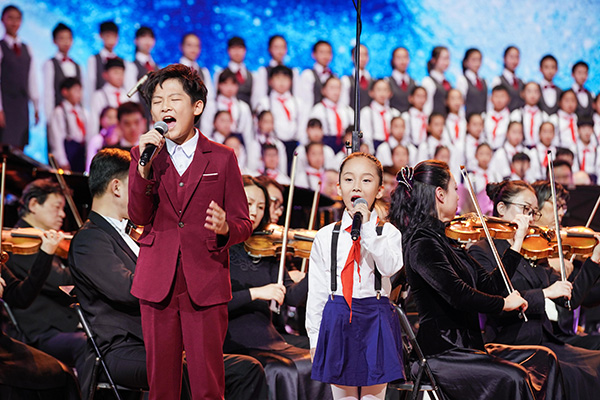 Wang Xinyao (right) sings songs in a concert together with other children at the Tianqiao Performing Arts Center in Beijing on Friday. [Photo provided to China Daily]
They surveyed over 300 primary and middle schools in Xiongan as a pilot area. They then proposed a comprehensive solution based on common challenges, such as shortages of class content, qualified instructors, hardware and stages.
They've focused on training teachers instead of training students directly, as has been tried before.
The program takes advantage of Tencent's technologies and music and video platforms to maximize the training's coverage, with online classes featuring top performers, such as one by Lang Lang.
The charitable program has also engaged a number of high-level art institutions, such as the Central Conservatory of Music and Capital Normal University in Beijing.
A volunteer team from Capital Normal University's music college provides online tutoring for teachers and students every week, including web classes and teacher assistance.
The recent concert was a good example of the campaign's achievements.
Three choirs of students from schools in Xiongan performed choruses. Other kids performed ballets and piano music, while accompanied by a professional symphony and performances from superstars.
"Regional economies' uneven development makes it harder for rural children to access music, but their passion for it is as strong as anywhere," says Li Gang, deputy dean of CNU's music college, who often travels to Xiongan for the program.
"I was delighted to find that-despite insufficient resources-the teachers and children can create choirs and perform on a par with their urban peers after proper teaching and training."
Contact the writer at liuxiangrui@chinadaily.com.cn