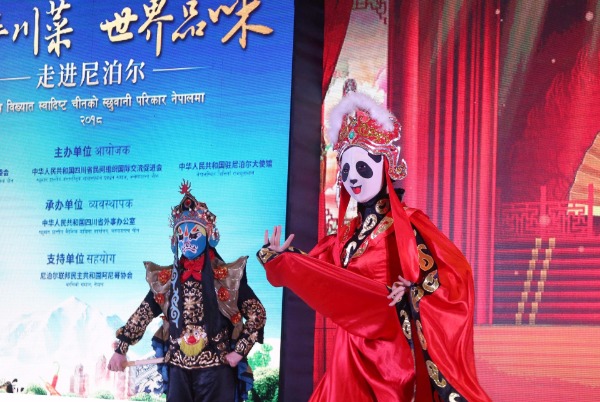 [Photo/Xinhua]
Joe Sinicki would have mistaken Carrie Feyerabend for a Chinese performer, had he not watched her presentation of the Peking Opera classic, The Heavenly Maid Scatters Blossoms, at a recent show at the State University of New York in Buffalo.
"She did pretty well. If I didn't see her, I would have thought she was maybe a Chinese girl," says Sinicki, who is a fan of Peking Opera.
"It was cool. I liked it. It was very abstract. There's a lot of symbolism," says Sinicki, who was enthralled by Feyerabend's dance with shuixiu, literally meaning "water sleeves", one of the most skillful stunts in Peking Opera.
Shuixiu refers to the extra-long dancing sleeves attached to the cuffs of a costume, which are used to perform various movements. There are hundreds of gesticulations in shuixiu dancing such as quivering, throwing and wagging.
Feyerabend is an American artist from the Confucius Institute of Chinese Opera at Binghamton University who joined her Chinese counterparts in the show, Amazing Chinese Opera, which was held during the university's International Education Week in November, an annual initiative to celebrate and promote international education and exchange.
Founded in 2009, the institute is the first such place in the United States to offer Chinese opera lessons through cooperation with the National Academy of Chinese Theater Arts in Beijing, while supplying tools and support for teaching Chinese language and culture.
Regular shows
Brought up in Skaneateles, a small town in New York state, Feyerabend studied Peking Opera in Beijing and now serves as an assistant to the director of the Confucius Institute at BU and is the only US member of its eight-person troupe.
"I enjoy playing that role," says the 26-year-old, who's the Peking Opera performer, anchorwoman and artistic director of each show. "I like being behind the stage and helping people make sure that they have a good performance. I'm just so proud of the work that they do. It's fun to watch. Every single time they make it look effortless."
Apart from the onstage work, Feyerabend helps in designing the troupe's repertoire, including Peking Opera acts, Chinese folk songs and traditional music such as guzheng (Chinese zither) and dizi (flute). The troupe has staged nearly 100 performances in more than 30 US states since 2009.
In order to better entertain local audiences, Feyerabend and her colleagues look to develop a good mix of music and Peking Opera, and give variations of different scenes from opera plays while making an individual act no longer than 10 minutes.
Feyerabend has been working at the institute for more than three years. A large part of her job is preparation work to ensure that all is set for the troupe to perform across the country.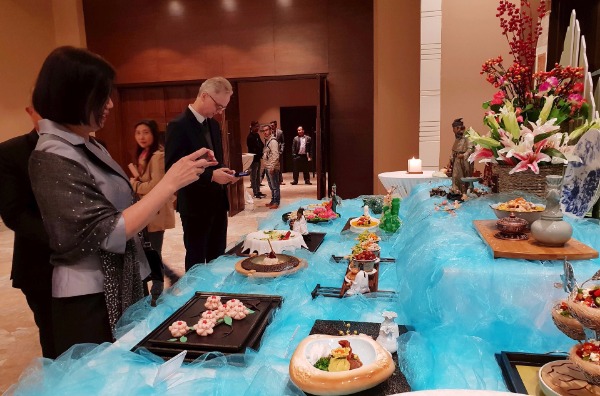 [Photo/Xinhua]
"It's an administrative role, so there's a lot of paperwork that goes on behind the scenes," she says. "Being able to help out backstage logistically is really great when everything flows and goes right."
Myth unveiled
"CICO is the one and only Confucius Institute named for Peking Opera among its counterparts in the US," says CICO director Chen Zuyan. "Our courses are fully integrated into the university's academic system."
All of CICO's courses are offered for college credits. Such courses cover Chinese culture, Peking Opera, Chinese musical instruments and Chinese opera stage combat.
Justina Baez, a biology sophomore who chose the Peking Opera face painting course, says she was "caught off guard" the moment her Monkey King mask painting was complete.
"I was like, 'Oh my God!' My face just transformed. How did that happen?" Baez says with a laugh. "It definitely takes you into another culture and I think that's really cool. Being able to embrace a culture that's not really yours through face painting-I really like it."
The significance of such classes, Feyerabend believes, lies in the fact that "they can fuel passion and also help mutual understanding develop".
CICO also holds outreach events throughout the year at large shopping malls and schools in other states, including Peking Opera shows, interactive workshops and exhibitions.
In a recent exhibition CICO held at a local high school in the state of Montana, where they interacted with a group of theater students, they extended the event from one hour to two.
The feedback of the local students impressed Feyerabend. Some students told her they would share the new skills with their parents.
"So it's a good way to inter-generationally share the culture and a more organic way than just sitting in a classroom."
Resources beyond
Despite her major in Spanish at BU, Feyerabend chose to learn Chinese, because, as she put it, "it was a difficult language" and she wanted to challenge herself.
Standing out for her excellence, CICO picked Feyerabend to participate in Chinese Bridge, or the Chinese Proficiency Competition for Foreign College Students, three times, from which she obtained two opportunities to study in China.
The second time she participated in it was in the beginner's round in her sophomore year, and she won first place and gained the opportunity to go to China to study Peking Opera at the National Academy of Chinese Theater Arts in Beijing for a semester.
"I could feel myself growing both in my speaking and in my stage presence," she says.
Later, she won the senior-level round in the US, then went to compete in Changsha, capital of Central China's Hunan province, to finally win a Confucius Institute scholarship, through which she ended up studying at Xiamen University in East China's Fujian province.
According to Feyerabend, learning Chinese culture has not only facilitated her interactions with Chinese people, but also helped her connect with people from all over the world.
"It's definitely an interesting point of conversation, especially with Chinese co-workers and people that I've met," she says.
"I personally try to live by the guideline that you can't judge a book by its cover. You never know what's lying underneath.
"The only way to know is to have conversations with people, get to know their story and get to know their background."