Violinist Lyu Siqing gives public recital in Beijing
Updated: 2019-01-08 12:10:18
( chinadaily.com.cn )
Lyu Siqing plays the violin during the recital. [Photo provided to chinadaily.com.cn]
Renowned violinist Lyu Siqing gave a recital at Beijing Normal University on Sunday night.
The repertoire included the full version of The Butterfly Lovers, a highly popular Chinese violin concerto that also celebrated its 60th anniversary this year, and classics such as Liebesleid and Liebsfreud from Austrian composer Fritz Kreisler.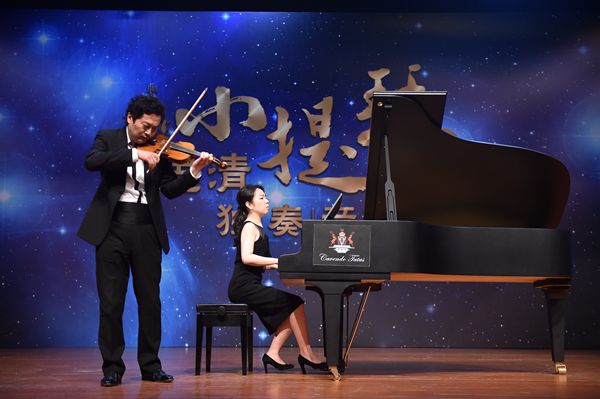 Lyu Siqing (left) and Lu Jingyi perform at the recital. [Photo provided to chinadaily.com.cn]
Lu Jingyi, a piano teacher at the Central Conservatory of Music in Beijing, accompanied Lyu on the piano.
It marked the third time for Lyu, who was inaugurated as a professor at the Beijing Institute of Culture Innovation and Communication attached to the university, to hold a recital at the university since 2016, as an act of public art education.
Lyu was the first Asian violinist to win first place at the prestigious Paganini International Violin Competition in Italy in 1987.
According to him, it was the first time in a month that he had played standing up throughout the entire concert. He recently had a muscle injury in his left leg and has not fully recovered yet.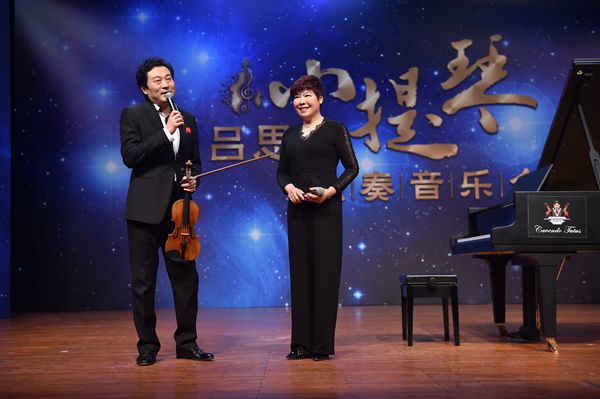 Lyu Siqing (left) and Yu Dan are seen at the recital held at Beijing Normal University. [Photo provided to chinadaily.com.cn]
Lyu says he wants to wholeheartedly bring the best music and wishes to the audience.
In 2016, the institute launched a project dedicated to improving public appreciation of art and also exploring new concepts and methods of public art education.
Yu Dan, director of the institute, says the institute will keep working with Lyu on the project and explore new frontiers of education.


Presented by Chinadaily.com.cn Registration Number: 10023870-7
Copyright © Ministry of Culture, P.R.China. All rights reserved