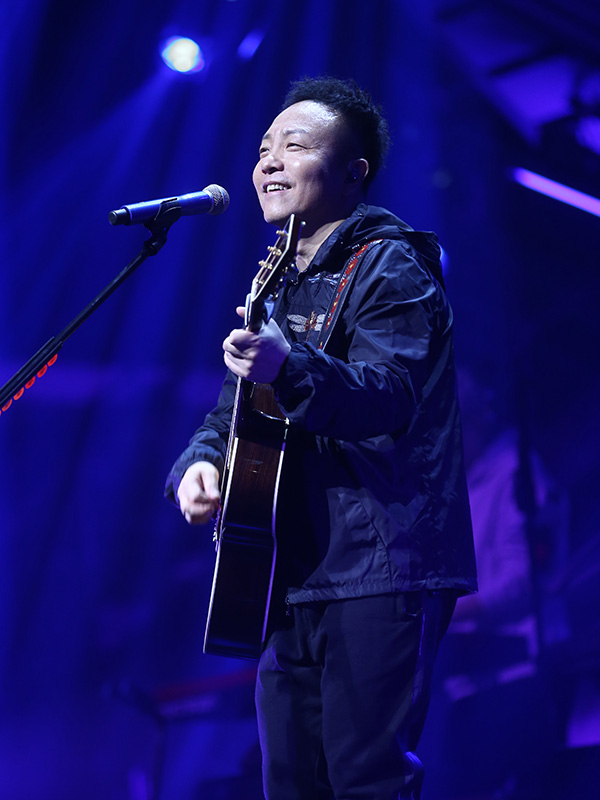 Rock singer Xu Wei performs songs from his new album, Shining On All, along with his band at the Beijing preview of his upcoming 15-city tour last week. [PHOTO BY ZOU HONG/CHINA DAILY]
Chinese rock star Xu Wei has announced a yearlong tour with a new album, Chen Nan reports.
A painting showing a city at sunset-a message of peace and hope-is the cover of Xu Wei's new album, Shining On All.
He's one of China's most-popular rock stars. But Xu has rarely appeared in public after he released his last album, The Moment, in 2012. His new album was released online on Dec 26 and sold more than 50,000 copies in the first five days. Xu announced in Beijing on Thursday his 15-city tour with the new album, which begins in Shenzhen in May and ends in the capital in May 2020.
At the Beijing preview of his tour last week, he performed eight songs from his new album along with his band that includes his longtime friend and guitarist Li Yanliang. The band formed nine years ago. Fans from different parts of the country arrived ahead of Xu's show to take pictures and hoped to get a glimpse of the star.
"It's an album for live shows, which makes me feel strongly about myself. As I am getting older, the world is seemingly bigger and bigger to me," the 50-year-old says, with a shy smile.
"When we did the rehearsals last night, I told my band members that I feel happy and lucky that I can still write songs, release albums and tour."
Xu's own life-the ups and the downs-has inspired his music and lyrics.
"I am not good at making friends, and I am not a talkative person, so I spend a lot of time alone," Xu says.
"Inspiration can come anytime and anywhere, such as when I run near the hills by my house, when I brush my teeth before bedtime or when I take a train."
The 10 songs on the new album, all written and performed by Xu, including the title track, Only Love and Song in My Heart, are about nature, his family, the city and people and their emotions.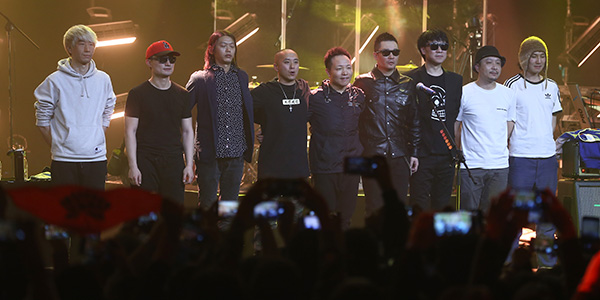 Rock singer Xu Wei performs songs from his new album, Shining On All, along with his band at the Beijing preview of his upcoming 15-city tour last week. [PHOTO BY ZOU HONG/CHINA DAILY]
The singer-songwriter started to learn the guitar at age 16 after falling in love with rock music. He formed his first band two years later. He left his hometown Xi'an, Shaanxi province, and came to Beijing, which was considered the base of Chinese rock music, to pursue his dreams in 1994. But no record company was ready to release his works in those early days. So he wrote songs like Birds and Drifting that reflect his struggles.
For one of his early songs, Two Days, released in 1994, Xu wrote: "I have only two days-one for hope and the other for hopelessness."
With a contract signed with Beijing-based indie label Red Star, Xu released his debut album, Elsewhere, in 1997. It helped him stand out from the crowd of aspiring rock singers. He also worked with a range of singers, including Tian Zhen and Faye Wong.
But success didn't come quickly. The market for rock in China, then dominated by pop music, was very gloomy.
Xu didn't hold his first solo concert until he was 37 years old.
On Aug 13, 2005, Xu got his big break with a concert at the Workers' Gymnasium in Beijing, where he performed his hits such as Blue Lotus, Perfect Life and Gift in front of about 10,000 people.
"When the crowds sang along with me, I was amazed," Xu recalls. "It seemed that I had waited for that moment for a long time. I was nervous and thrilled."
But just as his music was beginning to be widely played on the streets and had become popular among people from different walks of life, Xu began to retreat to a slow-paced life. He cut his long hair, quit smoking and was drawn to traditional Chinese culture like tea art, calligraphy and guqin (a plucked seven-stringed zither).
"Music is a cure, which gives me strength and love," Xu says. "The meaning of rock 'n' roll is also different to me. In the past, I wrote songs to relieve emotions like anger and sadness. Now, I see rock as an expression of love."
His days of restless are over, too.
Xu once told a story to his friend, singer-songwriter Ye Pei, that Ye shared on her social media account last week after Xu's live show in Beijing to celebrate his new album. She wrote that one day, Xu noticed a migrant worker singing one of Xu's songs at a Beijing construction site. Xu sat down next to him and listened. Then the singer-songwriter started to sing himself.
"The worker told him, 'You sing just like Xu Wei'," Ye wrote in her post.
"Xu laughed and kept singing."
Contact the writer at chennan@chinadaily.com.cn