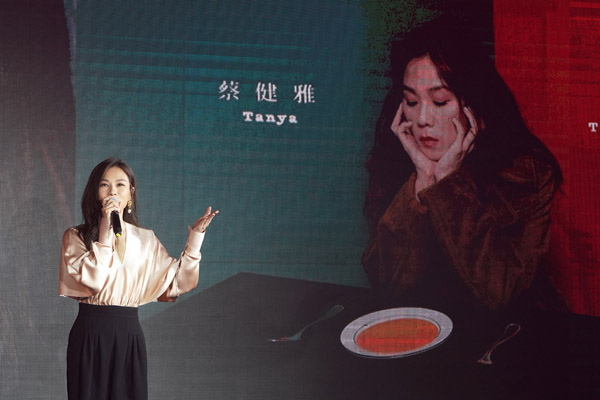 Singaporean singer-songwriter Tanya Chua returns with a new 10-track album after a three-year sabbatical. [Photo provided to China Daily]
Though her 2015 album Aphasia earned her six nominations at the prestigious Taiwan Golden Melody Awards, including Album of the Year and Best Mandarin Female Singer, singer-songwriter Tanya Chua decided to slow things down.
During the past three years, she traveled around the world, meeting new people and drawing inspiration from their stories about life.
These experiences have since become the basis of her new 10-track album Kisses For the World, which was released on Dec 20.
"For the last three years, I didn't keep a schedule. One day, when I picked up my guitar again, the melodies came out naturally and I knew it was time to start writing songs again," says Chua who was recently in Beijing.
The music video for the title song, which was shot in Sri Lanka, is a colorful piece that stems from her encounters with the country's delicious food and its beautiful ocean.
In the song The Will, Chua talks about death. She described the songwriting process as "having a conversation with myself".
"A friend of mine died and when I heard the news, I cried. That night, I thought about death and I looked back at my life. I wrote this song that very night," recalls Chua.
Unlike her past songs, which usually deal with heartbreak, romance and her reflections on relationships, Chua showcases a different side through the new album which is more uplifting in nature.
"I had not really looked back on what I had done as a singer-songwriter but when I did, I realized that I didn't fully open up to music. I used to be a shy woman, but now I feel different. I want to speak out," she adds. "My music changes depending on where I am and who I've become."
With 10 full-length albums, Chua, 43, is the only Singaporean singer-songwriter who has won the Best Mandarin Female Singer three times at Taiwan's Golden Melody Awards, which is considered the Grammy Awards of the Mandarin music scene.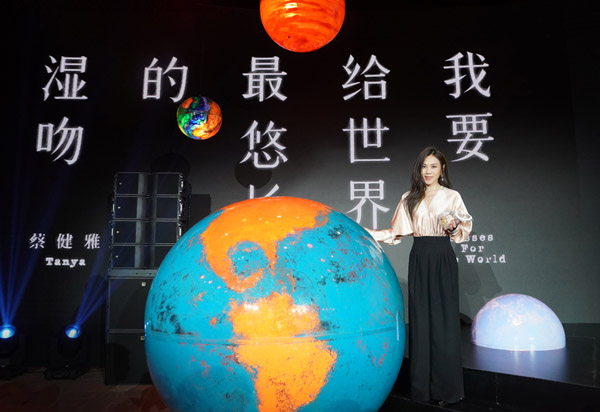 [Photo provided to China Daily] 
After Chua released her debut English album Bored in 1997, she signed with the Universal Music Group which ushered her into the world of Mandarin music. In 1998, she went to Los Angeles to study electronic guitar, and a year later she released her first self-titled Mandarin album. She has also written songs for other Mandopop singers such as Faye Wong and Na Ying.
During her travels to Paris three years ago, Chua also started learning how to bake cakes and cookies at a local pastry school.
"I fell in love with baking because I love dessert. I started from zero and it was not easy in the beginning. Making my first bread was as excited as finishing my first song," says Chua.
"The process of baking is like meditation. I focus on the food I am baking and keep out any interference."