Editor's note: In 2018 we saw a diverse array of TV and internet variety shows in China, all offering amazing entertainment.
Hit musical programs Idol Producer and Produce 101 brought us a new wave of music idols; passions for traditional culture and heritage permeated pop culture; hilarious talk shows won new fans; rappers from Xinjiang, a region bubbling with cultural diversity in Northwest China, were brought to the center stage of Chinese hip-hop. In adventure reality shows, people found connections with people from across the world; mouth-watering food documentaries gave insight into the links between food, nature and cultures, and performers' acting skills were judged by the general public.
Here are some of the most popular variety shows of the year. It's never too late to start enjoying them.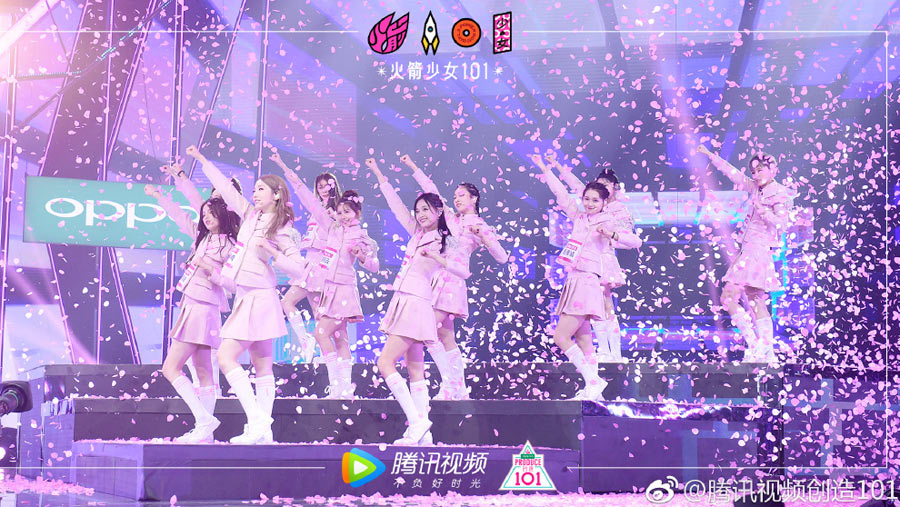 Girl band Rocket Girls 101 performs Rocket Girls. [Photo/Official weibo account of Produce 101]
Picking China's next pop idol
The popularity of China's musical talent programs continued in 2018, with the country's youth picking up their phones to vote for China's next pop idols.
Cai Xukun, 20, became an instant star on Idol Producer, which piloted in January. Produced by popular video-streaming platform iQiyi, the program selected 100 contestants from entertainment companies across China. They competed for nine places in boy band Nine Percent. Cai, the group's lead singer, has so far garnered more than 18.8 million followers on China's Twitter-like Sina Weibo.
In April, all-female counterpart show Produce 101, which is also a Chinese remake of a South Korean show of the same name, inspired droves of young people to vote for their favorite contestants from 101 aiming to win a place in the 11-member band Rocket Girls 101.  

The two-month show, broadcast on Tencent Video, gave us some of 2018's hottest words, such as "pick" (your idol) and "C position" (center position) – the most important position. It also made a star of Wang Ju, hailed by some as China's Beyonce, as she challenged traditional beauty standards for Chinese women: big eyes, fair-skin and sweet, cute smiles.
Other well-received musical shows included Sing! China 2018 by Zhejiang TV and The Next Top Bang from Dragon TV.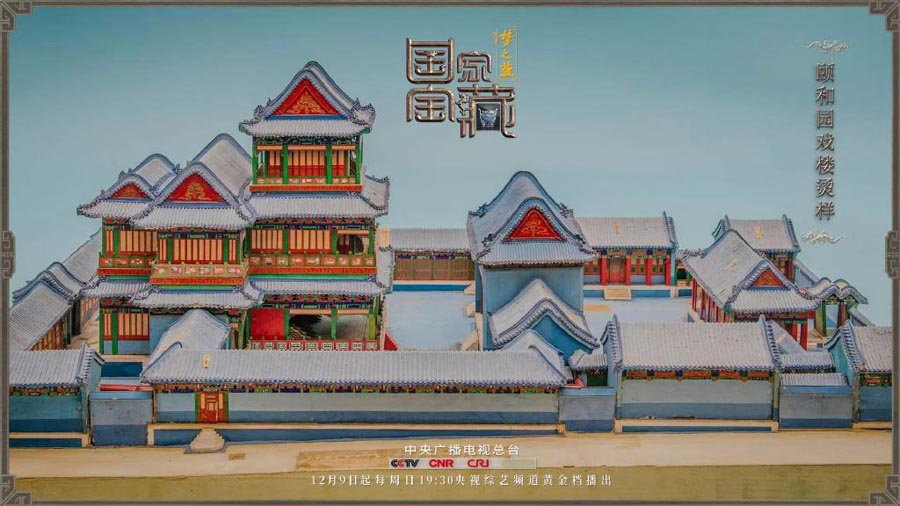 A Qing Dynasty (1644-1911) architectural model of the Summer Palace featured on season two of National Treasure. [Photo/Official weibo account of CCTV National Treasure]
Traditional culture sees a resurgence
Passions for traditional culture and heritage were reignited in 2017 when an number of culture-themed programs aired on TV, such as National Treasure and Readers.
Continuing the legacy of its first season, National Treasure's second season has scored 9.4 points out of 10 on Douban, a popular Chinese film and TV critic site, less than a month after its first episode was released on Beijing TV in early December.

The new season features 27 treasured relics selected from nine museums around China, such as the Palace Museum, Hebei Museum, Shanxi Museum and Sichuan Museum.
The artifacts were introduced by celebrities through short dramas, with scholars and experts telling behind-the-scene stories. It featured a star-filled lineup, including singer Faye Wong, actor-singer Leon Lai Ming, actress Jiang Wenli and young actor Liu Haoran.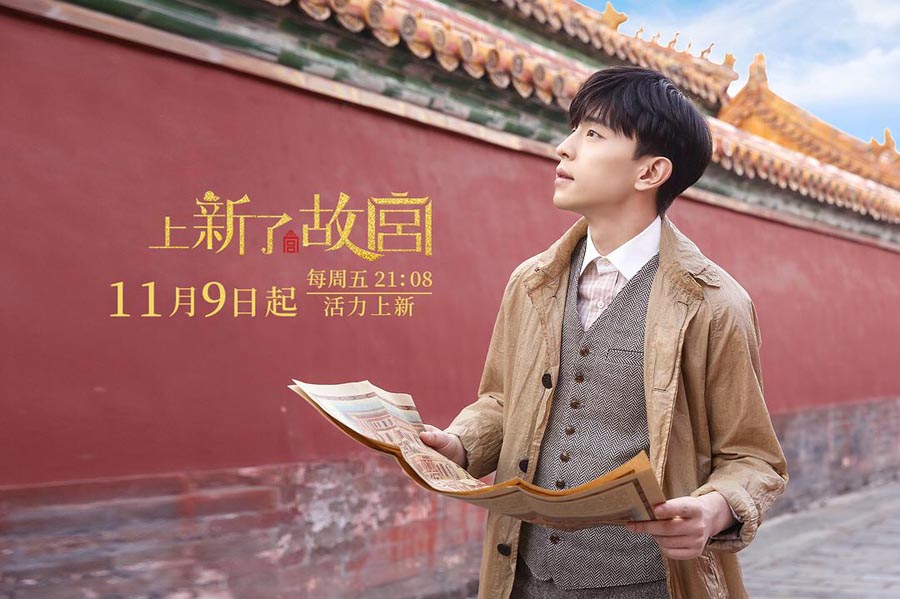 Actor Deng Lun pictured in Shangxin Le, Gugong. [Photo/Official weibo account of Shangxinle, Gugong]
Palace Museum, a much-visited and photographed landmark in the Chinese capital, also unveiled more of its secrets this year on TV show Shangxinle, Gugong, meaning "New Products of Palace Museum".
In each episode, actors and actresses were led by cultural and history experts exploring the 598-year-old former Chinese imperial palace complex. They took in relics and learned about historical events, as well as the legends behind them. They were also joined by designers to make cultural goods featuring artwork from the museum.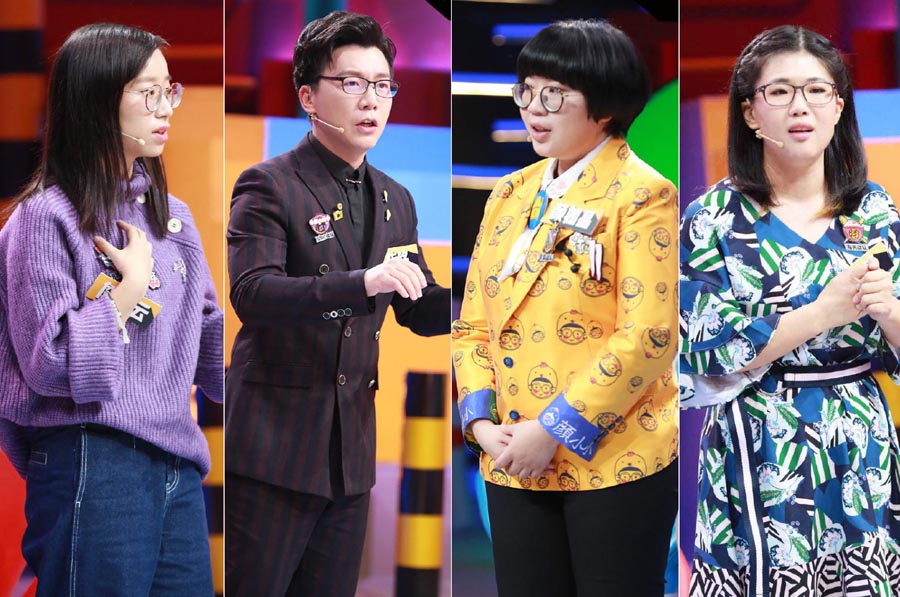 Chen Ming (second from left) won BB King of I Can I BB Season 5. [Photo/iQiyi]
Hilarious talk shows won fans
Entering its fifth season, I Can I BB, one of China's most popular online talk shows produced by iQiyi, made headlines in 2018.
The show brought us talented debaters arguing a different topic each episode, hoping to win votes from a studio audience. The show's debaters triggered heated discussion on social media with their knowledge and entertaining yet thought-provoking talks.
Topics included: "Will you attend a class reunion after graduation if you're living a very ordinary life?"; "A fat-salary job that you don't like versus a low-salary job that you like – which one will you pick?"; "A new technology allows sharing all humankind's knowledge in one second – would you support it?"; "If there is a button to show how much your sweetheart loves you, would you press it?

Though many criticized season five's themes for being too heavy on love and romance, the program caused ripples on China's Twitter equivalent, Sina Weibo, every weekend from late September to early December.

Tucao Dahui, China's version of Comedy Central Roast, was another popular talk show in 2018. Similar to its US counterpart, each episode roasts a guest celebrity, with a panel of comedians and celebrities taking it in turns to mock each other.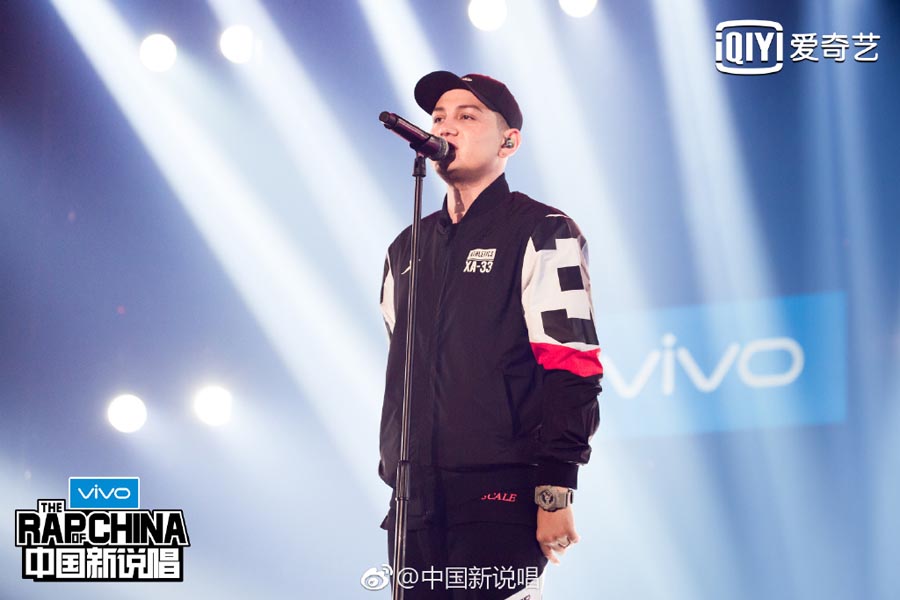 Xinjiang rapper Aire pictured on the 2018 edition of The Rap of China. [Photo/iQiyi]
The beat of hip hop: skr, skr
The Rap of China, China's first hip hop reality show, drove the continuing rise of the US-born genre in the country, when its first season was released in 2017.
Its 2018 edition brought to center stage a group of young Xinjiang rappers, who were among the outstanding performers in the second season. Aire, 25, took first prize after the three-month-long competition that stormed the internet over the summer. Nawukere, also from Xinjiang, won second prize.
Planet Falling, a song co-written by Aire and Sichuan rapper Li Jialong became the most popular hip hop song of the summer. The love song was inspired by the two rappers' girlfriends, and was defined by its R&B and old-school hip hop feel.

In 2017, The Rap of China gave us internet slang words and phrases like "Can you freestyle?" and "diss". This year, "skr skr" became one of 2018's most popular buzzwords after Chinese-Canadian pop star Kris Wu, one of the show's judges, used it to praise his favorite performances.
Skr skr is thought to derive from a misspelling of "skrt skrt", which is defined by urban dictionary as the sound of rubber wheels when drifting or turning abruptly. It's now largely considered a slang word to express excitement and humor.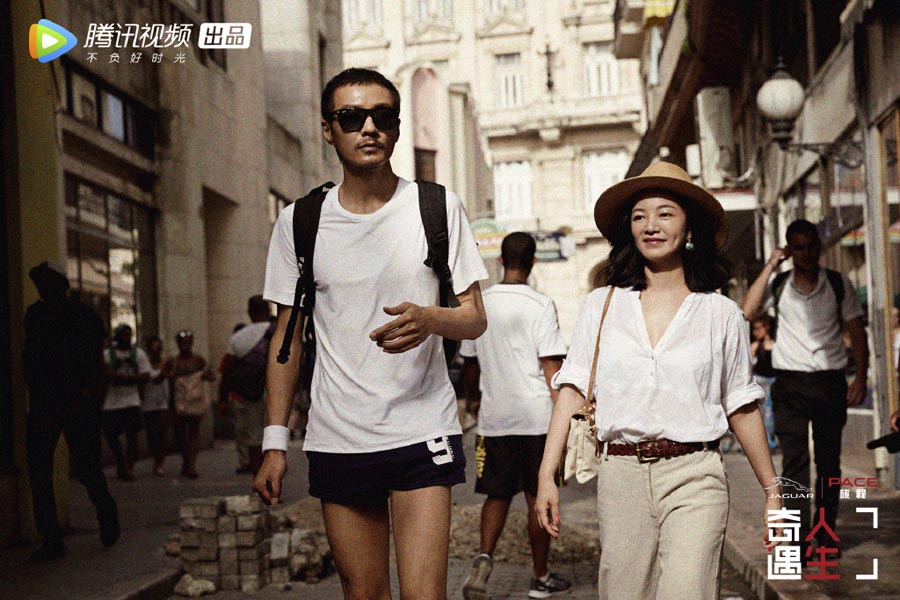 A still of Wonder Encounters in Life, in which singer-songwriter Pu Shu and hostess Aya Liu visit Havana. [Photo/Official weibo account of Tencent Video Qiyu Rensheng]
Making connections across the world

Tencent Video, one of China's major video streaming platform owned by internet giant Tencent, has produced many genre-defining shows in recent years. Qiyu Rensheng, meaning Wonderful Encounters in Life, is one of them.
The documentary reality program invites one celebrity to travel with hostess Aya Liu in each one-hour episode. They adventured in countries including Zambia, Cuba, Japan and Iceland, meeting people and looking for a different sense of self, and most importantly, connections with the hearts of people from all around the world.

The cast included singer-hostess Dee Hsu, singer-songwriter Pu Shu, Mao Buyi as well as comedian and writer Li Dan.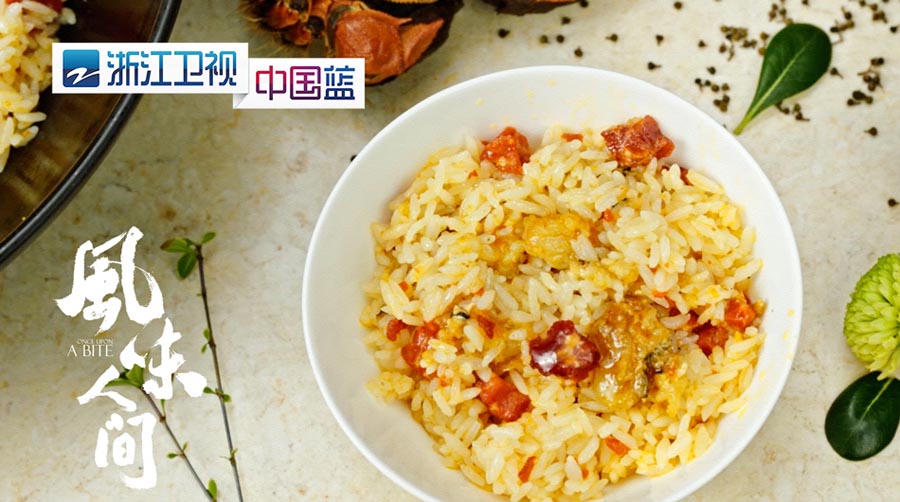 Rice with crab roe featured in Once Upon A Bite. [Photo/Zhejiang TV]
Food for thought
Once Upon A Bite is a new food documentary directed by Chinese director Chen Xiaoqing, whose previous series, A Bite of China, was a nationwide hit.
The eight-episode series explored the perception of Chinese cuisine around the world and its relationship with other global flavors.
In addition to an investigation of Chinese people's dietary habits in different parts of the country, the new documentary, filmed over a period of four years, journeyed to 22 countries, focusing on areas where East meets West, to observe how Chinese food is changing across the world.
The documentary was rated 9.1 points out of 10 on Douban.com.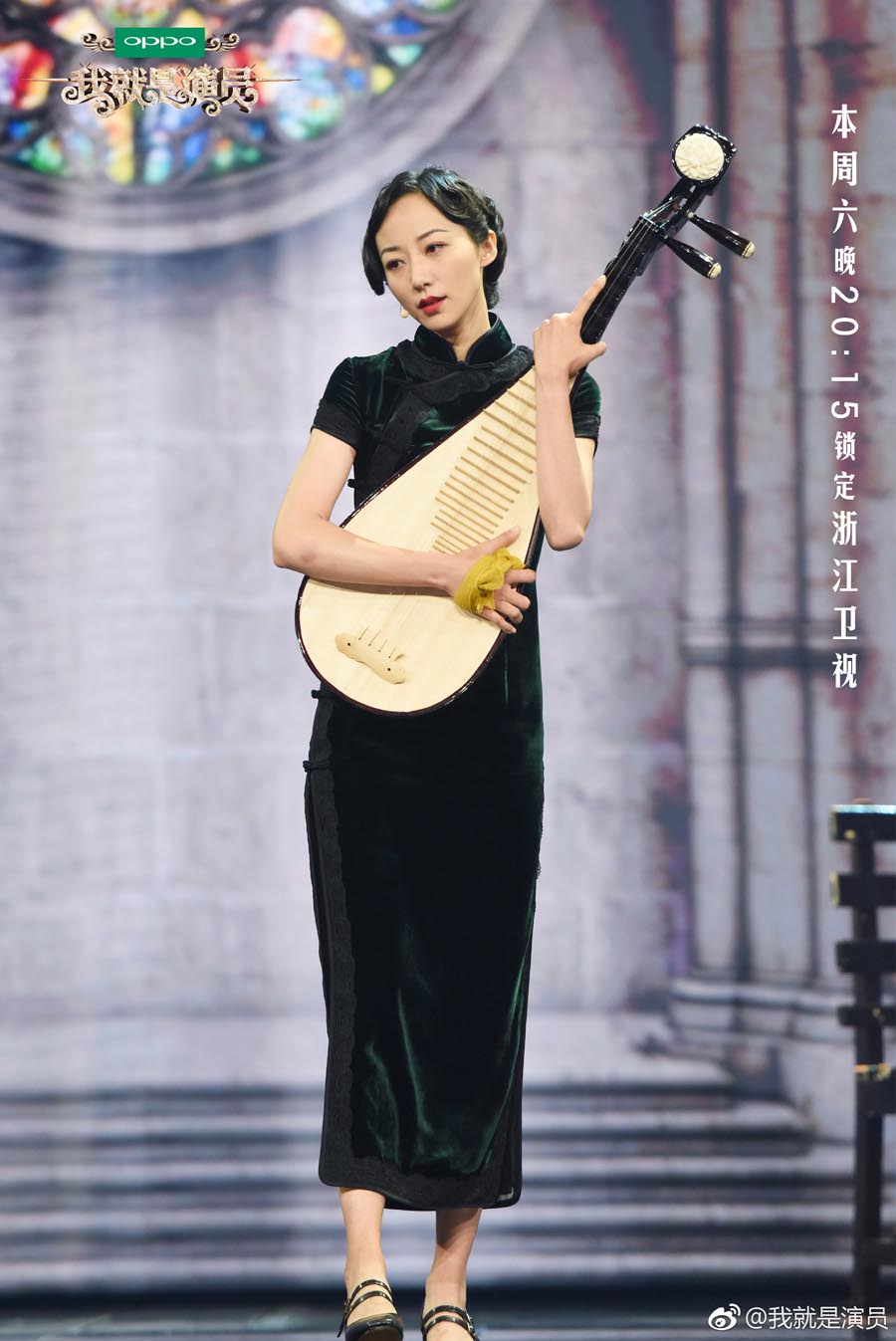 Actress Han Xue, winner of I Am the Actor. [Photo/Official weibo account of I Am the Actor]
Playing to win

Season two of Zhejiang Satellite TV's acting competition show Birth of Performers drew a lot of attention this year. Changing its name to I am the Actor, the new season brought together judge and A-list actress Zhang Ziyi with award-winning actor-director Xu Zheng and actor Wu Xiubo.
Each episode gathered both veteran and new performers to stage excerpts from films or TV dramas. Their performances were then ranked by a panel of judges.

In November, Zhejiang TV announced a partnership with US company IOI (Is or Isn't Entertainment) to coproduce a global version for the English-speaking market.
Also in the spotlight was Hunan Satellite TV's The Sound, which tested the dubbing and performance abilities of Chinese artists.