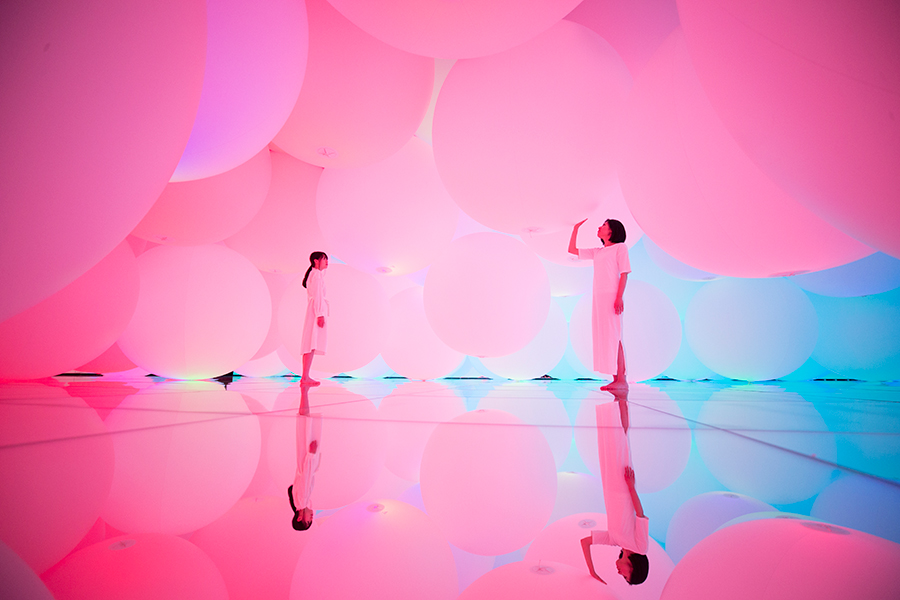 Expanding Three Dimensional Existence in Transforming Space-Free Floating, Flattening 3 Colors and Blurred 9 Colors. [Photo provided to China Daily]
A Tokyo art group is drawing huge crowds with immersive shows, Deng Zhangyu reports.
Since opening in June, Tokyo-based art collective team-Lab's immersive shows-Borderless at Tokyo's Mori building and TeamLab Planets at a temporarily-built art space just a 10-minute drive from the Mori building-have attracted about 1.7 million visitors from across the world.
Every day, visitors wait in long lines for admission to experience an immersive world that has been created by an art group comprising engineers, architects, mathematicians, programmers and computer graphic specialists.
As for the shows' popularity, they are soon expected to receive more visitors than the Museum of Modern Art in New York within the first five months of opening, says Toshiyuki Inoko, founder of team-Lab.
"It took 18 years for us to be recognized by people," says Inoko, who set up teamLab in 2001 while he was completing his graduate studies in information physics at the University of Tokyo. His group comprised just a few members then, but has now grown to about 500.
In the past few years, teamLab has led the world of digital art by offering interactive experience and immersive shows by mixing art and technology. And they have also received numerous invitations from museums, art centers and galleries around the world.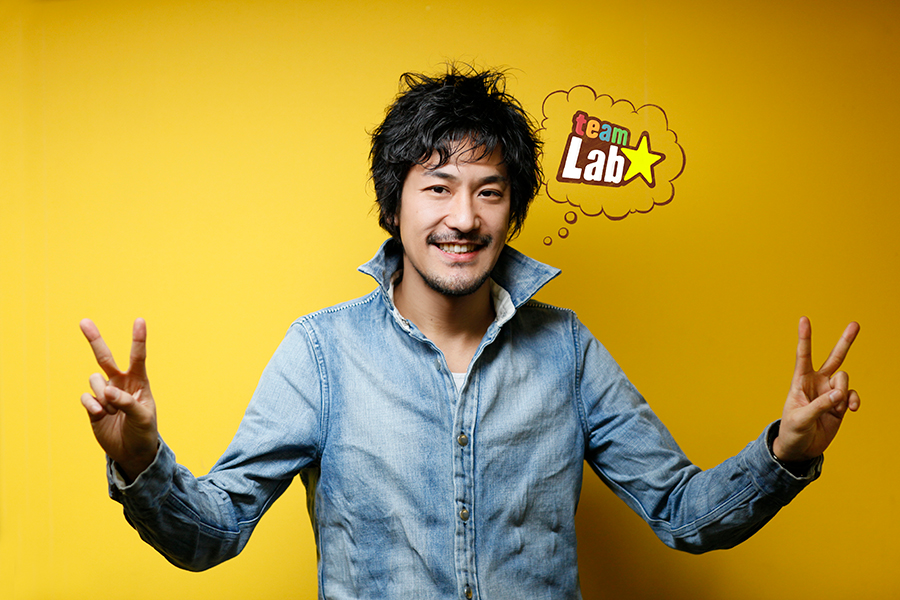 Toshiyuki Inoko, founder of teamLab [Photo provided to China Daily]
The term "digital art" is used by Inoko to describe teamLab's work, because it is different from painting, sculpture, installations and even multimedia art.
Speaking about how he came up with the term, Inoko, 41, says: "I googled digital art online and found that nobody used it to name their art. So I decided to use it."
But he adds that if anyone offers him a better term he would gladly accept it.
Most of teamLab's works, now on display at the Mori Building Digital Art Museum-an exhibition space dedicated to teamLab's works-aim to erase the line between people and nature, art and viewers, and humans and technology by using lights, sounds, projections and motion sensors.
At the digital art museum, which is bigger than a football field, in the Odaiba area of Tokyo, 470 projectors and 520 computers are used to produce 60 digital works. And among the exhibits is a waterfall several meters high that cascades down the wall onto the floor and disappears around the visitors' feet when they obstruct the flow of water.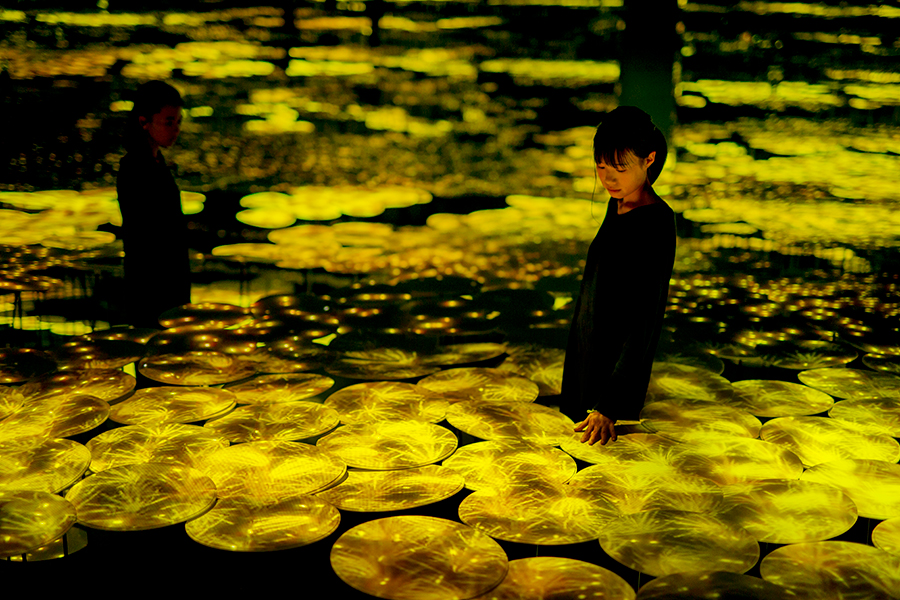 Memory of Topography. [Photo provided to China Daily]
Also, flowers bloom and scatter into pieces in a circle of birth and death on walls and floors while viewers touch them either with their hands or feet. And virtual birds, fish and other animals move from one room to another.
Speaking about his works, Inoko says: "I wanted to explore and extend the notion of beauty. I'm interested in the relationship between man and nature, and encourage people to explore their body and the world."
Also, he says currently people live lives removed from nature, which gives them a mistaken view that humans can live separately from nature. And this is his focus in teamLab's works.
TeamLab's works always use elements from nature, such as water, light, animals and plants to create a world that allow visitors to be part of nature instead of focusing only on themselves.
Nearly half of the 1.7 million visitors who have seen the shows so far are foreigners, and about 10 percent of them are Chinese.
Xiao Ge, a Chinese artist who flew to see the two shows with her curator husband in November, says that teamLab's show is like an art Disneyland for adults.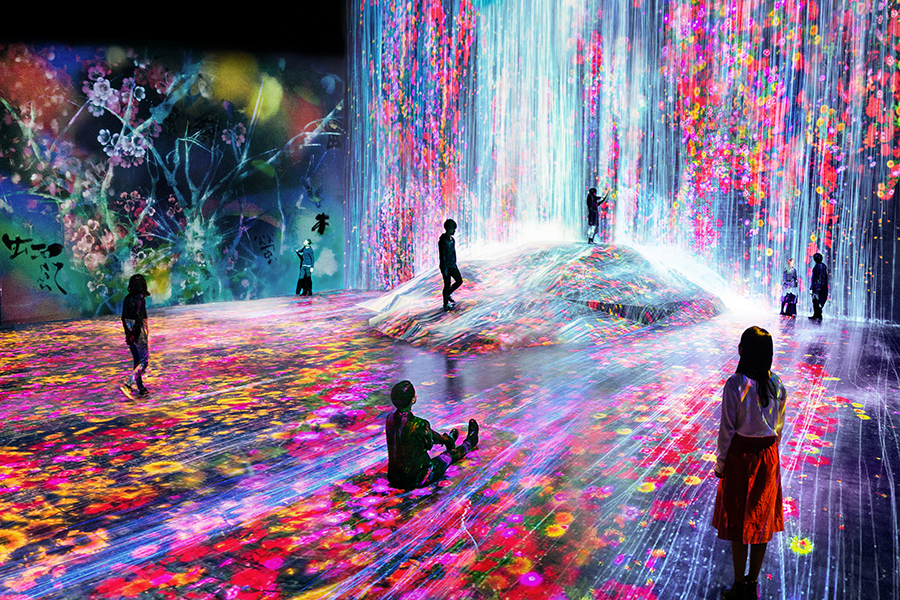 Some works from Tokyo-based art collective teamLab's immersive shows Borderless and TeamLab Planets: Universe of Water Particles on a Rock where People Gather. [Photo provided to China Daily]
"I was excited for almost five hours when experiencing the immersive shows, even though I hardly had any sleep the day before.
"And although it's different from traditional visual art, I think it expands the concept of art."
TeamLab is very popular in China, too, with their shows held in Beijing, Shenzhen last year and Wuhan this year. The show in Shenzhen last year attracted more than 400,000 visitors in about four months.
Inoko says a plan to hold a show at a Shanghai museum is under discussion. And their latest show in China-to be held on Saturday-will feature three of their works at a fashion and art event in Shanghai by Hong Kong actor Edison Chen.
Separately, Inoko says his works have more Chinese collectors because the Chinese art market is now strong and open.
In Japan, museums are less likely to display his work due to budgetary constraints and a conservative attitude toward art, he says.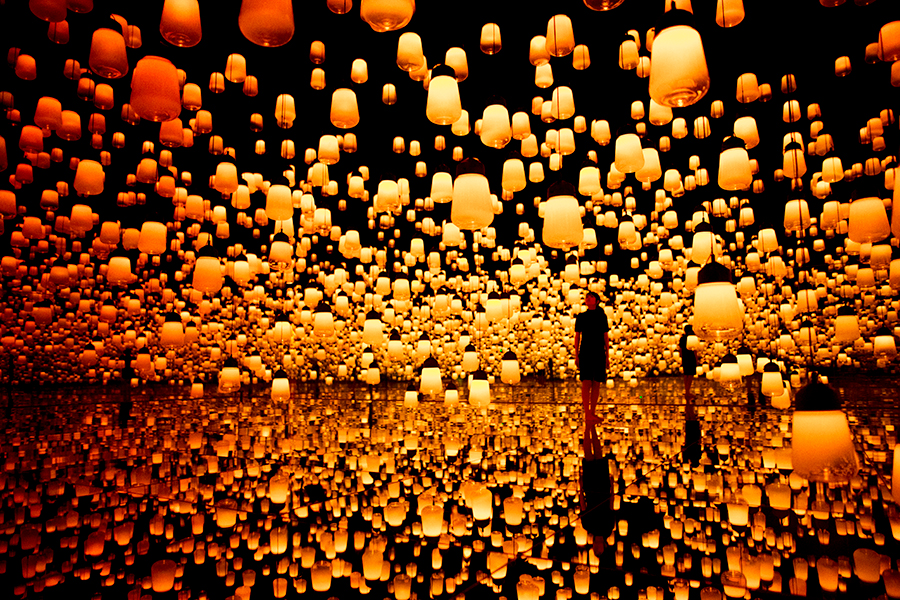 [Photo provided to China Daily]
In fact, teamLab's digital works are often criticized for being classified as fine art. But, in 2016, their digital work Universe of Water Particles was sold at a Philips auction in Hong Kong for $240,149, the first time a digital work had gone under the hammer. And this year, their works were also sold at Christie's.
As for how he sees technology in art, Inoko says: "Technology is a tool to free our art from material. So, we never use technology for the sake of it. We only use it to help create new works."
Contact the writer at dengzhangyu@chinadaily.com.cn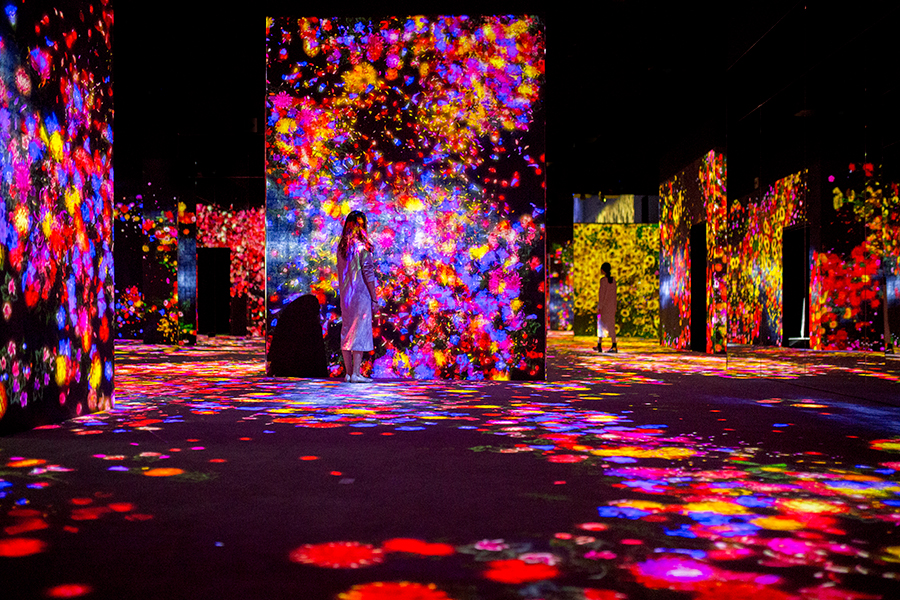 [Photo provided to China Daily]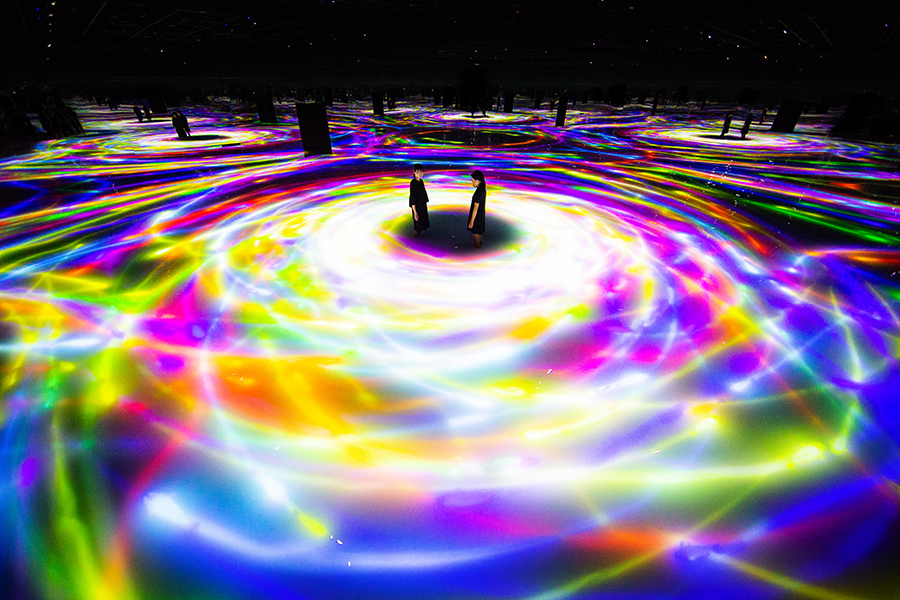 [Photo provided to China Daily]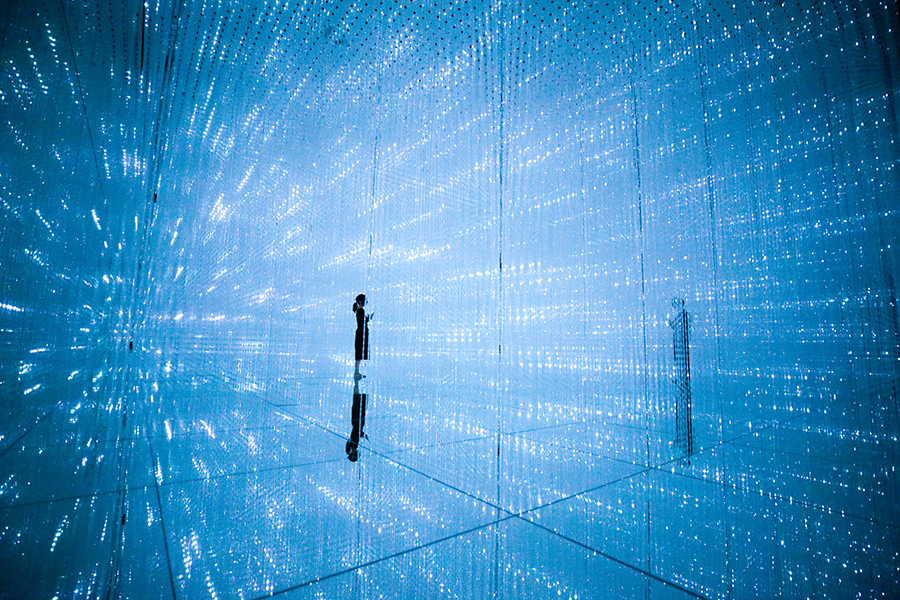 [Photo provided to China Daily]