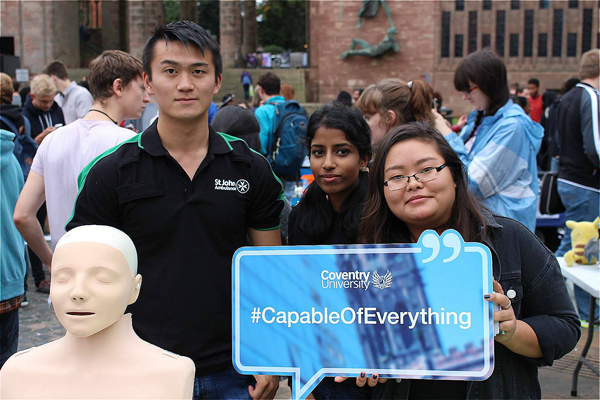 Volunteers participate in a freshmen's week activity at Coventry University in the UK. Coventry University signs agreements with the Chinese private carmaker Geely on talent development, recruitment and auto industry research. [Photo provided to China Daily]
As part of its focus on China, Britain's Coventry University signed a series of agreements with the Chinese private carmaker Geely at the university's 175th anniversary celebration in Shenzhen, Guangdong province, in early November. As a result, both parties are to join hands on talent development, recruitment and auto industry research.
The goal of the agreements is to nurture young talent, with a global vision, top skills and cross-cultural experience, for automotive manufacturing.
"We're delighted to be extending and strengthening our ties in China through the agreements we signed in Shenzhen," says David Pilsbury, deputy vice-chancellor for international development at Coventry University.
"Our partner, Geely, is a global leader in the automotive field with whom a number of our design and engineering alumni have already achieved incredible success," Pilsbury says.
The agreement, named the "Geely Global Club", aims to boost that pipeline of talent from Coventry, but also to support skills development in its work force, he explains.
According to the agreement, Geely will hire automotive major students from Coventry University, while the university will offer staff training and scholarships to Geely employees to do postgraduate programs.
In addition, the company will provide internships, ranging from three to six months, to the university's students, who will be hired directly after their graduation.
The cooperation with Geely is the first of its kind in China for Coventry University, but the university is looking forward to cooperation with other Chinese businesses in finance, fashion and product design, says Pilsbury.
Meanwhile, Coventry's Shenzhen alumni association was officially founded at the event, which was attended by approximately 400 alumni from Beijing, Shanghai, Guangzhou and Shenzhen.
The association aims to bring together all Coventry alumni in Shenzhen, so that they can share their experiences and support each other, says Pilsbury.
Assistance in the form of lectures and Coventry's learning resources on career development will also be offered to the alumni.
"For example, we'll be running a workshop for the alumni on how they can be more enterprising," he says.
"This is the start of our journey to better understand what we need to do to continue to support our alumni as they develop their careers," Pilsbury says.
Deng Peng, the executive director of Lida Capital in Shenzhen, is a co-founder of the Shenzhen alumni association.
Deng, who graduated from Coventry University's business school back in 2008, has arranged unofficial events for the alumni before.
He says: "It was good to see so many of the alumni from different places get together."
Deng says he chose to study at Coventry because of its links to World War I and II and also because it is the birthplace of many famous automotive brands.
"I was also impressed with the local culture and acquired a lot of knowledge about the industrial revolution and its impact on economic globalization," says Deng, adding that the knowledge had helped him in his equity investment business.
Deng says: "I hope Coventry University students can make contributions to the Chinese automotive industry and its innovation capacity."
Around 3,500 Chinese students currently study at the university, and Coventry has more than 50 academic partners in China, including Nanjing University of Science and Technology, Southwest University of Political Science and Law and the Guangdong University of Foreign Studies.
As part of the partnership, the university aims to further enhance its students' employment prospects by signing an agreement with the Chinese Service Center for Scholarly Exchange, which will include UK and China internship opportunities.
Speaking about the benefits of the university's investing in its Chinese alumni, Pilsbury says it will help achieve bigger things in the future.
"The benefit for us is that, when they (the alumni) go into senior management, as many of them have done, they can help us with internship opportunities or things like the Geely Global Club," he says.