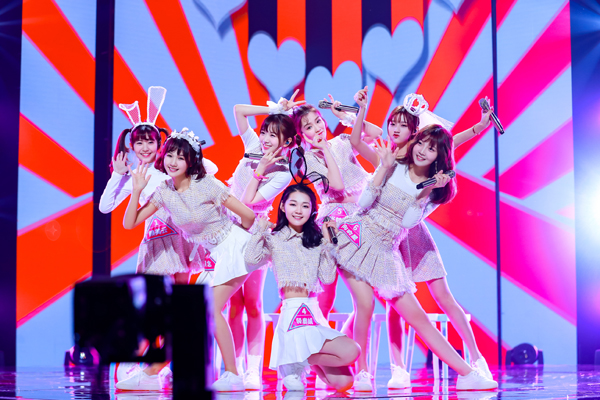 Produce 101 is one of China's popular online variety shows this year, leading a new wave of music idols. [Photo provided to China Daily]
The popularity of musical reality shows is once again on the rise, and producers are looking to tap into niche markets to ensure the genre's longevity, Wang Kaihao reports.
When Jiang Bin, a producer with iQiyi-one of China's three biggest video-streaming platforms-decided to make Idol Hits, he had little to refer to from the country's existing online variety shows.
As a new show, broadcast in September and conceived to enable musicians to hit the record charts, Idol Hits cooperated with Billboard China-a music-publication brand associated with the US music-business trade magazine, Billboard-to both show the singers' sparkling moments onstage and record their painstaking behind-the-scenes stories.
"It can be a professional platform for musicians to promote their new singles," Jiang says. "No matter whether they are established pop stars, folk musicians or newcomers to the industry, they are given a fancy stage upon which to show their talents and interact with fans."
"Everyone in China who is devoted to making original music has been expecting such a platform," says Cai Xukun, a musician participating in the show. "Musicians of different styles have a chance to get together. People can also see how we prepare for our performances."
There used to be some popular shows on traditional TV channels in China with a similar concept, but they have all but disappeared in recent years.
"The reasons were complicated," Jiang says. "Even music videos have become rarer and rarer in China due to low rates of return. As such, music fans will lose the visual impression of music that they had in the old days.
"Many Chinese musicians also have crossover careers in film, TV, advertising and all kinds of variety shows. That can sometimes distract from their music careers."
Jiang reveals that some musicians were reluctant to join the show at first because of their tight schedules. "However, it's worthwhile to overcome the early difficulties to have a successful model," he says. "To send a satellite into orbit will cost a lot, but once it's there, it can run itself."
Maybe the comeback of the genre will ignite a spark, fanning the flames of people's interest. Another internet company, Tencent, released its Uni Music Chart in October. And Youku, the other streaming platform in the Chinese industry's leading trio, announced that it will soon also have its own music-chart show.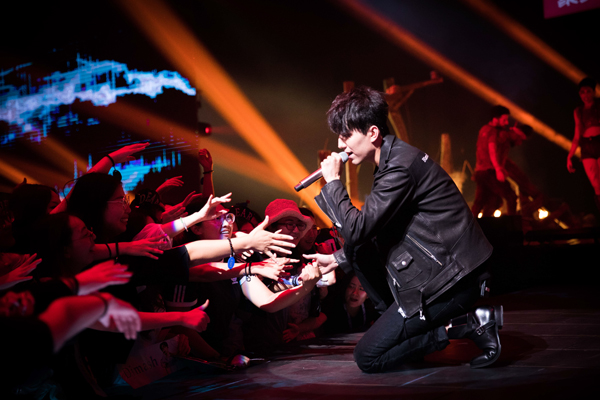 Kazakh singer Dimash Kudaibergen is among many musicians participating in the recent variety show Idol Hits, a program on iQiyi. [Photo provided to China Daily]
By accident or design, thanks to these streaming platforms, 2018 has become a year of revival for music idols for various reasons. It has also witnessed an unprecedented battle for viewers among the three biggest operators in the internet arena.
For example, Cai became nationally known through Idol Producer, which piloted in January and finally created Nine Percent, an all-male band comprised of the nine winners of the reality show. Cai is the band's leader.
Maybe as a counterstrike, Tencent released an all-female counterpart, Produce 101, in April. The show not only created a new pop band, Rocket Girls 101, but also, somewhat inadvertently, made Wang Ju-who wasn't given much hope on the show because of her supposed unattractiveness-a cultural icon and a feminist heroine when she stood up to cyberbullies and those who criticized her, not for her singing, but for not living up to impossible feminine ideals. People connected with her sincerity and self-confidence.
Earlier this month, Tencent announced it will begin production of the program's second season, but this time the competitors will be replaced by male artists.
This boom in the genre may remind people of 2005's Super Girls and 2012's inaugural season of The Voice of China, arguably the pinnacle of the Chinese music-talent show on traditional TV. Nevertheless, it seems clear that the public appetite for such shows is well and truly whetted once more, and they have been away from our screens for too long.
"Without 'being true', a reality show will no longer have room to exist," Chen Wei, vice-president of iQiyi, says. "In a time when media is dominated by the internet, people call for new idols that have stronger individual characters.
"They are different from those stars catering for the orthodox aesthetics of TV," Chen, who was a producer of The Voice of China, says. "Therefore, we producers need to design storylines to enable participants to fully display their characters. And, with web-based shows, we can better adjust our formats according to viewers' feedback."
It is not only about revival. Online platforms also give some marginalized or even underground genres more chances to be heard.
For example, before The Rap of China, a reality show that aired on iQiyi in 2017, few people probably would have imagined how many phrases and slang words hip-hop would contribute to people's daily conversations over the course of a summer. The show attracted 3 billion online views within three months of its premiere.
Stylish street dancers also have opportunities to display their swagger on center stage thanks to shows like iQiyi's Hot Blood Dance Crew and Youku's Street Dance of China earlier this year.
"In the future, successful reality shows will likely propel the interests of a niche market into the public consciousness, rather than cater to the wider public taste in the first place," Yang Weidong, head of Youku, says. "New aesthetics, new knowledge and new storytelling skills are all needed to make a hit."