Naxos music group acquires Opus Arte label from Royal Opera House
Updated: 2018-11-05 11:07:11
( chinadaily.com.cn )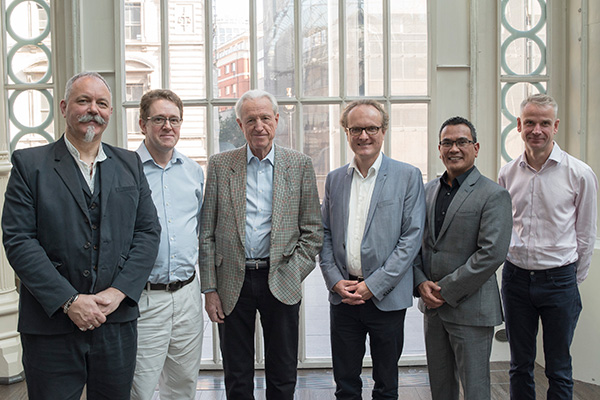 Klaus Heymann (third from left), chairman of the Naxos Music Group, expressed his delight at the acquisition and the future relationship with the Opus Arte label. [Photo provided to China Daily]
Hong Kong-based classical music group Naxos announced on Nov 5 its acquisition of the Opus Arte label, a classical music and theatrical content provider, from the Royal Opera House in London.
The acquisition includes a catalogue of about 600 opera, ballet and theatre productions, many of which are available for licensing for TV and video-on-demand service.
While the majority of catalogue is from the Royal Opera House, the catalogue also encompasses a range of productions from Opus Arte's key partners, including the Royal Shakespeare Company, the Shakespeare's Globe and the Glyndebourne opera house.
Along with the acquisition, Naxos also signed a long-term cooperation agreement with the Royal Opera House, granting Naxos the priority in distributing audiovisual recordings of the opera house's new opera and ballet performances on DVD, Blu-ray, TV, video-on-demand platforms and other licensing partners.
"Our group has been distributing Opus Arte for many years and I am familiar with the outstanding artistic and technical quality of the productions… We are delighted to announce that the experienced team that has run the label for many years will stay on board," Klaus Heymann, the founder and chairman of the Naxos Music Group, said.
The collaboration marks the company's expansion of its audiovisual activities and an industrial trend of the digitalization of classical music.
"We are delighted to hand over the reins to Naxos, the world's leading classical music label," Alex Beard, the chief executive of Royal Opera House, said. "Naxos will take Opus Arte on to its next exciting phase, ensuring the multi-platform production and distribution company remains at the forefront of delivering high-quality opera, theater and ballet to audiences worldwide."


Presented by Chinadaily.com.cn Registration Number: 10023870-7
Copyright © Ministry of Culture, P.R.China. All rights reserved