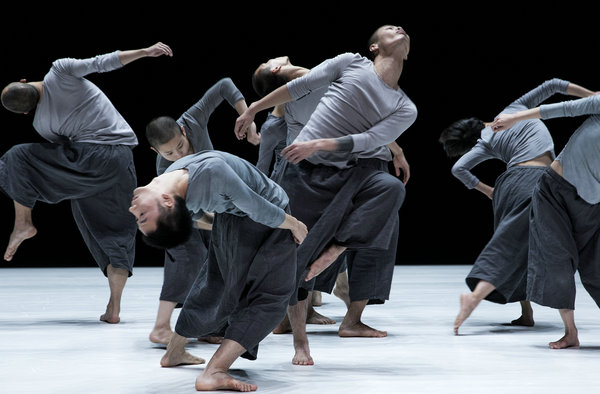 A contemporary dance piece choreographed by dancer-choreographer Tao Ye, entitled 9, will be staged in Beijing to mark the 10th anniversary of Tao Dance Theater.[Photo by Fan Xi/Provided to China Daily]
Folk singer-songwriter Xiao He was invited by a friend to watch a contemporary dance performance by Tao Dance Theater in Beijing in 2009.
Xiao He, whose real name is He Guofeng, was reluctant because he found "contemporary dance hard to understand" and had never watched performances by the Beijing-based company before that. But when the show opened with the music of US composer Steve Reich, whose work Xiao He liked, the Chinese singer was intrigued.
"I was curious to see a performance accompanied by Reich's music, and I wondered why the choreographer (Tao Ye) wanted to use it," recalls Xiao He.
The dance piece, entitled Weight X3, has a male dancer and a female dancer repeating the moves of swirling hand in hand and then departing with speed.
"I felt hypnotized by the chemistry between the music and the dance moves," Xiao He says.
After the show, he contacted the dancer-choreographer Tao, who is the founder of Tao Dance Theater, and since then they have worked together on six dance productions of the company.
Their latest collaboration is a dance piece choreographed by Tao, entitled 9, for which Xiao He is the composer and a performer. It's the ninth dance work in their "number series" by Tao Dance Theater, which premiered at the National Center for the Performing Arts in Beijing in November.
The dance piece, Weight X3, which Xiao He watched in 2009, has since been developed into a three-part performance with the same title. Both 9 and Weight X3 will be staged at the Tianqiao Performing Arts Center in Beijing from Nov 24 to 25, marking a decade since the founding of Tao Dance Theater.
Before the two shows, dancers and choreographers of the company will share their stories at the Central Academy of Drama, Peking University, the Beijing Institute of Fashion Technology, the Art Museum of China, the Central Academy of Fine Arts, Today Art Museum and Red Brick Art Museum.
"Weight X3 was the first original choreography work by Tao Dance Theater. It is significant for our theater and laid the foundation for our future style," says Tao, who launched Tao Dance Theater along with his wife, contemporary dancer Duan Ni.
Tao says his dance company wanted to celebrate a decade with "our first and latest works, which show our artistic growth".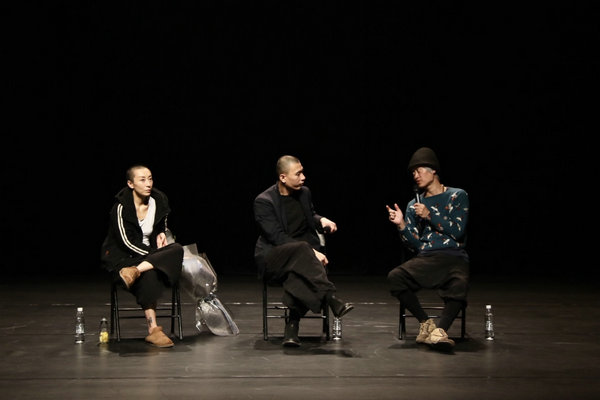 Chinese indie musician Xiao He (right) collaborates with dancer-choreographer Tao Ye (middle) and his wife, contemporary dancer Duan Ni (left), on their latest dance piece, entitled 9.[Photo by Zheng Shengbin/Provided to China Daily]
Born in Chongqing, Tao, now 33, was sent to a local dance school to learn classical Chinese and ethnic dances by his grandmother when he was 12 years old.
"My body was very flexible, and I imitated the dancer I saw on TV to do the splits, which impressed my grandmother," Tao says.
Before founding his own dance company in 2008, Tao had worked with Jin Xing Dance Theater and Beijing Modern Dance Company.
"When I was a dancer, I just did the moves that the choreographers told me to do. But then I became a choreographer and I have been trying to articulate my own dancing vocabulary and philosophy-that is, to understand the movements of my body, to explore all possibilities and to push the limits of movement," Tao says.
"The process is very personal and challenging. For me, dancing is about the logic of body movements. It goes beyond techniques."
Duan, 41, who was born in Xi'an, Shaanxi province, danced with Akram Khan Company in the United Kingdom and the New York-based company, Shen Wei Dance Arts, and returned to China in 2008. The first dance piece she performed with Tao Dance Theater was a solo dance in Weight X3.
"It was the first dance piece that Tao choreographed for me. It's very special, and he told me to forget about my past experiences of working with other choreographers," recalls Duan. "It's a work that surprised me since I pushed my limits as a dancer."
The solo dance had not been performed for a long time because Duan and her husband hadn't found a dancer to replace her until Zhang Qiaoqiao joined Tao Dance Theater last year.
Now, with 12 dancers in its fold, the group has toured more than 40 countries. It was the first Chinese contemporary dance company to perform at the Lincoln Center Festival in 2012. Sadler's Wells, a British dance company, has commissioned Tao to perform at the event for three consecutive years since 2016.
Speaking about Tao and his choreography, Lin Hwai-min, founder and artistic director of Cloud Gate, a well-known Taiwan dance company, says: "He is the most promising contemporary dancer on the Chinese mainland. His works belong to the 21st century. They amaze (people) and provoke deep reflection."