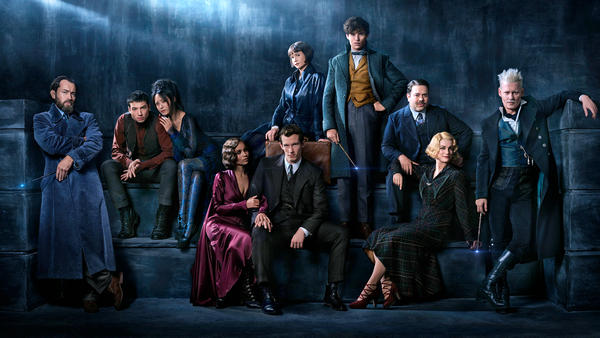 Cast members of Fantastic Beasts: The Crimes of Grindelwald pose for the upcoming film.[Photo provided to China Daily]
Hogwarts will hit the big screen again this month, with Fantastic Beasts: The Crimes of Grindelwald, the second film of the titular spin-off franchise that's also a prequel set 70 years before the Harry Potter stories.
It'll open in China and North America on Nov 16.
Oscar-winning British actor Eddie Redmayne plays the magic world's talented zoologist, Newt Scamander, who hunts for Gellert Grindelwald, the dangerous and powerful villain who has escaped prison and started to recruit dark wizards in 1927.
Redmayne reveals he once felt a bit jealous since many of England's excellent actors have appeared in the Harry Potter franchise but he hadn't.
The shooting is like a party, which was fun, he said during an interview in Beijing on Sunday.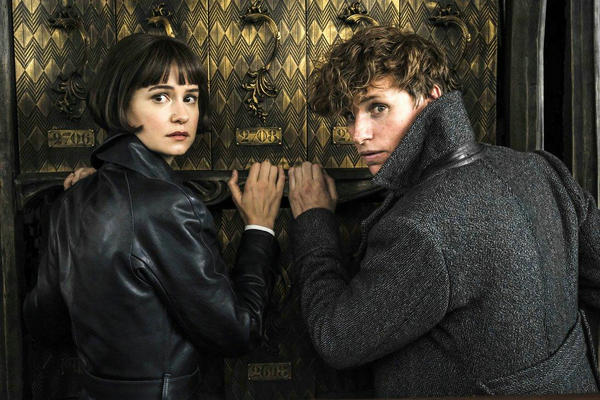 Eddie Redmayne and Katherine Waterston star in the film.[Photo provided to China Daily]
"One of the most amazing things for me to work in a J.K. Rowling film is no scene is ever the same. Every day you will face a new challenge."
Jude Law, Katherine Waterston and Ezra Miller joined Redmayne at the China promotional event.
The Harry Potter series is one of the world's highest-grossing cinematic sagas. The eight films released between 2001 and 2011 earned $8.5 billion internationally. China contributed 1.24 billion yuan ($179 million) to that total, according to box-office tracker cbooo.cn.
China's film industry has boomed in recent years and overtook Japan as the world's second-largest market in 2012. So, the tales of these iconic young wizards-Harry, Hermione Granger and Ron Weasley-may have entered Middle Kingdom a bit too early for maximum market impact.
But the Fantastic Beasts series, for which five features set over two decades are planned, seems to be a hit in the country.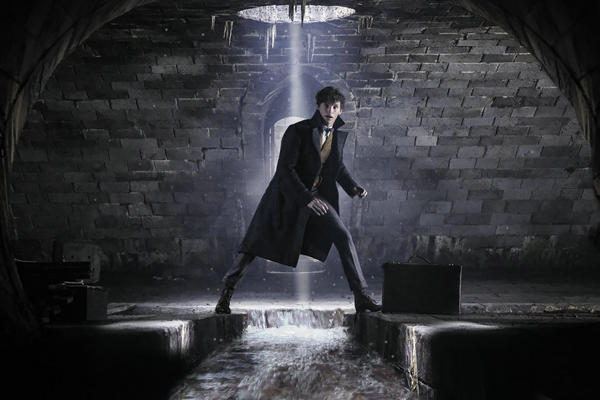 [Photo provided to China Daily]
The forthcoming epic will feature a mythical Chinese beast named Zouwu, among other such magical creatures as Nifflers the treasure collector and the small root-shaped creature, Bowtruckle.
"It's a massive cat, which is formidably powerful and incredibly fast," Redmayne explains.
"It can travel a thousand miles in a day."
The beast is ferocious around ordinary humans but tame and gentle toward Scamander, the fictional author of Fantastic Beasts and Where to Find Them-the required textbook for first-year Hogwarts students in the Harry Potter universe.
The new movie better connects Harry Potter and Fantastic Beasts through a younger version of Hogwarts' headmaster, Albus Dumbledore.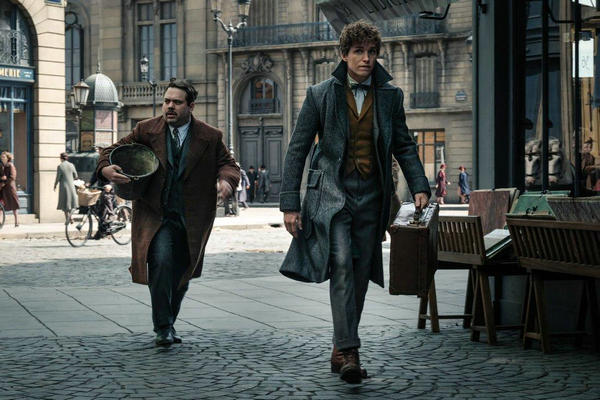 [Photo provided to China Daily]
British actor Law, who has received two Oscar nominations, has taken the torch from Richard Harris and Michael Gambon, who respectively played Dumbledore in the first two and remaining six Harry Potter films.
"It's really a wonderful and unique experience to take on a character who has already been played in his older years in such an iconic way," Law says.
A trailer for Fantastic Beasts 2 has sparked online discussions since one sequence shows Dumbledore gazing into the Mirror of Erised-the fictional device that reflects the deepest desires of those who look at it-and sees Grindelwald.
Law says he can't reveal this core part of the plot.
But he explains that viewers who watch a couple of more Fantastic Beasts films will discover the two are friends in their youth who are torn apart by events.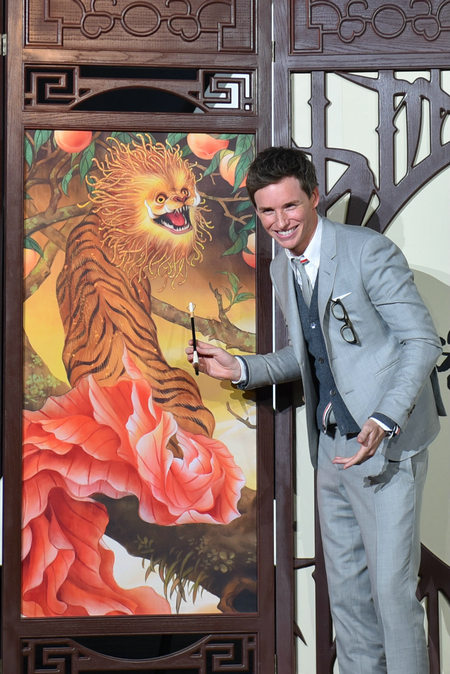 Eddie Redmayne, actor.[Photo provided to China Daily]
Waterston, who plays half-blood American witch Tina Goldtsein, reveals her character incorrectly believes her romantic interest, Scamander, has married another woman.
In real life, US actor Ezra Miller is enthusiastic and outgoing-very much contrary to his character, Credence Barebone, a witch protestor's shy and withdrawn adopted son.
Miller, who appeared at the Beijing event brandishing a golden wand-like stick he purchased earlier in the city, gave a volunteer performance as an emotional Zouwu and showed how to pet a Niffiler.
Those who want to see more will have to wait until the film hits the theaters.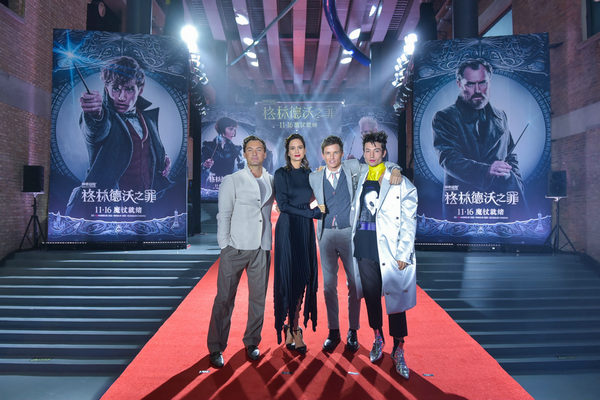 (From left) Jude Law, Katherine Waterston, Eddie Redmayne and Ezra Miller at a promotional event in Beijing on Sunday.[Photo provided to China Daily]