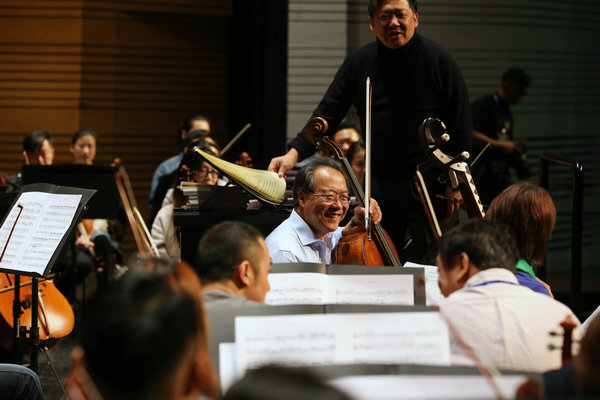 Chinese-American cellist Yo-Yo Ma plays with the Hangzhou Philharmonic Orchestra under the baton of conductor Yu Long in Beijing on Friday. [Photo by Jiang Dong/China Daily]
The songs were meant to make listeners think about thinkers.
Chinese-American cellist Yo-Yo Ma, pipa (lute) player Wu Man, sheng (Chinese flute) player Wu Tong and Silk Road Ensemble musicians joined the Hangzhou Philharmonic Orchestra to stage a performance under the baton of Chinese conductor Yu Long on Friday to conclude the 14-day Beijing International Music Festival.
The concert featured composer Zhao Lin's A Happy Excursion, a double concerto for pipa, cello and orchestra that premiered with the same lineup in Zhejiang province's capital, Hangzhou, on Oct 24.
The three-movement piece is inspired by Taoist philosopher Chuang Tzu's famous essay of the same title.
It reflects on ancient Chinese intellectuals' spiritual lives and connects them with the contemporary world.
The first movement begins with vibrant timbres and rhythms. Energetic harmonies and contrasts of the cello, pipa and orchestra depict ancient China.
Stringed instruments alone accompany the cello and pipa in the second movement, which is more peaceful and portrays spiritual experiences as interpreted through Chinese poetry, calligraphy and painting.
The third movement represents the present. The tempo picks up again, and the music becomes more creative and expressive to convey the idea of the search for carefreeness and idealism.
The Beijing International Music Festival commissioned A Happy Excursion to celebrate its 21st anniversary. Yu founded the annual festival in 1998.
"This is an important work by Zhao Lin that follows the spiritual worlds of intellectuals from ancient to contemporary China," Ma says in Mandarin.
The 63-year-old has recorded over 100 albums, 18 of which have won Grammy Awards.
"Nowadays, we're very busy and hardly think," he says.
"With his music, we can connect the past with the present day, which enables us to slow down and find inspiration."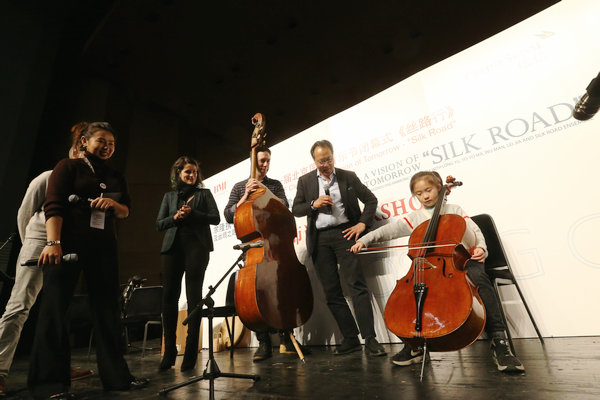 Ma gives a workshop with musicians from the Silk Road Ensemble in Beijing on that day. [Photo by Jiang Dong/China Daily]
Zhao, who was born in Xi'an, Shaanxi province, in 1973, rose to fame as a film composer just like his father, Zhao Jiping.
Wu, the sheng player, introduced Zhao Lin and Ma, and they began to play together in the Silk Road Ensemble that Ma founded in 1998 to bring together musicians of different styles and backgrounds to exchange while observing their respective cultural heritages.
Ma invited Wu to join the ensemble when Wu toured the United States in 1999.
The Silk Road Ensemble has recorded seven albums, including Sing Me Home, which won the 2016 Grammy for best world music album.
Ma and Wu premiered Zhao Lin's double concerto for the cello and sheng, entitled Duo, in 2013. The piece was inspired by the epic Chinese novel, Journey to the West. The concerto's US premier took place at Carnegie Hall in 2015.
"Zhao Lin has a deep understanding of traditional Chinese culture," Ma says.
"He likes traditional Chinese poetry in particular. I am getting old, but I am a child at heart. Through his musical interpretation, I have become interested in Chuang Tzu and am curious about how ancient Chinese people thought."
Last week's Beijing concert also featured the traditional Tibetan folk song, Mei Ren, which was arranged by Zhao and performed by Chinese soprano Lei Jia.
Other repertories included Fanfare for Gaita and Suona by Cristina Pato, featuring Pato on the bagpipes and Wu on the suona (a double-reed woodwind instrument), and Chaugulbundi, a quartet of Persian fiddle, Western strings and South Asian tabla (a membranophone percussion instrument), created by Sandeep Das from India and Kayhan Kalhor from Iran.
Ma staged a recital for his first BIMF appearance in 2004. This year marks the first time for him to join the Silk Road Ensemble at the annual event.
"I am happy to be back in China," he says.
"There are many talented young musicians, who have been influenced by different cultures. I like working with them because they are open-minded and imaginative."
The ensemble's executive director, Eduardo Braniff, says: "We are excited to be here because the Silk Road Ensemble is basically born in China. It is here that cultures melt and people share their understanding of, and respect for, different cultures."