Louis Cha - a real legend who put city on the world culture map
Updated: 2018-10-31 14:29:42
( China Daily HK Edition )
Tributes pour in for renowned HK martial arts novelist, best-selling author and co-founder of Ming Pao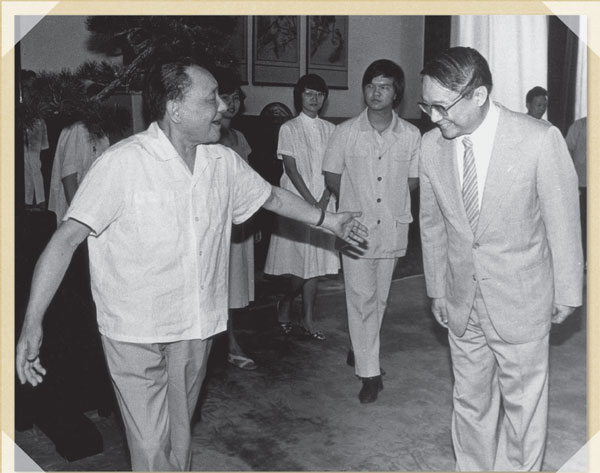 Late Chinese leader Deng Xiaoping (left) meets Louis Cha and members of his family during their visit to Beijing in 1983. [Photo/China News Service]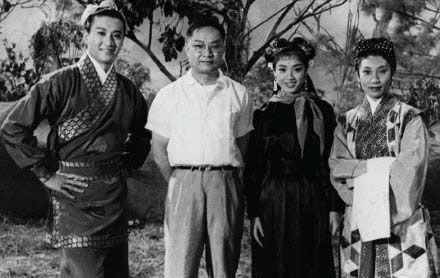 1. Louis Cha, better known as writer Jin Yong poses with cast members of The Romance of the Condor Heroes. From left: Patrick Tse Yin Louis Cha, Nam Hung. Leung So- kam. [Photos provided to China Daily and by Edmond Tang/China Daily]
2. Louis Cha won fame as a martial arts novelist. The stories and characters he created had a major impact on Hong Kong popular culture-cinema, TV series. radio drama stage drama and video games.
3. The 1965 film The Sword and the Saber was based on Cha's eponymous wuxia novel.
4. The first exhibition gallery in Hong Kong to be themed on renowned writer Louis Cha was unveiled on Feb 28, 2017 at the Hong Kong Heritage Museum. To mark the gallery's opening, the museum held a special exhibition entitled "Exhibition on Paintings adapted from Jin Yong's Novels" in Function Place on the first floor from March 1 to 27 last year to showcase original novel illustrations and Cha's martial arts world as seen in the works of various artists.
5. The Hong Kong Heritage Museum opened a gallery featuring exhibits of Louis Cha's works, including early editions of his novels manuscripts, documents and photos. Interactive exhibits enable visitors to enjoy excerpts and theme songs of films and TV series based on Cha's novels.
6 The revised manuscript of the new edition of The Demi-Gods and the Semi-Devils.
7. Louis Cha reads a copy of China Daily Hong Kong Edition during his visit to the publication's office in 2005.


Presented by Chinadaily.com.cn Registration Number: 10023870-7
Copyright © Ministry of Culture, P.R.China. All rights reserved