Dessert master tempts China with custom cakes
Updated: 2018-10-31 10:18:02
( chinadaily.com.cn )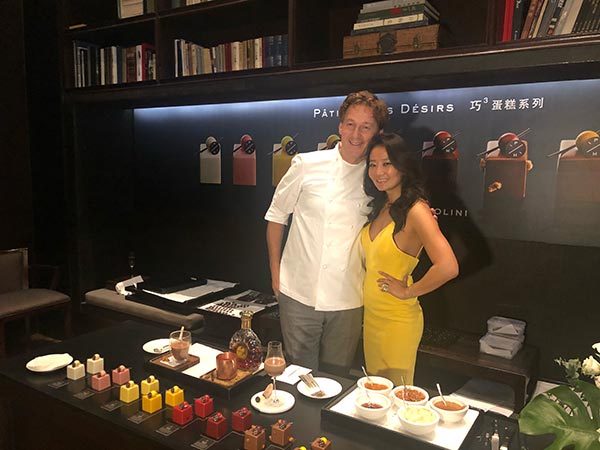 Pierre Marcolini (left) [Photo provided to China Daily]
The world champion of desserts Pierre Marcolini brought his eponymous chocolate brand and Patisserie Desir series from Brussels to China in October, aiming to change traditional thinking in China about this sweet course.
Teaming up with Amanda Zhang, producer and host of the original video blog in China Sex and the Kitchen, Marcolini hosted a dessert tasting event at the Puli Hotel and Spa in Shanghai, with specially customized cakes in three flavors -- classic hot chocolate, pear and Sichuan chili, and osmanthus and cognac.
During his visit to China, Marcolini joined in the recording of Zhang's new episode of her show.
Zhang found that unlike traditional cakes, which are greasy and overly sweet, the Patisserie Desir series is committed to a low-sugar production process, reducing sweetness by 30 percent. "As a result, this collection of cakes is simply sweet but not greasy," Zhang says.
Marcolini has also partnered with Victoria Beckham to design a limited-edition box of chocolate hearts to celebrate the 10th anniversary of her iconic fashion house.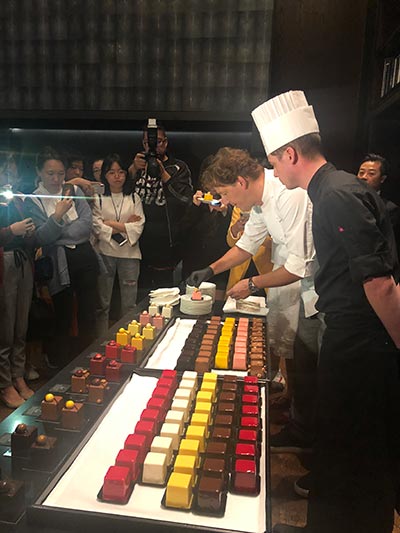 Pierre Marcolini works on desserts [Photo provided to China Daily]


Presented by Chinadaily.com.cn Registration Number: 10023870-7
Copyright © Ministry of Culture, P.R.China. All rights reserved