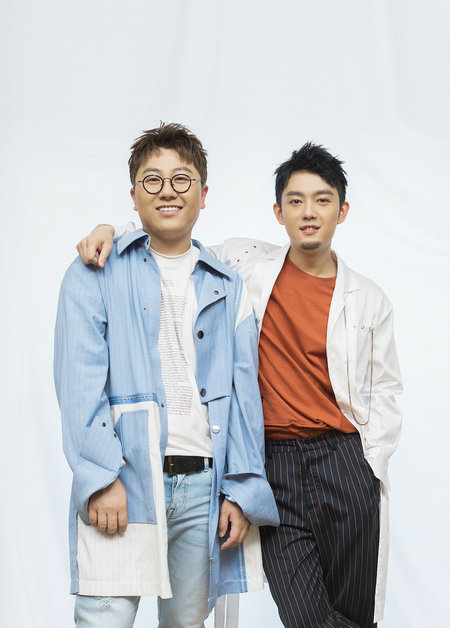 Good Meimei band, Qin Hao (right) and Zhang Xiaohou, is one of the most popular duos in China.[Photo provided to China Daily]
It happened when they were drinking coffee on a sunny morning in Taipei. "This is Chyi Yu. Oh my God," Zhang Xiaohou and Qin Hao said to each other.
That was how the two singer-songwriters from Chinese pop duo, Good Meimei, met their idol, the veteran Taiwan singer Chyi Yu, for the first time early this year.
"I was too excited to talk to her," recalls Qin. "She smiled warmly, spoke softly and wore a long, bohemian style dress-just like how she used to look on television."
The duo spent the day with Chyi, who is 61 now and rarely appears on stage these days. She led them on a walk around Taipei, showing the duo her favorite record store while sharing stories about her early days trying to make it as a singer.
The meeting was part of a collaborative project between Chyi and Good Meimei, which brought together the three singers to perform one of Chyi's most popular songs, Barcarolla.
The song, which was released on Aug 20, was one of 10 songs on the duo's new album, titled Dream Chaser.
Released online on Oct 17 under Tencent Music Entertainment Group's QQ Music and Kugou streaming sites, the album features 10 classic pop songs by 10 female Taiwan singers, each of whom perform one of their songs with the duo.
Besides Chyi, the pop duo has also invited stars like Michelle Pan Yueh-yun, Winnie Hsin and Cyndi Chaw to perform their hits, including Sunset Red, Try to Forget and The Most Romantic Thing.
Thanks to the latest recording technology, they also fulfilled their dream of performing the popular song, Dream Chaser, with the late Taiwan singer Fong Fei-fei (1953-2012).
"All the 10 female singers were some of the most popular stars during the 1980s and 1990s. We grew up listening to their songs," says Qin.
During the past 15 months, the duo traveled back and forth from Beijing to Taipei to visit the singers and discuss ideas for developing new arrangements for their songs.
"It was more than about just singing the songs. We are big fans. When we recorded the songs together in the studio, the atmosphere was nervous, excited and surreal," adds Zhang.
In the summer of 2017, when the pop duo's manager Xi Tao came up with the concept for the new album, both Qin and Zhang initially rejected the idea immediately.
"It sounded like an impossible mission. They are big pop stars and some of them have withdrawn from the limelight for many years. There were so many problems that needed to be solved, such as securing permission from their record companies, dealing with copyright issues and figuring out how to rearrange these classic songs," says Qin.
The cover of Dream Chaser, the duo's new album.[Photo provided to China Daily]
In August, when the pop duo was giving a show in Zhoushan, Zhejiang province, Xi sent them the completed version of the song Barcarolla before it was released online.
"It was a very touching moment. We knew we had made it," says Zhang. "Music has the same magic as a time machine."
"The songs we performed when we were young are quite different from today's music. I am glad that the younger generation want to bring an old song alive with new ideas," says Chyi.
Good Meimei, which was launched in 2010 by singer-songwriters Qin, a 31-year-old former illustrator who graduated from Jilin Animation Institute, and Zhang, a 30-year-old former engineer who graduated from Zhejiang Sci-Tech University, is one of the most popular duos in the country, especially among college students.
They are amateur singers and both write original songs. They became friends through listening to each other's songs on social media and then decided to form a band.
Known for covering classic pop songs from the 1980s and 1990s, as well as performing their original material, the duo first rose to fame by releasing songs online.
Their debut album, Chun Sheng, which had seven original songs, was written and produced by the duo. Without support from any record companies, they designed the album cover and wrote the promotional materials themselves. With an investment of around just 2,000 yuan ($288), the album sold over 8,000 copies online.
The duo has already built up a broad fan base in China's mainstream pop music scene with their catchy, easy-listening songs.
In September 2015, they successfully held a concert at the Beijing Workers' Stadium, an iconic venue that only a few Chinese mainland singers or bands have been able to handle, including rock singer-songwriter Wang Feng, and Western artists, such as rock band Linkin Park.
It was a bold move, the duo recalls. Through crowd-funding online, which saw each audience member pay 99 yuan for a ticket, they reached their goal of racking up nearly 2 million yuan within the space of a month and performed their songs in front of an audience of 37,000 people on Sept 18.
"It seems that we've been too hard on ourselves, setting impossible goals," says Zhang. "Going from bars to live music venues, and then on to theaters and the Beijing Workers' Stadium, it was like a dream."
In 2015, they also spent months touring more than 20 universities in China, sharing their stories of transforming themselves from nobodies to professional indie musicians.
"Our fans are young, mostly students and people who have just entered the workforce. We are close to our fans. We tell them our own experiences and how two amateur music lovers became indie singers and made our dreams come true," Zhang says.