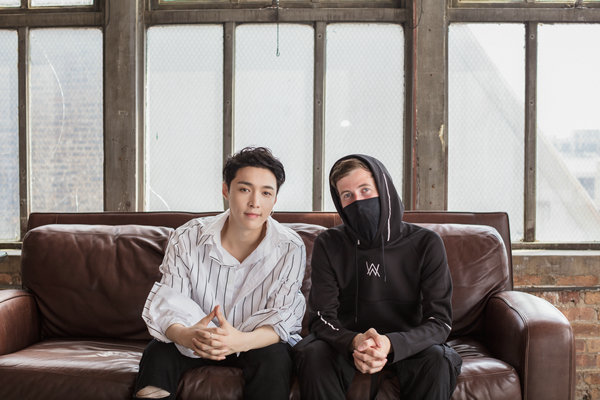 Zhang Yixing with Norwegian record producer and DJ Alan Walker. Zhang made his US debut alongside Walker in August while giving a performance at the Lollapalooza music festival in Chicago.[Photo provided to China Daily]
Zhang Yixing didn't sleep well the previous night. Although you can detect his lack of rest, the 27-year-old pop singer-songwriter, clad in a white T-shirt and a pair of loose pants, vibrates with energy and cheer as he talks about his third studio album, Namanana, which was released on Oct 19.
In less than 12 hours, the album sold more than 550,000 copies on the online streaming service, QQ Music.
"I sleep three to four hours every day. When I made the album, I practically lived in the recording studio," says Zhang.
One of the most promising and talented musicians to emerge from China's pop music scene in recent years, Zhang is poised to make his first foray into the American market with his third album, which includes both an English and a Mandarin version of each of his 11 new songs.
By working with an international team, including US singer-songwriter Andrew Bazzi and Los Angeles-based Grammy-nominated producer duo Rice 'n' Peas, Zhang composed, arranged and produced every song on the album.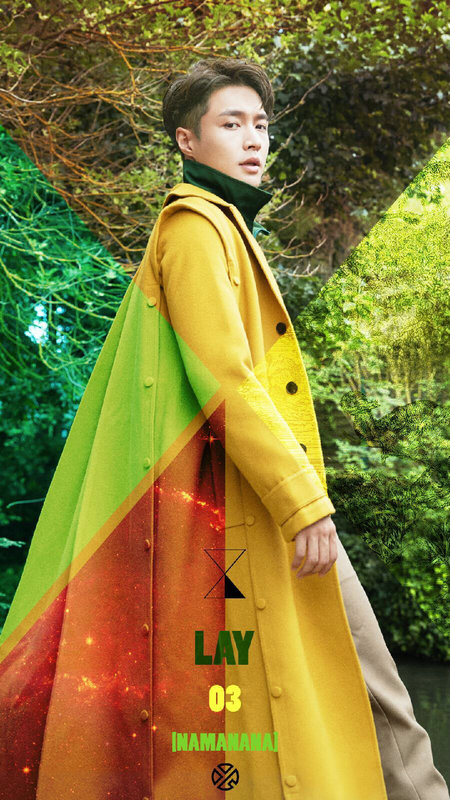 The cover of Zhang's new album, Namanana, released on Oct 19.[Photo provided to China Daily]
With influences of future bass, electronic dance, urban and hip-hop music, he is aiming to deliver his musical concept of "M-pop", which focuses on mixing Mandarin pop music with outside influences.
"With Mandarin as the main language, I want to use one or two foreign languages in my songs. The musical styles are diverse. That's how I want to communicate with global music fans," he asserts. "China has attracted worldwide attention thanks to its rapid development. Now it's time for Chinese pop music to take its place in the spotlight."
In August, Zhang made his US debut by giving a performance at the Lollapalooza music festival in Chicago, alongside Norwegian record producer and DJ Alan Walker. The duo performed a remixed version of Zhang's song, Sheep, which was released on Oct 7, 2017.
Zhang's idea for M-pop came from the title song of the new album, Namanana, which Zhang wrote a year ago. The fast-paced and upbeat song paints an audible picture of an African rainforest.
"I wrote introductions to each of the songs on the album and I couldn't find the proper phrase to describe the musical style of the title track, Namanana. Then I decided to give it a new definition, the concept of M-pop, which incorporates a mix of different music styles," Zhang elaborates, adding that he had recorded 23 versions of Namanana within the space of three days before choosing the final version.
He also combines traditional Chinese musical instruments, such as the erhu, guzheng and bamboo flute, with multiple genres, ranging from pop, and hip-hop to R & B in the song Mapo Tofu, which is named after a popular Chinese dish from Sichuan province. Zhang recalls that the song was written after he failed to properly cook the dish of spicy tofu, one of his favorites.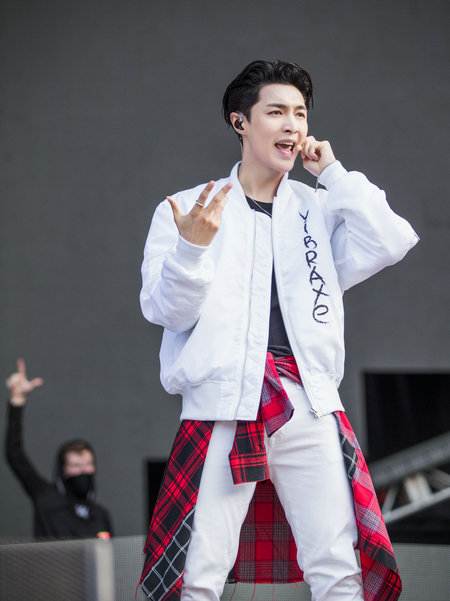 Singer-songwriter Zhang Yixing sings onstage at the Lollapalooza music festival this August in Chicago.[Photo provided to China Daily]
On his birthday, Oct 7, audience members from all walks of life and different ages gathered at an album preview event held by the singer. Each of the audience members had 30 seconds to listen to one song from Zhang's new album and offer up some feedback.
"I looked at their faces when they listened to the songs. Their reactions were pretty straightforward, smiling, frowning, laughing, or sometimes expressionless," Zhang says. "Before the preview, I was really confident about the new album. After that direct interaction with the audience, I felt mixed emotions, confident yet, at the same time, anxious. It was an interesting experience."
Also known by his stage name, Lay, Zhang, who was born in Changsha, Hunan province, listened to a diverse range of musical genres since he was young. He gave his debut on-screen performance at age 6 appearing in the TV drama, We the People. The self-taught singer-songwriter later took part in a number of TV music talent shows before launching his musical career in 2008 after winning a global casting audition for South Korean entertainment company, SM Entertainment. He rose to fame as a member of K-pop boy band EXO in 2012.
Since 2015, he has shifted his focus to the Chinese market and has become a pop star with a career that has extended to film, TV drama and reality shows, which greatly broadened his fan base. His Sina Weibo account has over 40 million followers.
He insists that he is primarily a singer-songwriter despite the fact that his career path has taken him beyond music.
"I write songs every day. Music is like water to me-it's a necessity. My acting career has been more about pure luck because I have been lucky to meet some great actors who introduced me to the industry," he says. His recent appearance was in Chinese comedy film, The Island, written and directed by Chinese actor-turned-director Huang Bo, and propelled him into the limelight.
"With the new album, I want to remind people that I'm still a singer-songwriter at heart," he says.
"I am aware that I haven't achieved my goal yet as a singer-songwriter, so I just keep writing songs."