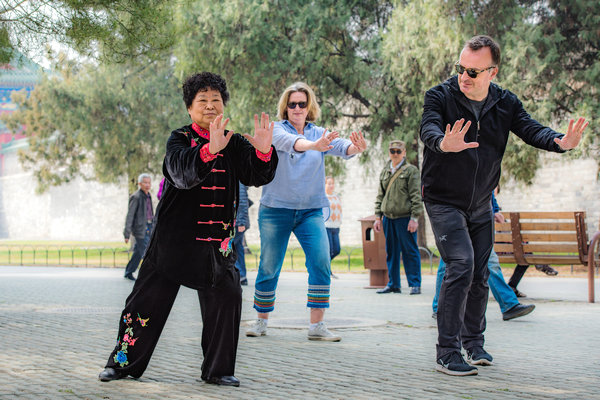 Foreign visitors learn tai chi from a practitioner in Tiantan Park in Beijing.[Photo provided to China Daily]
LAS VEGAS-"I have been practicing tai chi for 30 years. It always works on internal harmony and balance, and external harmony in getting along with people and society," says Richard Griffith, an instructor for cement masons, who lives in Arcadia, California.
Practicing tai chi has brought Griffith not only health and longevity, but also romance.
Griffith met his girlfriend in China when they both traveled halfway across the globe to Chenjiagou in Henan province, the birthplace of a very-popular form of tai chi, to study the martial art.
"We found common interests, and tai chi brought us together," says Griffith, breaking into a smile.
Griffith drove several hours from Arcadia to downtown Las Vegas to join a weeklong tai chi workshop, instructed by master Chen Ziqiang.
Double broadswords, push hands, Laojia Yi Lu and Tai Chi Ball-Griffith practiced different movements with dozens of practitioners under Chen's guidance.
Deeply rooted in Chinese meditation, medicine and martial arts, tai chi combines mental concentration with slow, controlled movements to focus the mind, challenge the body and improve life energy, which is thought to sustain health and pacify the mind.
Las Vegas is the second stop on Chen's six-city tour to teach tai chi to Americans. The trip also includes Washington, DC, Phoenix, San Diego, Chicago and Seattle.
Having practiced tai chi for 41 years, Chen combines his martial-arts talent with self-motivated physical training and theory. Chen is head coach at the Chenjiagou Tai Chi Academy in Henan.
In recent years, he has traveled to Europe in spring and summer, and to the United States in fall, to teach tai chi and spread that part of Chinese culture.
"An increasing number of American people are becoming interested in practicing tai chi. In the past, a majority of the practitioners were elderly people. Now more young people are participating," Chen says.
Found in many community centers, health clubs and studios in the US, tai chi has grown in popularity thanks to its low-impact nature and accessibility.
"Tai chi demonstrates how inextricably interwoven the mental and physical body is," Chen says. "As you practice it, your mood, emotional state and physical state all start to improve at the same time."
Andy Oliver, a hotel project manager, says practicing tai chi helps to counteract the repetitive nature of people's jobs and daily routines, where their bodies often only move in limited ways.
Tai chi also serves as a bridge to learn more about Chinese culture, Oliver says.
"Tai chi is moving meditation, which helped me find flow and balance in movement and daily life. One of the most significant benefits is stress reduction," says Grace Bearis, a software development manager who had traveled to Las Vegas from San Diego.
Griffith, who instructs 500 students in his apprenticeship program in southern California, invites his students to warm up for one hour using tai chi every morning on work days.
"We are fascinated by the art of tai chi, and we are also enthusiastic about Chinese culture," Griffith says.