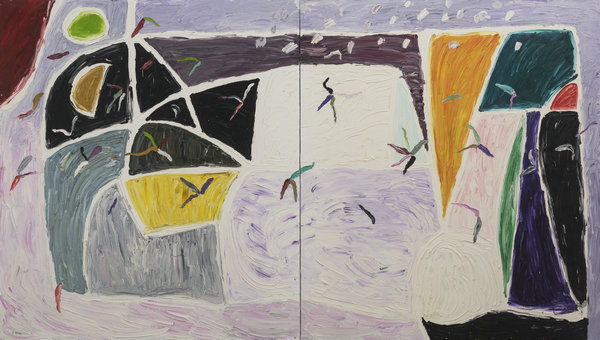 British abstract artist Gillian Ayres' oil on canvas, White Wind, 1998-1999.[Photo provided to China Daily]
It's widely accepted that a major promotion in a person's career would normally spur them on to chase further success. For the late Gillian Ayres, however, the prominent British abstract artist's most creative period began after she abandoned a promising career in teaching.
In 1981, just three years after becoming the first woman to direct a painting department at a British art school, she resigned and moved her family away from the busy metropolitan life, to a remote part of the countryside, where, in closer touch with nature, she focused on painting.
She produced big, vibrantly colored oil paintings that burst with energy and generosity. Her canvasses from this period offer a full expression of the enchantment of her surroundings, as well as the vigor of her character.
Ayres' oeuvre was first introduced to a Chinese audience when an exhibition of her work, Sailing off the Edge, was held at the art museum in Beijing's Central Academy of Fine Arts last year. She didn't attend the opening due to her failing health, to which she eventually succumbed, passing away in April, aged 88.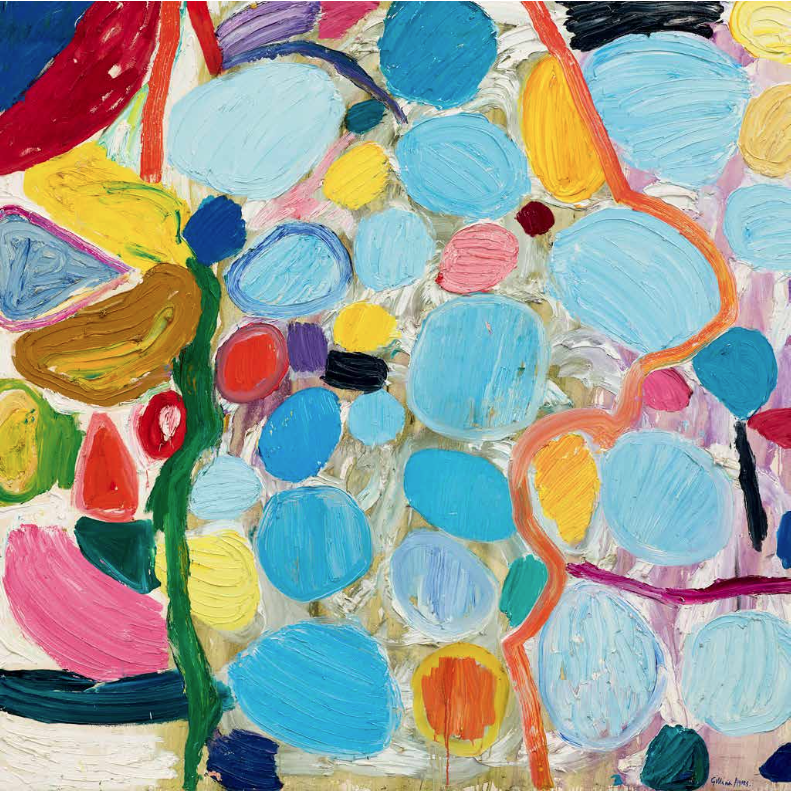 Another of the artist's oil on canvas in 1994, Furrina.[Photo provided to China Daily]
Now in commemoration of Ayres, Beijing's PIFO Gallery is holding her second exhibition in China. The eponymous exhibition includes canvasses thickly textured with oil paints and also acrylic works on paper, which are being loaned from her family and collectors.
Although Ayres was widely considered to be in the realm of abstract painters, her work vividly pictures the diversity of the landscapes and colors she was exposed to, influenced by the sea, the British countryside life and her love of gardening.
She left her post at the Winchester School of Art, and relocated to a secluded house in North Wales, before six years later relocating to the Devon coast, where she lived and worked until her death.
"She got fed up with life in an art school," Sam Mundy, Ayres' son and an artist in his own right, told China Daily at the opening of the exhibition. "She took a big risk (throwing it all in to be a professional artist), she had very little money."
The closeness to nature contributed to changes in Ayres' output over time. In the late 1970s, she explored her art with a blissfully unrestrained style. Then, in the early 1980s, she ventured into a critical period when her works were exuberant with vibrant colors and a rhythmic touch.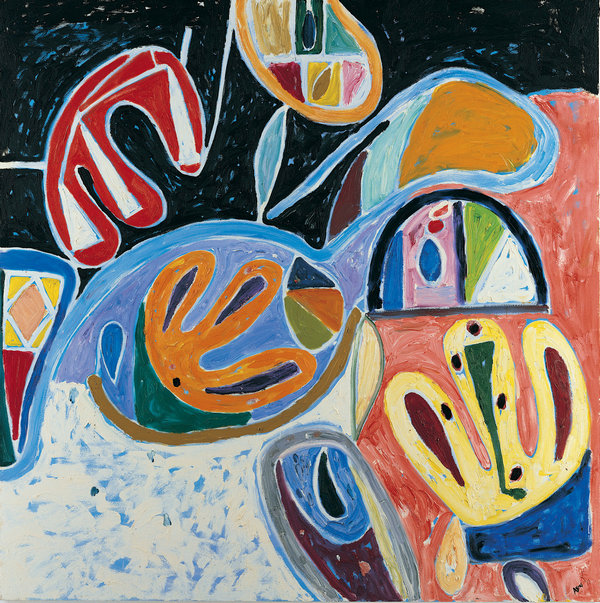 Ayres' oil on canvas in 2006, Get Back.[Photo provided to China Daily]
Ayres' work in the 1990s reflect the tactile experiences of her travels through Europe and India, while her work at the turn of the 21st century and beyond gathered together are a cluster of green motifs-although, as she aged, it allowed her less and less time spent in her beloved garden, which was filled with plants from all over the world, many of which originated in China.
Mundy says gardening and plants were very important to his mother. "She said, if she didn't have the garden, she would go mad."
Her advancing age also deprived Ayres from painting on floor-to-ceiling canvasses. Mundy says when she was 72, he and his brother, Jimmy, had to take away the ladder she used to stand on when painting. "She was very cross that she couldn't have another ladder."
Ayres' devotion to painting was not only because of her love of the medium, or that she loved working, but also that she had sailed through a time when female artists were not taken seriously into a new era where they have gained respect and have a weighty presence in the industry.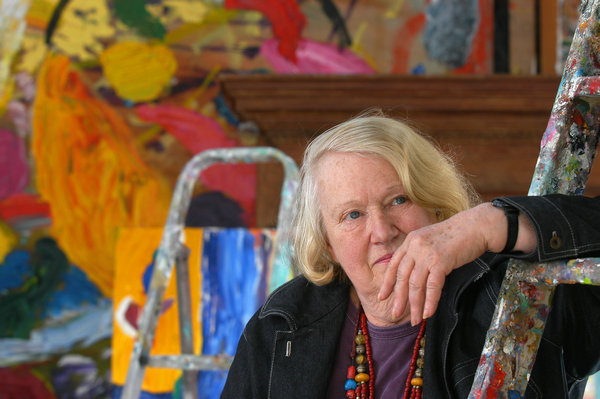 Ayres in her studio.[Photo provided to China Daily]
Ayres once described the act of painting as "a condensation of sensation to perception," and "a creative experience for both the maker and the viewer".
She had said, "To arrive at an intuition of truth, you make the paintings that you want to see."
Contact the writer at linqi@chinadaily.com.cn
If you go
10 am-6 pm, closed on Mondays, through Nov 15. PIFO Gallery, 798 art district, Beijing. (86) 138-1004-0162