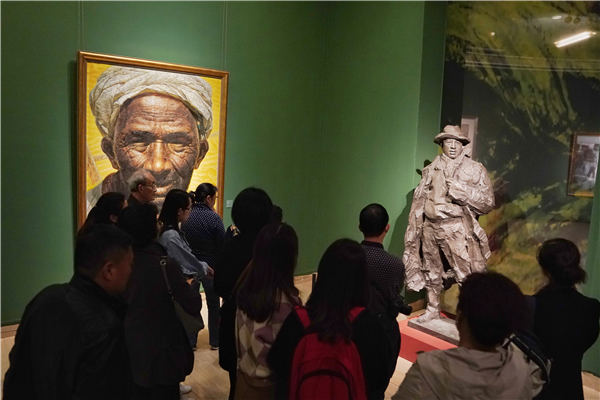 Father, an iconic oil painting by Luo Zhongli, at the Dawn of Spring Breeze exhibition at The National Art Museum of China. [Photo by Jiang Dong/China Daily]
Three exhibitions at the National Art Museum show the evolution of the country and its artistic expression.
In 1944, an overturned boat near Chongqing brought a premature end to the ambition of Tang Yihe, an artist and educator. He was on board, traveling to attend a conference of the China national fine arts council, before falling victim to the Yangtze River at the age of 39. He had directed the oil painting department of the Wuchang Fine Art School where he graduated, and he would have been elected a standing member of the council at the meeting.
Born in Wuchang, now a district of Wuhan, Hubei province, Tang took little interest in inheriting the family-operated traditional Chinese medicine practice. Rather, he engaged with the arts, and he saw art education an important means to empower his people and his country.
During his studies at the prestigious National High School of Fine Arts in Paris in the early 1930s, Tang won the long-standing Prix de Rome, a government-sponsored prize that awarded its winners scholarships for a residence in Rome to gain a deeper attainment of artistic appreciation. After graduation he returned to Wuchang and a country in turmoil, at a time when his motherland was confronted with the looming threat of war and social instability.
Tang, however, left behind a small legacy despite his short-lived career. The few of his works in existence embrace a strong patriotic spirit, and he focused on the anguish of people living on the lower rungs of the societal ladder.
One example is July 7, an oil painting created by Tang in 1940 to commemorate the Lugou Bridge (also known as the Marco Polo Bridge) Incident that marked the beginning of Japan's full-scale invasion of China in July 1937.
Tang didn't complete the painting due to wartime difficulties, leaving the background unfinished and blank. He only managed to depict a group of marching people, forced to leave their invaded hometowns, and who took to the streets to call for others to stand up against invaders.
The painting is now in the collection of the National Art Museum of China, and had been exhibited many times. It is currently on show again as part of an ongoing exhibition at the museum, Up from the Yangtze. Set to run until Oct 21, it highlights dozens of paintings, sculptures, watercolors and prints by both Hubei-born artists and those who once studied and worked in the province.
Ji Shaofeng, the director of the Wuhan-based Hubei Museum of Art, says Tang was one of those who pioneered the teaching of oil painting in the early 20th-century China; Tang and his colleagues at the Wuchang Fine Art School, a private institution, contributed greatly to the proliferation of oil painting in the province.
"They established a realistic approach with deep concerns with the common people's livelihood, and they forged a color scheme of purity and dignity. Their style distinguished Hubei as a rising art hub at the time from those in Beijing and Shanghai," Ji says. "Their legacies are being carried forward by artists in Hubei."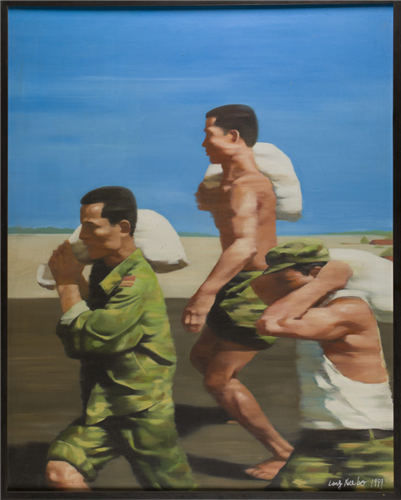 Speed, a painting by Lang Xuebo, hails PLA soldiers' heroism in flood relief work. [Photo provided to China Daily]
Up from the Yangtze is one of the several shows at the National Art Museum of China to mark the 40th anniversary of China's reform and opening-up this year.
A second exhibition, which also runs until Sunday, reviews the development of classic Chinese painting and calligraphy by the teachers at the Nanjing University of the Arts over the past 40 years. The school in Jiangsu province boasts a rich tradition of classic art, not least through late modern masters such as Huang Binhong, Zhang Daqian and Pan Tianshou, who either taught or studied there.
The National Art Museum of China has also selected 100 artworks from its collection, largely produced over the past four decades, to mount a third show-which, again, ends Sunday-entitled Dawn of Spring Breeze. It features many iconic works that show the transition from the dominating socialist realism to much more diverse styles embraced by Chinese artists, reflecting a cultural dimension to the country's opening-up.
Father, an oil-on-canvas portrait by Luo Zhongli, which was painted in 1980 and is widely viewed as a "monumental" piece by critics, is part of the exhibition. It is arguably one of the most well traveled works in the National Art Museum's collection, appearing at many domestic exhibitions over the years.
The wrinkled, dark face of an elderly man from the countryside takes as much space as possible on the canvas, which measures 210 by 150 centimeters. It was considered so striking at the time, and it transmits a humanity and warmth that has moved generations of viewers.
Luo was inspired to create the painting when he spotted a farmer, shivering with cold, in a Sichuan village in 1975. "It was on the day of chuxi (Chinese New Year's Eve). Rain was pouring and turning to snow. It was awfully cold," he recalls.
"He leaned against the wall of a toilet near where I lived. He put both of his crossed hands in sleeves for warmth, and smoked a long-stemmed pipe. He waited, all day long, changing from one position to another."
He was touched by the man's expression which was etched with loneliness and perseverance-a face which would later become an iconic expression in Chinese art history and symbolic of all the Chinese fathers who suffer to support their families.
Wu Weishan, the director of the National Art Museum of China, says the past four decades witnessed not only progress in artistic creation but also a rising awareness of museums and art galleries among the public.
"I am on duty during holidays like the first day of the lunar Chinese New Year and the National Day on Oct 1. I feel that looking at the visitors is the most touching scene one can see at a museum," he says. "It was hard to believe in the past that families would spend holidays and other important days at museums, but now it is not uncommon-not only at the National Art Museum, but also at museums at provincial and city levels. Additionally, art is decorating people's homes.
"When I went to university in the 1980s, people's clothes and hairstyles looked alike. Today, people hold open, diverse opinions of art, and people's aesthetic understanding of beauty is extensive and become a part of their sense of identity."
If you go
9 am-5 pm, closed on Mondays. 1 Wusi Dajie, Dongcheng district, Beijing. 010-6400-1476