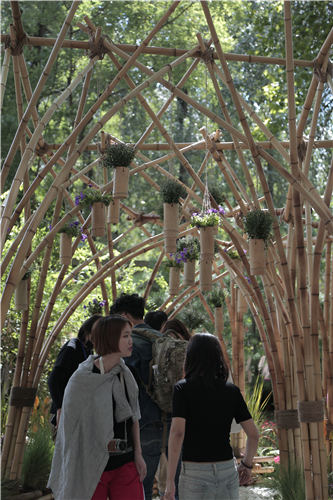 Visitors walk through a bamboo corridor at a recent gardening festival at Beijing Forestry University. [Photo by Chen Meiling/China Daily]
A bamboo-gardening competition aims to inspire students' passion for design innovation, while cultivating young talent to fuel the nation's environmental industries.
"We'd rather eat without meat than live without bamboo," is how the poem by Su Dongpo-one of the most popular poets of the Song Dynasty (960-1279)-explains the Chinese affinity for bamboo.
The spirit of "constructing a human's homeland by melting into nature" was passed down to some modern-day youngsters, when a group of college students built their own mini bamboo gardens in the heart of Beijing recently.
Embraced by bushes and flowers, people in groups of two or three, sat on futons in the middle of a Moebius strip constructed from bamboo at Beijing Forestry University, chatting and drinking tea. The mottled shadow of leaves was cast on them and the aroma of flowers and grass filled the air.
By brainstorming, designing, modeling and eventually actually building their creations, landscape architecture majors got a chance to make their inspirations become reality at the first BFU International Garden-making Festival, held in Beijing from late September to early October.
Candidates were asked to use only bamboo and herbs. A total of 353 teams composed of 1,677 students from 112 universities worldwide attended the event. Only 15 designs were selected to be transformed into actual gardens, each occupying no more than 16 square meters.
Bamboo has, for a long time, been widely used in buildings in Asia, Africa and Latin America, according to Li Zhiyong, deputy director-general of the International Network for Bamboo and Rattan, co-organizer of the event.
"Bamboo is closely connected with our life," Li says.
The event aims to inspire students' passion for design, encourage innovative ideas, enhance the teamwork and develop the practical abilities of students. It's also meant to cultivate talent for the nation's green and environmental industries, according to An Lizhe, president of Beijing Forestry University, one of the organizers.
The students' creative ideas are diverse, as can be seen in the gardens displayed.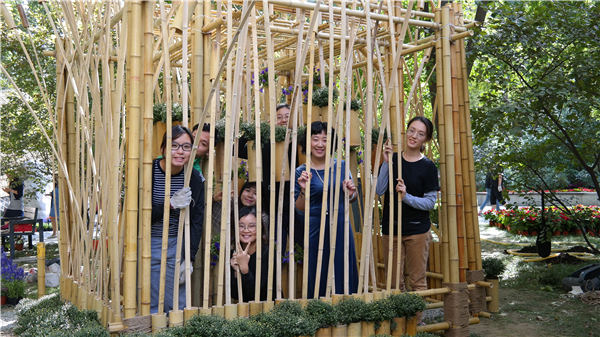 Young landscape architects gather at their garden. [Photo by Chen Meiling/China Daily]
A ball-like bamboo structure with a split that serves as its entrance and a central light hanging from the top attracted many viewers' attention. According to the design team, the ball resembles an empty heart and the bamboo chips, in their disorder, are like messy hair-just what students majoring in architecture look like after staying up late to do homework. It is said that architects are among the professionals who sleep the least.
The breach in the spherical design appeared by accident, but they built on the idea and turned it into a unique and fun design, Chen Du, one of the team members who created the work, was quoted by China Science Daily as saying. The entrance seems like a gate to Shangri-La where visitors can enter and lie down in the curved space.
Another work, named Winding River and Flowing Mountain, connects bamboo tubes like nerve tissue, so that visitors can walk through it, appreciating the beauty of its geometric design.
Wang Ruofei, from the Central Academy of Fine Arts, says the team drew inspiration from an ancient Chinese drinking game, qushui liushang, in which intellectuals would sit by a little winding creek and make a cup float on it. They then took turns to drink and chant poems when the cup floated to them. It reflects the free-spirited, yet elegant, lifestyles of ancient Chinese intellectuals.
Yeon Woo-kim, a participating student from Kyung Hee University in South Korea, says it was inspiring to see other designs. She plans to return for next year's competition.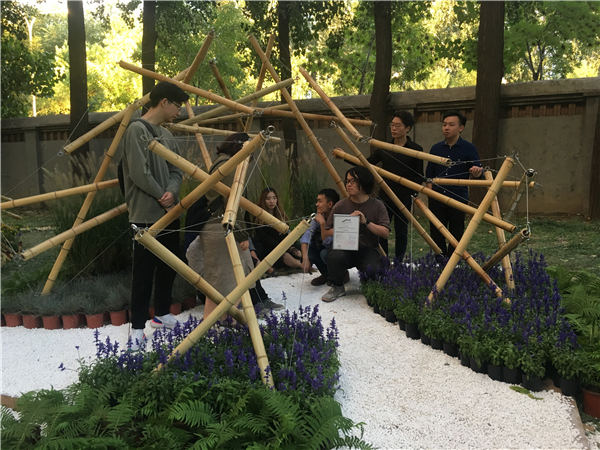 A team of winners visits their work. [Photo by Chen Meiling/China Daily]
"Our team began with questioning the idea of why bamboo has to start from the ground and grow upward. So we flipped it upside down and made it falling bamboo," she says, adding that she hopes the design entertains visitors as they interact with it by hitting the bamboo to create music.
Judges of the contest came from a number of countries, such as China, the Netherlands, the United Kingdom, the United States, Germany, Japan and South Korea.
Dirk Sijmons, one of the judges, who's also former chair and professor of landscape architecture at Delft University of Technology, says he saw the students' enormous creativity.
"The way everyone made use of the specific qualities of the bamboo is fantastic. The 15 portfolios are really different from each other. Each has a concept and worked to that concept," Sijmons says.
The event offers opportunities for landscape architecture majors like Chen Yumeng, a senior from Tongji University in Shanghai, to create physical designs.
Chen's team built a cubic bamboo box with hanging flowers in its central space.
Chen says it was their first time actually constructing one of their designs. And, perhaps most importantly, they better understood the gap between creating a concept and the practical realities of building it.
"The biggest problem was how to stably fix the whole thing to the ground," she says.
"At first, we planned to use bolts, which turned out to be too short to punch through the bamboo. So we had to use belts made of plastic, iron and hemp rope."
She explains that the length, width and curvature of the bamboo in reality is not as consistent as when using computer-modeling software, which posed more challenges for the team during construction.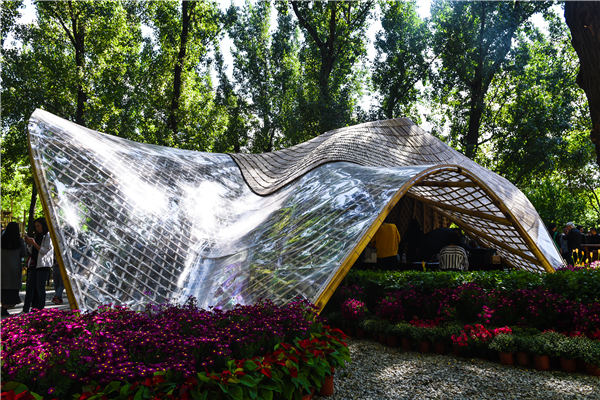 The central bamboo pavilion. [Photo by Chen Meiling/China Daily]
"We will pay more attention to the small details in the future," she says.
Wang Chuncheng, deputy director of the coordination bureau of the Beijing International Horticultural Exhibition, the event's co-organizer, says the festival also aims to help the public learn more about the materials and techniques of gardening so they can improve their living environments.
Sun Zhaoren, another participant from Tsinghua University, agreed. "We've learned more about the application of bamboo and new ways to integrate it into gardens."
As well as the exhibition displaying the bamboo gardens, a series of events were held during the festival that welcomed the public's participation-including a lecture and a bamboo-product-making class. These introduced new varieties of flowers as well as gardening knowledge and skills.
Wang concludes that China is probably one of the countries with the longest history of gardening, yet it still doesn't have an internationally renowned gardening festival.
However, that may be about to change as Beijing will host a large-scale global gardening event in April 2019. Numerous international organizations from 65 countries are slated to participate, according to Wang.
He also hopes small gardens, similar to the ones on show at the competition, can be displayed at the expo, too.