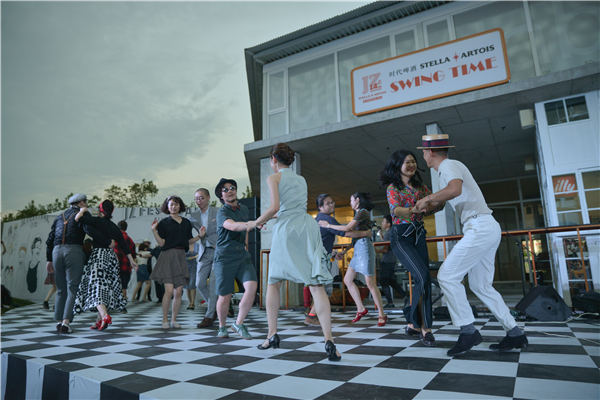 Women dancing with their male partners at the festival. [Photo provided to China Daily]
JZ music, with its festival, night club and music school is quickly cementing Shanghai's position at the epicenter of China's growing jazz scene.
It's the Autumn Equinox and a bright full moon hangs in the sky. Jazz instrumentalists serenade her with colorful riffs and rhythmic sounds, which reverberate through the air filled with the scent of fresh grass as women in vintage dresses practice swing dance moves with their male partners. That was the scene at a Shanghai campsite on Sept 23, which sought to reproduce the atmosphere of the Paramount Hall in the 1930s-when the American Jazz movement finally reached China and the music was frequently performed by bands in city nightclubs.
The party, which oozed nostalgia, was a snapshot of the 14th JZ Festival Shanghai, where audiences could enjoy the musical feast presented by jazz maestros from both home and abroad, including American saxophonist Branford Marsalis, Spanish trumpeter Andrea Motis, Chinese singer-songwriter Li Quan, and pop diva Yuan Yawei, who is well-known for her soulful, signature jazzy music.
The two-day jazz festival, the biggest in China, originated at a local bar, named JZ club.
The first JZ club, located in the vicinity of the Shanghai Conservatory of Music, usually attracted students from the conservatory, many of whom have now become influential musicians.
Chinese trumpeter Li Xiaochuan was among the venue's frequent visitors in the early 2000s.
"I went there almost every night when I studied at the conservatory. It's where I learned the rudiments of jazz," recalls Li.
Similarly, Li's schoolmates Chang Shilei and Zhao Ke, used to perform at the club and have since become well-known respectively as a singer-songwriter and a jazz singer, after performing on TV talent shows.
"I'm glad to see more young people starting to listen to, and play, jazz music," says Ren Yuqing, founder of JZ Music.
Ren opened the club in 2004 to offer a stage for jazz musicians, and initiated the festival in 2005 to "enjoy high-quality music with more people".
As a bassist himself, he says he is always ready to gather more people who share his passion for jazz to "play music and stay young".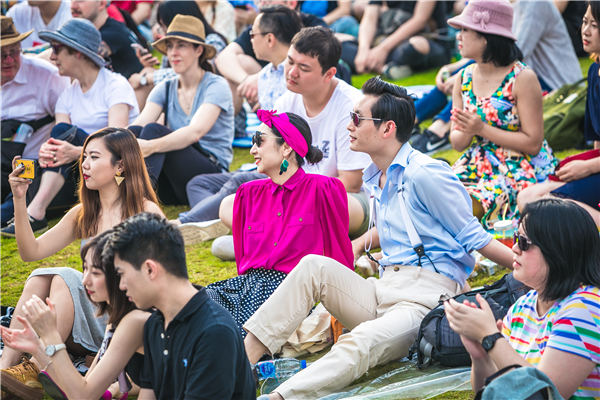 Jazz lovers from home and abroad at the recent 14th JZ Festival Shanghai. [Photo provided to China Daily]
Testing ground
For singer Yuan Yawei, who attended the event for the eighth time, performing at the festival is akin to a homecoming, as it has witnessed her growth from novice musician to a rising star.
"I am a fan of jazz," says Yuan. "Ren gave me the chance to sing on the stage eight years ago when few people knew me. The stage here always fills me with awe and respect, which urges me to really put on a great performance."
There's no doubt that JZ Music has solidified the jazz community in Shanghai by providing legions of music enthusiasts with a platform to display their talents and communicate with people of the same musical tastes. Moreover, it has been reaching out to young jazz lovers and educating them at the JZ school since 2006.
Yuan Yijie, a graduate of the University of Oklahoma, has played classical guitar for 10 years, but decided to go in a different direction after becoming intrigued by jazz.
He started doing full-time courses at JZ school last year to help make the transition from playing classical music to jazz.
"Playing jazz relaxes me, while performing classical is just the opposite," says the 28-year-old.
He adds that he likes the joyful atmosphere of playing jazz in a band as it requires improvisation and collaborative exchanges among members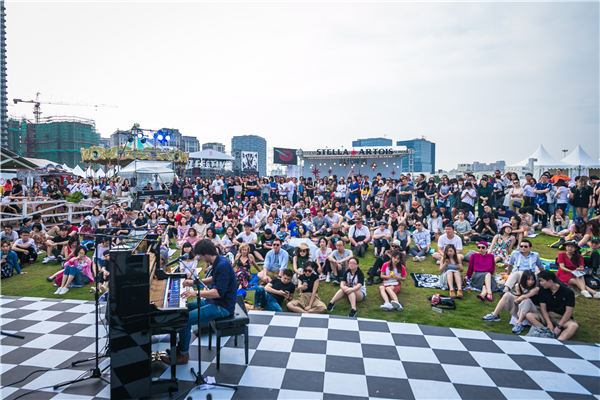 A packed audience at the outdoor jazz show. [Photo provided to China Daily]
"JZ offers me opportunities to perform on stage," says Yuan.
"I can find and address problems in rehearsals, learning how to collaborate with my peers and to better play in a jazz band."
Wu Zhanxu, 21, a senior from Tianjin Conservatory of Music, used the JZ school as a springboard to reach his dream university, the New England Conservatory of Music in Boston in the United States.
Now an electric guitar player, he's trying to find his favorite sub-genre of jazz music and continue to learn it at the conservatory in Boston next year.
Wu once joined a four-week summer camp run by the JZ school to get an overview of the jazz music genre. And this year, when he could spend time to study the music form, he chose to enroll as a full-time student at the school.
"Jazz is a language for me," says Wu. "I learned to expand my 'vocabulary' and then express my thoughts using the existing chords to improvise."
At this year's festival, Wu staged a performance with his band, for which 24-year-old Long Yutong serves as the lead vocalist.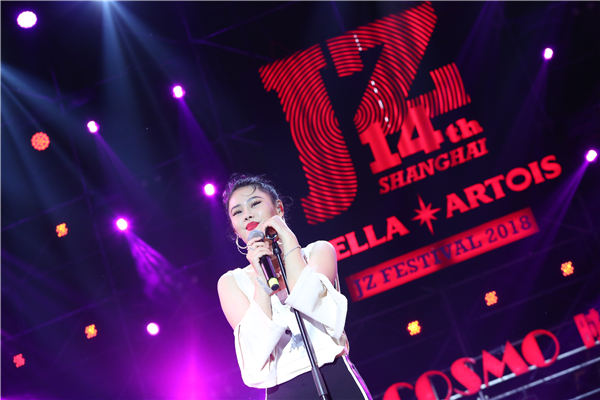 Singer Yuan Yawei performing at the event, from where she started her journey to stardom. [Photo provided to China Daily]
A bridge to extend
Different from Wu, who has received systematic musical training in university, Long, a law major, is a completely-untutored part-time singer.
"I've learned both theoretical knowledge and practical skills here," says Long. "The curricula range from the elementary to the profound, which is useful for untrained amateurs like me."
She adds that jazz helps her understand various styles of music from different cultures, which has helped her to break the habit of sticking to a single style.
Huang Jianyi, JZ school's headmaster, says that the institution aims to prevent young starters from wasting their time and energy by providing professional suggestions and creating a detailed and tailored study plan for them.
"Two decades ago, local jazz musicians of my age had to practice on our own as we lacked a domestic jazz education," says Huang, a pianist who later studied at Berklee College of Music in Boston. "Luckily, now Shanghai has brought together the best jazz musicians in China, such as Chinese-American guitarist Lawrence Ku, and the atmosphere here is conducive to educating newcomers about the genre."
JZ school uses textbooks published by Berklee College of Music and the New England Conservatory of Music, often inviting international faculty to run jazz workshops or master classes. This summer, teachers from Conservatorium van Amsterdam came to Shanghai and held a summer camp for JZ students.
"We want to serve as a bridge between Chinese jazz learners and foreign conservatories, helping to pave the way for those who want to study abroad," Huang says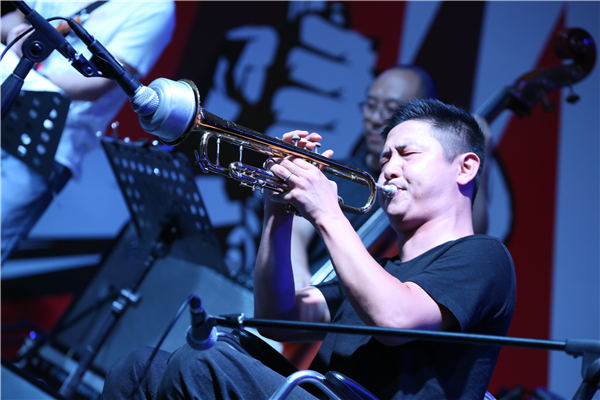 Trumpet player Li Xiaochuan. [Photo provided to China Daily]
There's no doubt that the tight-knit jazz community in China has been winning hearts and minds, and gaining followers, over the past few years. However, it still remains that most Chinese music lovers can name world-class pop stars or rock 'n' roll musicians at the drop of a hat, but are still not so au fait with their jazz-playing counterparts.
Zhao Ke, a jazz singer-songwriter, encourages Chinese audiences to open their hearts and embrace different music styles.
"It takes time to vibe with a certain type of music," says Zhao.
A professional jazz singer since 1996, he keeps working on blending Chinese culture and traditional musical elements into his performances.
"Jazz is like a big net upon which we can knit varied elements," says Zhao. "With this in mind, I've been thinking about what is China's jazz music?"
Trumpet player Li Xiaochuan also wrestles with this question.
"The first step is to introduce jazz to the public," says Li. "Then we need to give it a Chinese flavor.
"That's what we are now seeking, but it encapsulates the effort made by several generations of Chinese jazz performers."