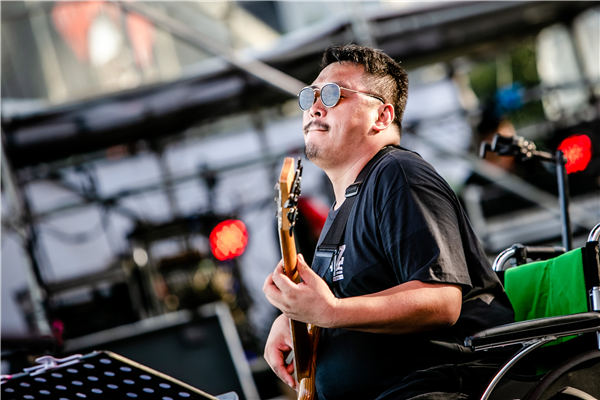 Bassist Ren Yuqing, founder of a jazz club, a school and a festival, loves to share his passion with people. [Photo provided to China Daily]
In the hit musical La La Land, the main character Sebastian Wilder is a jazz freak who is eager to revive his beloved music genre by opening a jazz club in Los Angeles.
On the other side of the Pacific Ocean, Ren Yuqing embraces the same passion for jazz and had the same dream, eventually realizing it - and so much more. He not only owns a jazz club in Shanghai, but has gone even further than Ryan Gosling's Oscar-winning big screen persona did, founding the company JZ Music and organizing, arguably, the country's premier jazz festival, as well as being a producer, artist manager and music education provider.
"As for the difference between Sebastian and me, he is a jazz pianist while I play bass," the Beijing native says.
Ren was originally a professional bassist who used to play rock 'n' roll in the early 1990s. He once cooperated with the pioneers of Chinese rock including He Yong, Dou Wei and Cui Jian on stage, with fervent fans crowding around them and swaying to the beat.
Later, however, he was lured toward jazz, especially after he performed with saxophonist Liu Yuan, China's "godfather of jazz" - back in 1997.
"Jazz is the sort of music that could enlighten me and make me stay grounded, and I found the joy of being a jazz musician with the two-way chemistry between performers and audiences," says Ren.
In 2001, after two years' study in Singapore, he moved to Shanghai, a place he believed could be the fertile ground for laying down the roots of the country's jazz scene as the cosmopolitan city is a bastion of "open-mindedness and cultural diversity".
Three years later, he opened the first JZ club on the city's Fenyang Road, a high-ceilinged, dimly-lit venue in the finest traditions of the genre, which has since sprouted sister branches in Hangzhou, Wuhan and Guangzhou. Then the JZ Festival Shanghai followed.
"At a jazz festival, audiences can listen to songs they've never heard before," Ren says.
Before long, he noticed that some musicians in China lacked a real understanding of the music and their basic skills were a little lackluster, so he opened the JZ school in 2006, offering direction to professional jazz performance for students of musical instruments and the jazz oeuvre.
"The JZ school aims to teach the young learners the essence of jazz, how to add mood and texture to the music, and how to tell stories by playing their instruments," Ren says. "All the musicians should first learn how to listen."
Branford Marsalis, a world-famous jazz musician who performed at this year's JZ festival, also emphasizes the necessity of listening. "Music is an extension of culture and language," he says, adding that it's essential to immerse oneself in the jazz culture by reading books and appreciating the classics.
Ren's love for jazz is pure, as he believes good musicians play music to fill their hearts, but not their pockets.
The past two decades have seen Ren's efforts to promote jazz to Chinese audiences. He says the payback for him is when he sees the audiences at jazz gigs and festivals growing.
"Nowadays, music plays a big role in young people's lives," he says, noting that hip-hop music, which came to China in the 1980s, has gained a huge fan base because of a talent show, The Rap of China, which aired last year.
"As for jazz, I don't know when a jazz craze will sweep the country. Let nature takes its course," Ren says. "I hope people could open their hearts and open their ears; just try it."