Culture, tourism minister meets foreign guests in Dunhuang
Updated: 2018-09-30 11:49:14
( Chinaculture.org )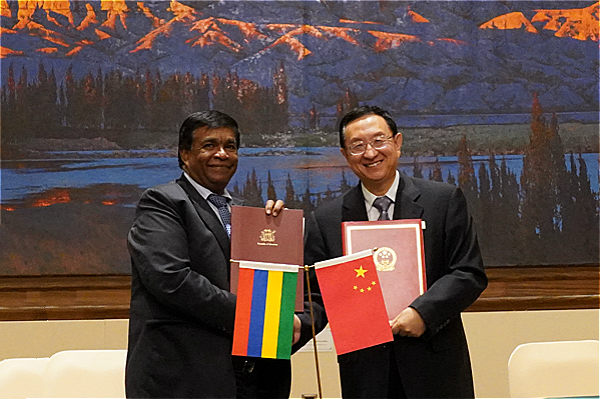 Luo Shugang, Chinese Minister of Culture and Tourism, signs the 2018-2020 China-Mauritius Cultural Agreement with Mauritian Arts and Culture Minister, in Dunhuang, Northwest China's Gansu province, on Sept 27, 2018. [Photo provided to Chinaculture.org]
Culture and Tourism Minister Luo Shuguang had the opportunity to meet with distinguished foreign guests during the third Silk Road (Dunhuang) International Cultural Expo, held in Dunhuang, Northwest China's Gansu province, from Sept 27 to 28.
The event, considered one of the most significant cultural gatherings among countries involved in the Belt and Road Initiative, drew prominent figures from around the world. These include Ernesto Renato, assistant director-general of culture for UNESCO; Zhu Shanzhong, executive director of the World Tourism Organization; as well as other culture and tourism ministers and officials from Benin, Equatorial Guinea, Mauritius, Morocco, South Sudan, Thailand and Ukraine.
Luo, along with Du Jiang, member of the Party group of the Ministry of Culture and Tourism, participated in bilateral conferences with invited foreigners to further boost global cooperation in culture and tourism. The meetings resulted in mutual understandings about talent exchanges, human resources training, heritage conservation and the worldwide promotion of Chinese culture.
Luo also signed the 2018-2020 China-Mauritius Cultural Agreement with the Mauritian arts and culture minister on behalf of the two governments.
Guests in attendance expressed their support to work together with China in culture and tourism, and enhance the friendship among people around the world.


Presented by Chinadaily.com.cn Registration Number: 10023870-7
Copyright © Ministry of Culture, P.R.China. All rights reserved