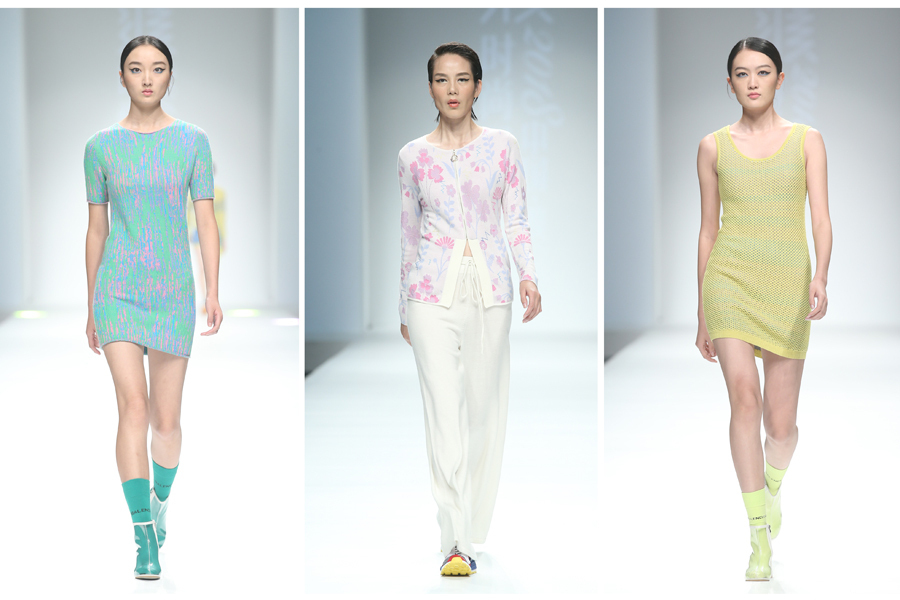 The first runway show on the opening ceremony of 2018 Puyuan Fashion Week is brought by designer Zhang Jicheng, winner of the fourth Jinding Award. [Photo provided to China Daily]
Puyuan Fashion Week set out to ensure that Tongxiang in Zhejiang province, renowned for its knitwear, is placed firmly on the global apparel map, Cheng Yuezhu reports.
With models, designers, celebrities and entrepreneurs flocking to Puyuan's central business district, the small town of Tongxiang in Zhejiang province once again proved itself as China's "knitwear fashion capital".
Organized by the China National Textile and Apparel Council and the Tongxiang government, the 2018 Puyuan Fashion Week was launched to promote Puyuan's fashion industry and enhance its competitiveness in the national apparel supply chain.
Run from Sept 15 to 20, this was the second year that Puyuan hosted its own fashion week, which included 36 events ranging from runway fashion shows to forums, lectures, exhibitions and seminars, welcoming around 500 designers, models, entrepreneurs and industry representatives.
Regarded as China's largest knitwear distribution center, Puyuan was included in the first batch of provincial and national "characteristic" towns in 2015 and 2016, respectively.
Since the establishment of the Puyuan Wool Sweater Market in 1988, Puyuan has developed a retail area of over 1.7 square kilometers that's home to 10,000 stores, and a manufacturing base that covers 11 square kilometers, according to Su Weiming, Party Committee Secretary of Puyuan and director of the market's administration committee.
"This year's fashion week aims to further integrate regional resources, incorporate elements of high-end fashion, make innovations in the value chain and build up a fashion industry cluster with a truly international influence," Su says.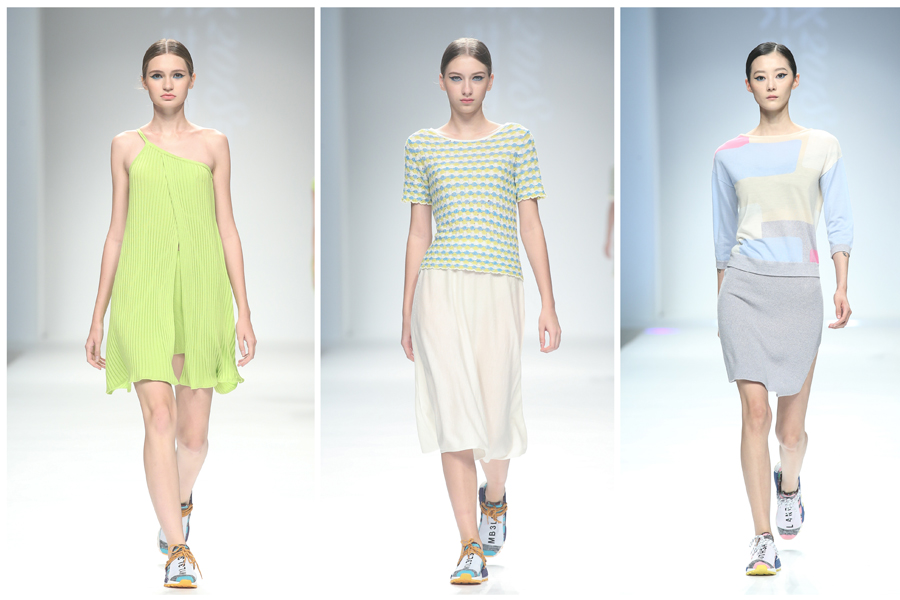 The first runway show on the opening ceremony of 2018 Puyuan Fashion Week is brought by designer Zhang Jicheng, winner of the fourth Jinding Award. [Photo provided to China Daily]
The first runway show at the opening ceremony was held by designer Zhang Jicheng, winner of the fourth Jinding Award, China's top fashion award given out by the China Fashion Association.
On the runway, Zhang presented his latest looks and vision for the 2019/20 knitwear season, which embodied the Taoist philosophy of "harmony between man and nature" through his simple and casual designs.
"This collection reflects the concept of living a natural, relaxing and simple life," Zhang explained. "Humans are intrinsically connected with nature. Therefore, all people and things should follow the laws of nature in order to reach a state of harmony."
The predominant colors in Zhang's latest collection included fresh greens and blues, bright pink and pale yellow. "We yearn to return to nature with its blue skies, white clouds, green trees and pink flowers. By integrating these natural colors into my garments, I'm trying to call on everyone to experience and enjoy life."
Attaching great importance to his choice of fabrics, Zhang uses high-end wool and cashmere yarn for his knitwear products to provide his customers with the most comfortable textures. Zhang's high standards for the materials he uses is also the main reason why he chooses to work with Puyuan artisans.
"Puyuan meets my requirements for production and textures. It supports growing businesses, has a well-established industry chain, and has strong backing from the government. I believe Puyuan has a very promising future," Zhang says.
Since 2000, the fashion industry in Puyuan has been expanding beyond knitwear to encompass other forms of fashion. Its knitwear sector has also transformed from a single-season clothing range to providing year-round products.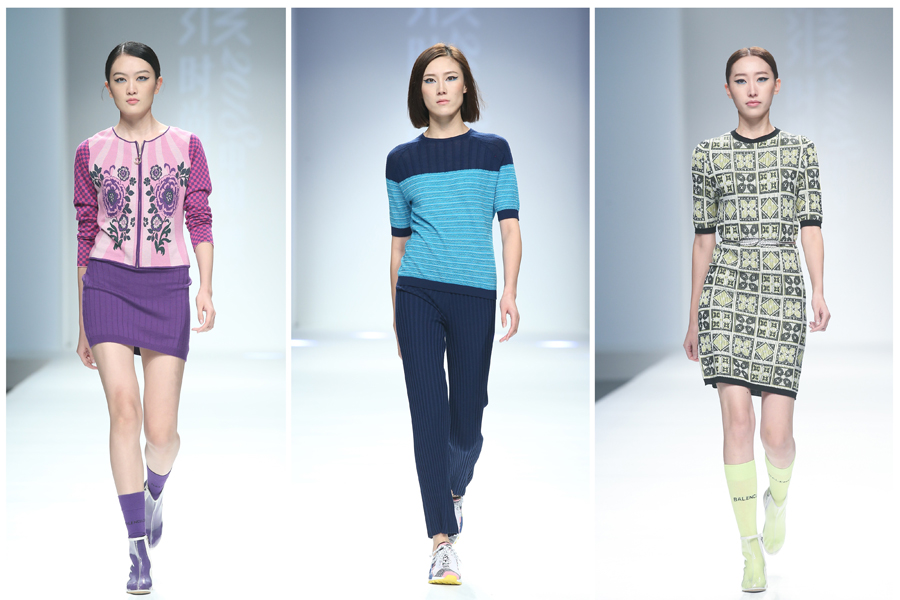 The first runway show on the opening ceremony of 2018 Puyuan Fashion Week is brought by designer Zhang Jicheng, winner of the fourth Jinding Award. [Photo provided to China Daily]
So far, Puyuan has developed a comprehensive apparel value chain centered around knitwear, which includes weaving, printing, dyeing, manufacturing, transporting and warehousing.
And Puyuan's approach to the industrial upgrade process has proved effective. According to statistics from the China National Textile and Apparel Council, knitwear sales from Puyuan increased by 6 percent over the first five months of this year, while the national average rose by between 1 and 3 percent.
Knitwear sales through e-commerce platforms are even more lucrative, as sales increased by 10 percent over the same period. Puyuan's online knitwear turnover for the first half of this year reached 7 billion yuan ($1,017 million) highlighting the boom in online consumer demand for knitwear.
A major event at the fashion week was the 10th Asian Color Forum, a high-profile industry conference first held in 2004, which explores future color trends for the Asian fashion industry.
On the theme of "Color, Innovation and Integration", the forum invited experts and scholars from both home and abroad, including Italy, Japan and South Korea, to discuss their research findings on the importance and influence that colors play in fashion, as well as the future trends of color in other industries.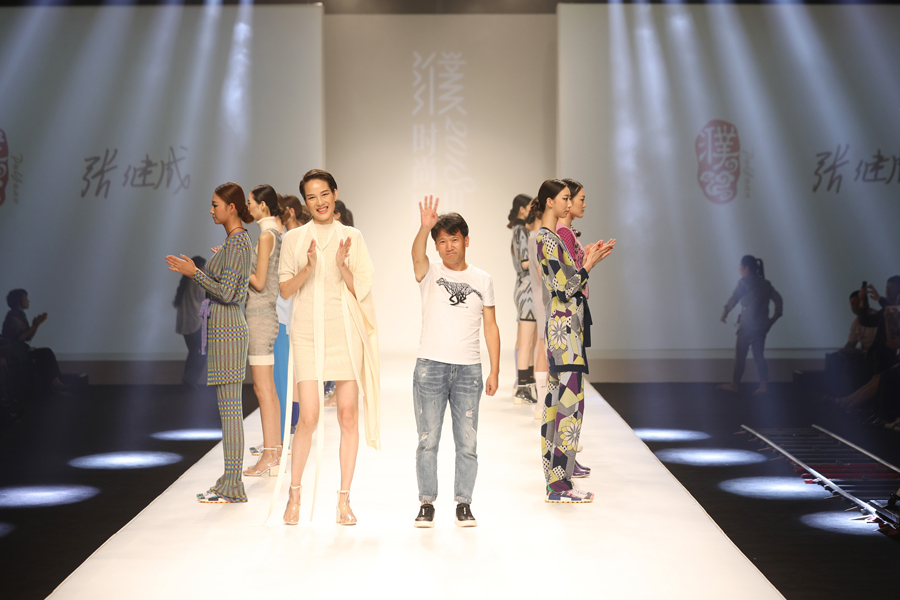 Designer Zhang Jicheng greets the audiences, after presenting his latest looks and vision of the 2019/2020 knitwear fashion trends. [Photo provided to China Daily]
Yang Jichao, the vice-president of CNTAC, said: "Over the 40 years of China's reform and opening-up process, the Chinese have developed new requirements for color. Through this year's forum, the China Fashion and Color Association is committed to introducing advanced international concepts and practices to China while promoting China's fashion industry."
Several delegates suggested that Chinese tastes in color are already having an impact on the global fashion industry. Zhou Xin, director of product and color design at DIC (China) Co Ltd, a colorant manufacturer, said that international color trends are increasingly being influenced by Asian culture.