Beijing Shijingshan Amusement Park celebrates National Day holiday
Updated: 2018-09-28 09:41:21
( chinadaily.com.cn )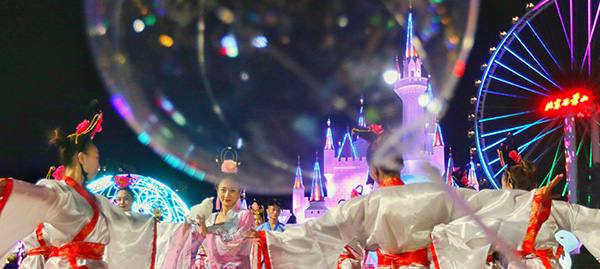 The Beijing Shijingshan Amusement Park offers various activities for tourists. [Photo by Jiang Dong/China Daily]
The Beijing Shijingshan Amusement Park has prepared a series of activities for the upcoming National Day holiday to attract more visitors, especially those with children.
The park will unveil its Flying City area on Oct 1, with 15 recreation facilities that will allow visitors to experience the thrill of "flying". In simulated cabins, they will be able to pilot an airplane along more than 40 routes or control a fighter plane or a helicopter.
Decorated with colorful flowers to add to the festive atmosphere, the park will host a variety of parades on different themes, and set up street art exhibitions and acrobatics shows. Food booths will offer delicious snacks from home and abroad, and offer discount coupons.
Visitors can win free entrance tickets by joining activities on the park's official WeChat and Sina Weibo accounts.


Presented by Chinadaily.com.cn Registration Number: 10023870-7
Copyright © Ministry of Culture, P.R.China. All rights reserved