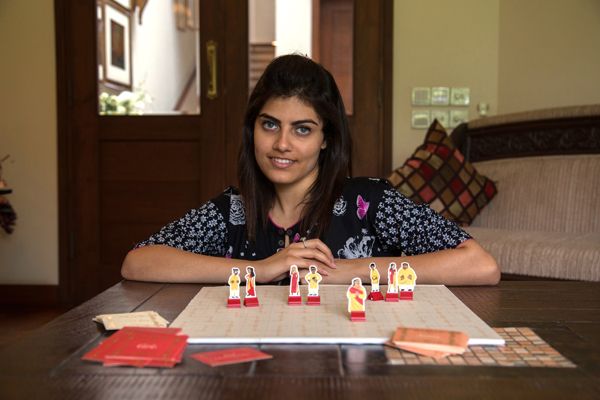 Pakistani designer Nashra Balagamwala shows how to play Arranged!, a game she created out of her own experiences. [Photo provided to China Daily]
More than 70 exhibitors from both home and abroad recently joined the fourth annual Dice Con Board Game Convention in Beijing. There, visitors were able to try out a range of board games at tables before deciding whether to buy them. Other activities included the launch of new games.
According to industry analyst Research and Markets, the global board games market is expected to reach values of over $12 billion by 2023, growing at a compound annual growth rate of about 9 percent between 2017 and 2023.
The New York-based Pakistani game designer, Nashra Balagamwala, talked about Arranged!, a board game she created, inspired by her own experiences of avoiding an arranged marriage.
In the game, a matchmaker tries to marry off three teenage girls to every young man they meet, while the girls elude her attempts by pursuing their education or careers. The game ends when all the players are married off, either by their own volition or through the designs of the matchmaker.
"The general public may be tired of reading or hearing about social issues, but they are still open to playing games. Sometimes, a game can be the most powerful method of communication," says the 25-year-old, who graduated from a university in the United States.
"It's interesting to combine serious social issues with board games. You have to find a balance and still make it a fun experience so that people are willing to play it."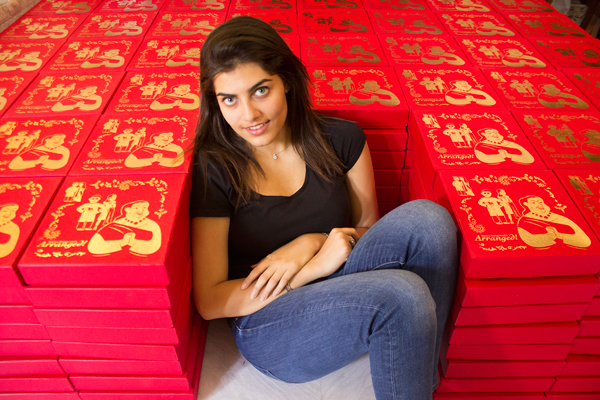 Pakistani designer Nashra Balagamwala shows how to play Arranged!, a game she created out of her own experiences. [Photo provided to China Daily]
Balagamwala says Pakistani women usually start to get married at age 18, and arranged marriages are not uncommon. The idea of the game was born when her parents introduced her to potential suitors. Once a matchmaker approached her and said she was surprised to find that she was still unmarried at age 22.
After the game was released last year, women in Pakistan and India in particular have contacted her online to thank her and discuss their own, similar stories. Many played the game with their parents and used it as an opportunity to discuss the issue.
She says when men play the game, they get to feel what is like to be a girl in an arranged marriage and learn about what their daughters or sisters have gone through.
Only available through Balagamwala's website and published in English, the game has already sold over 3,000 sets. She is also considering releasing the game as an app to increase its appeal.
German board game designer Reiner Knizia also shared his thoughts during the convention.
"In Germany, there is a tradition for family members to play board games together. In some countries, however, there is little recognition of the cultural value of board games," he says. His company Knizia Games has published more than 600 different games in 2,000 versions.
He believes the most important aspect to developing a board game is to introduce it to the public gradually. This means that publishers tend to promote board games through conventions and other events to test them out.
"Game design is an art, not a science. You need to spend time developing your ideas and then find your own way," he says.
Knizia says it's important for young designers to have a love for board games and play as many games as possible.
"You first need to come up with a good idea for a game, and then ... get it published," Knizia says. "My advice (for game designers) would be to approach small publishers who will talk with you on an equal level, and then you learn from each other."
"If it isn't working out, don't force it. There are other ways to use your love of board games, like being a publisher. You will be guided more by your interest than by your success."
While electronic games account for about 80 percent of the global market, there is no real competition between them and board games.
"Both have widened the games market. They're actually competing against other ways of recreation such as holidays, movies and sports," he says.
"The development of electronic games makes the market for players bigger. Once you play a game through a certain medium, you are more likely to play games in other ways as well."
Knizia also believes it works both ways-a classic board game may become a mobile game and a successful mobile game can be turned into a board game.