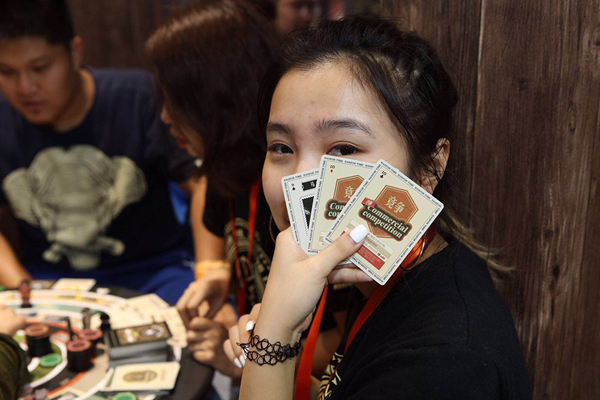 Visitors to the fourth annual Dice Con Board Game Convention in Beijing test out new board games. [PHOTO BY XU LIN/CHINA DAILY]
Greater numbers of young Chinese are putting down their digital devices and finding social escapism in the diverse world of board games, Xu Lin reports.
Wang Jiajun, 30, is a rich merchant in the Middle East. Sometimes he's a general, commanding legions of men.
His adventures differ, depending on the day. These are not roles in a play, but board games-a hobby that he fell in love with five years ago.
"The fun part is that you can experience new worlds alongside different values and rules in varying styles of board games. There are various occupations and lives to choose from," he says.
"Each game is a new world, and you can broaden your horizons, by getting to know the local customs and traditions."
Wang works for a State-owned company in Beijing. And when he's not on business trips, he has free time to do what he likes-so he plays board games twice a week.
Like him, more Chinese are playing a diverse range of board games, which were originally introduced from Europe and the United States.
Actually, mahjong, China's traditional pastime, is also a classic board game.
About a decade ago, Legends of the Three Kingdoms, a Chinese card game became a hit among young Chinese. Based on the historical novel Romance of the Three Kingdoms, the game's rules are almost identical to the Italian card game Bang!, which was released in 2002.
Then, dedicated board-game bars were springing up due to the popularity of the game until the fad gradually vanished. It's only in recent years that the public's love for board games revived thanks to the sudden popularity of role-playing game Werewolf. While werewolves secretly kill a villager at night, the villagers have to discover and eliminate the werewolves during the day with the help of a seer.
"These are the two main games played by Chinese people. However, most people have no idea that there are many other types of games worth playing," he says.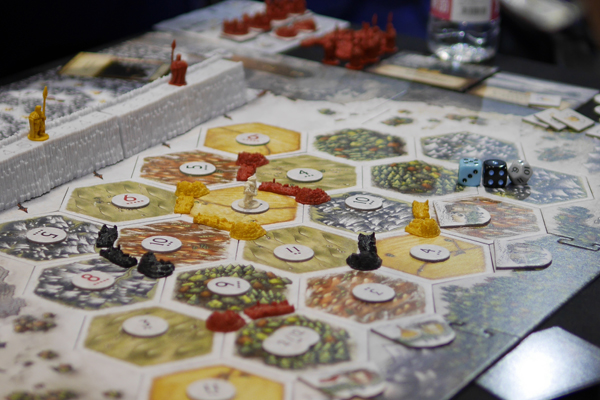 A board game with beautiful details and accessories. [PHOTO BY XU LIN/CHINA DAILY]
Wang has spent about 30,000 yuan ($4,376) on board games, and owns over a hundred sets. Sometimes, after playing them for a period, he sells the games to other enthusiasts. Also it's not uncommon for those within the community to exchange games.
"There is such a great variety of board games that you will eventually find the one that suits your character. Whether you like making calculations or have a vivid imagination, there's a suitable game out there for you."
Some board games have complicated rules, and may scare away the uninitiated.
"It's about peer education. Ease gamers into simple games first and build up to the more complex ones, with the guidance of a veteran gamer. You have to play different games seven or eight times until you become a real gamer."
He also says that board games are able to sift out gamers. Those who have the patience to listen to the rules for half an hour, have the potential to become good gamers.
"The biggest challenge is to find time," he says.
Wang jokes that due to the fast pace of life in big cities, those who squeeze in time to dine with each other are called "true friends"-imagine trying to assemble five or six people who are willing to play board games for half a day.
In small cities, however, the problem is that there are fewer people who share the same hobby.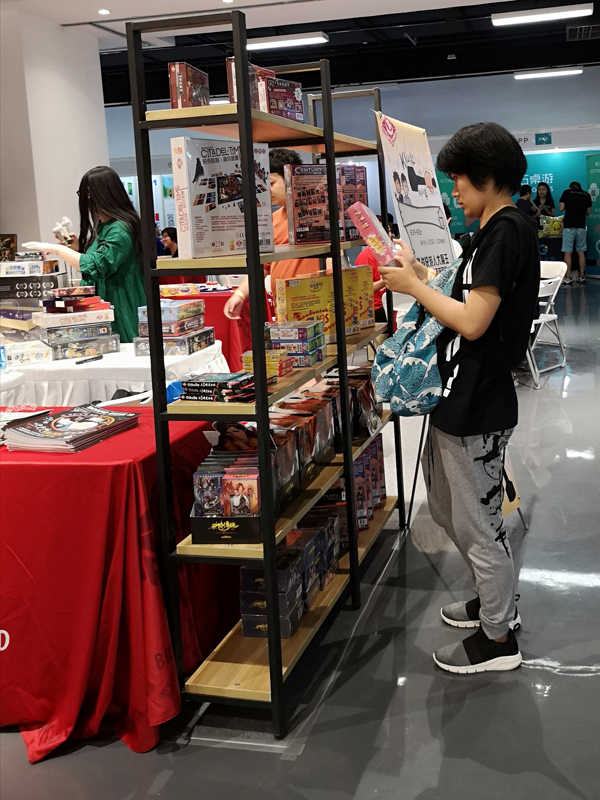 People select their favorite board games at the convention. [PHOTO BY XU LIN/CHINA DAILY]
"The key is whether you're willing to spend time on it, and it has nothing to do with your age or occupation. For me, board games are on my priority list. For others, that priority may be to spend that time drinking with friends or going to karaoke," he says.
"To find a good gamer is also important, because-even by playing the same game over and over again-the experience differs when you play with different people."
He says it's a bit like finding a soul mate, when you make friends with others through a hobby that is popular only among a small group of people.
He also has board-game apps on his mobile phone, so that he can play at any time, but he says the main disadvantage is the lack of face-to-face communication and the tactility of touching of the game pieces.
Wang Han, a board-game bar owner from Beijing, couldn't agree more.
"People need to put down their mobile phones and socialize with one another. It's a way of relaxation; relieving themselves from the hustle and bustle of the city," he says.
He opened the bar two years ago out of his love for board games. His customers are between the age of 25 and 35. They are able to play games with concentration and like to share the games that they love.
The business is not particularly profitable, due to the high prices of the official editions of the games which average between 300 and 800 yuan. Some are more expensive, such as those with elaborate accessories.
Thanks to the sudden popularity of Werewolf, board-game bars are seeing more visitors who want to have a party venue.
"In Werewolf, gamers interact with one another and judge the opponents' roles by their logic and facial expressions," he says.
There are a variety of games to choose from other than Werewolf, according to Wang Han, and he recommends board games in accordance with interests and levels of his guests.
"I like to read them the game rules. I try to introduce board games to more people because I like to share my happiness with others."
Wang Han feels a sense of achievement by playing business simulation games-to manage a company, hire employers and rake in money.
"Such games are based on economic models. Once you take a wrong step, your company will close. They're good tools for corporations to train their staff and raise their awareness," he says.
According to him, some board-game bar owners will also buy new games from global crowdfunding platform Kickstarter and translate them into Chinese.
Meanwhile, domestic game publishers in China are striving to import more games, as well as create their own.
According to a 2017 survey conducted by dicehobby.com, a Chinese website for board game enthusiasts, among the 669 respondents, half admitted to spending between 1,000 to 5,000 yuan on board games, while 83 percent had donated to a crowdfunding program for a board game.
Many said they bought a game due to its background, mechanism and aesthetic design. Compared with overseas board games, they believed that domestic ones need to improve their mechanics, design and marketing strategy.
"Some Chinese publishers maintain good contact with those in Europe and the US. They're able to choose good games and bring them to China," says Reiner Knizia, a veteran board game designer from Germany.
"When an increasing number of Chinese become interested in the imported games, more local companies start planning to produce their own games."
He believes it's possible to reach more growth in the Chinese market due to the country's vast population.
"Local publishers can do better than their global counterparts in building brands and awareness, because they are more familiar with the local market and have access to it," says Knizia.
"As the market shares are distributed, this is a great opportunity for the Chinese publishers, who can seek cooperation with others as well. It's a step-by-step progress."