Exhibition highlights Chinese fashion in Mauritius
Updated: 2018-09-25 13:50:57
( chinadaily.com.cn )
A model presents Chinese fashion in Mauritius. [Photo provided to China Daily]
A two-week-long exhibition of Chinese fashion opened in Mauritius on Sep 16 in the China Cultural Center of Mauritius.
According to Sun Gongyi, the Chinese Ambassador to Mauritius, clothes represents the traditional customd and taste of a country.
Through this exhibition, spectators can enjoy the beauty and get to know the profound Chinese culture.
The exhibition offers a visual feast, since it consists of around 60 Chinese outfits, over 30 designers' manuscripts and a model show.
This exhibition is a part of a series of activities to celebrate the 30th anniversary of the Center's establishment in 1988.
Other activities include a Peking Opera show, an exhibition of paintings, a film week and concert.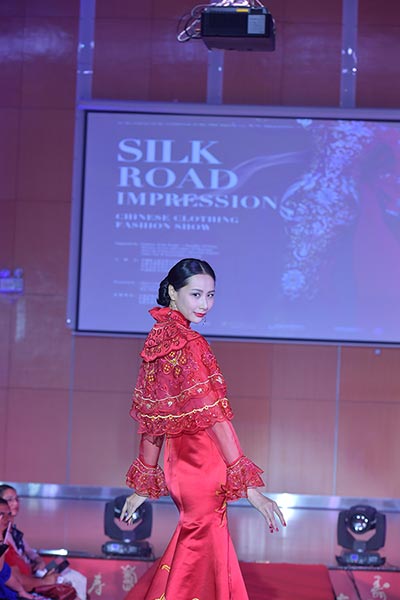 A model presents Chinese fashion in Mauritius. [Photo provided to China Daily]


Presented by Chinadaily.com.cn Registration Number: 10023870-7
Copyright © Ministry of Culture, P.R.China. All rights reserved