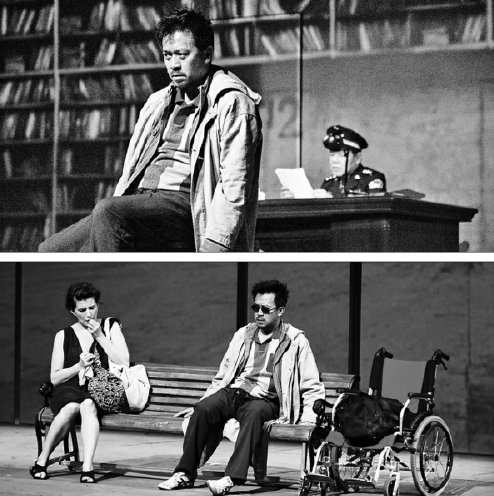 Directed by Polish theater director Krystian Lupa, the play Mo Fei, featuring Chinese actor Wang Xuebing as the lead character, will make its debut in Beijing on Oct 17. [Photo provided to China Daily]
A drunken man talking to a mouse about his childhood, parents, ex-wife and his life's struggles opens the five-hour play, entitled Mo Fei.
Directed by Polish theater director, Krystian Lupa, 74, the play premiered in Tianjin in June and will make its debut in Beijing on Oct 17 at Tianqiao Performing Arts Center.
Based on a novella written by the late Chinese writer, Shi Tiesheng (1951-2010), titled A Stage Idea with Film as Backdrop, the play has Chinese actor Wang Xuebing in the lead role of Mo Fei.
"We had three months, on and off, working together in the rehearsal room in Tianjin, which was an exhausting and thrilling process," recalls Wang, 47, in Beijing.
It was the first collaboration between Lupa and Wang, which, as Wang describes, made him "feel like a new actor".
"None of us in the production team are alcoholics, so playing a drunkard is about imagination. Improvisation was a major part of the rehearsal. The director was very patient and he asked me to slow down, to truly represent a drunken man's behavior," adds Wang.
It was also the first time for Lupa, who is known for his productions based on Austrian writers Robert Musil and Thomas Bernhard, to adapt a Chinese writer's work into a Chinese play.
Before Mo Fei, Lupa's stage productions-Persona, Marilyn, Heroes' Square and Woodcutters-were staged in China.
According to Wang, the director works over 10 hours a day on conducting rehearsals and writing the script. To better understand Shi, Lupa read the writer's works, including one of his famous essays, I and the Temple of Earth, which was published in 1991 and is about the writer visiting the Temple of Earth in a wheelchair. The Polish director also visited the site, a park in downtown Beijing several times, which, as Lupa says, is "an important place for Shi". He rode bicycles there, walked around in the park and looked at the trees and flowers.
"By reading Shi's works, I recalled my own life, especially my relationship with my mother," Lupa said in a recent interview with China Daily, conducted while he was rehearsing the play in Tianjin. "Like Shi, I had my own Temple of Earth when I was young. It's a place where I could hide from the outside world."
The director also shot lots of videos in Beijing and Tianjin, which are broadcast on the stage's backdrop.
Shi was born and grew up in Beijing near the Temple of Earth. In 1969, he was sent to rural Shaanxi province during the "cultural revolution" (1966-76). He was paralyzed because of an illness at age 21. Shi was then sent back to Beijing and worked in a factory. His kidneys failed in 1998, and he had to undergo dialysis three times a week. Shi began to publish his work in 1979 and won many literary prizes, including the Lu Xun Literature Prize, the Lao She Essay Prize and the National Excellent Short Story Prize. He is best known for his short stories, including My Faraway Clear Peace River and Strings of Life.
One of his novellas, Like a Banjo String, which was published in 1985, was adapted into the film Life on a String by Chinese filmmaker Chen Kaige. The film was nominated for an award at the Cannes Film Festival in 1991.
The same year, a collection of Shi's short stories was translated into English and published as Strings of Life. Shi died of a cerebral hemorrhage in Beijing in 2010.
If you go
7:30 pm, Tianqiao Performing Arts Center. 9 Tianqiao Nandajie, Xicheng district, Beijing. 400-635-3355.