40 years in China, through a camera lens
Updated: 2018-09-04 16:27:12
( chinadaily.com.cn )
Students attending a class at Tsinghua University in Beijing in 1979. [Photo by Gu Dehua/cpanet.org.cn]
China's reform and opening-up has brought robust economic growth to the country and tremendous changes to people's lives.

Forty years have rolled by since the policy was adopted in 1978. But Chinese photographers' camera lenses have helped capture the country's milestone moments, as well as the precious memories in ordinary people lives.

The exhibition China: 40 Years Through the Lens takes visitors down memory lane with more than 200 images, all being shown at the National Museum of China in downtown Beijing.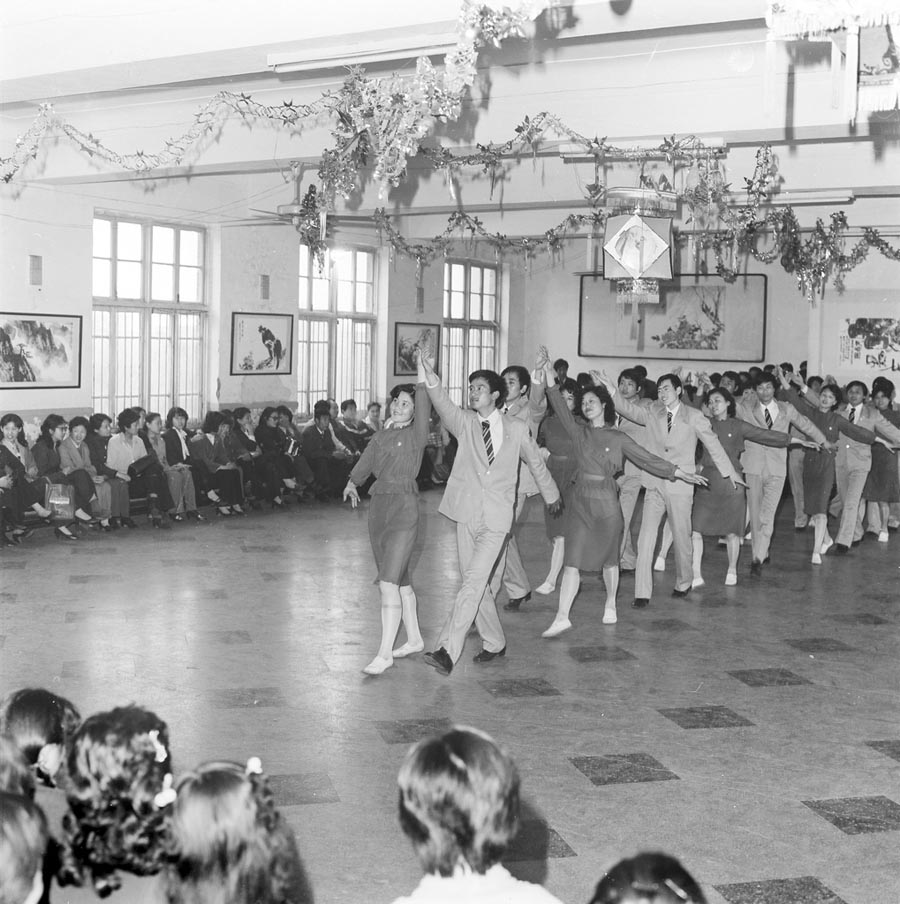 People pictured in a ballroom dance at the Workers' Cultural Center in Hefei city, East China's Anhui province, in 1984. [Photo by Ma Zhaoyun/cpanet.org.cn]
From black-and-white photos in the 1980s to the bold colors shots of later eras, the exhibit documents different aspects of China, ranging from social life, health and education to technology and social security. Whether it's the fashion of the 1980s, the first private cars, Beijing's bid to host the Olympic Games or breakthroughs in science and technology, the exhibition intertwines historical events with the joys and sorrows of the Chinese people.
The exhibition runs through Sept 12. It's co-organized by the China Federation of Literary and Art Circles and the China Photographers Association.
If you go:
9 am - 5 pm (closed on Mondays), through Sept 12. South 7, 8 Exhibition Hall, National Museum of China, East Chang'an Avenue, Dongcheng district. 010-6511-6188.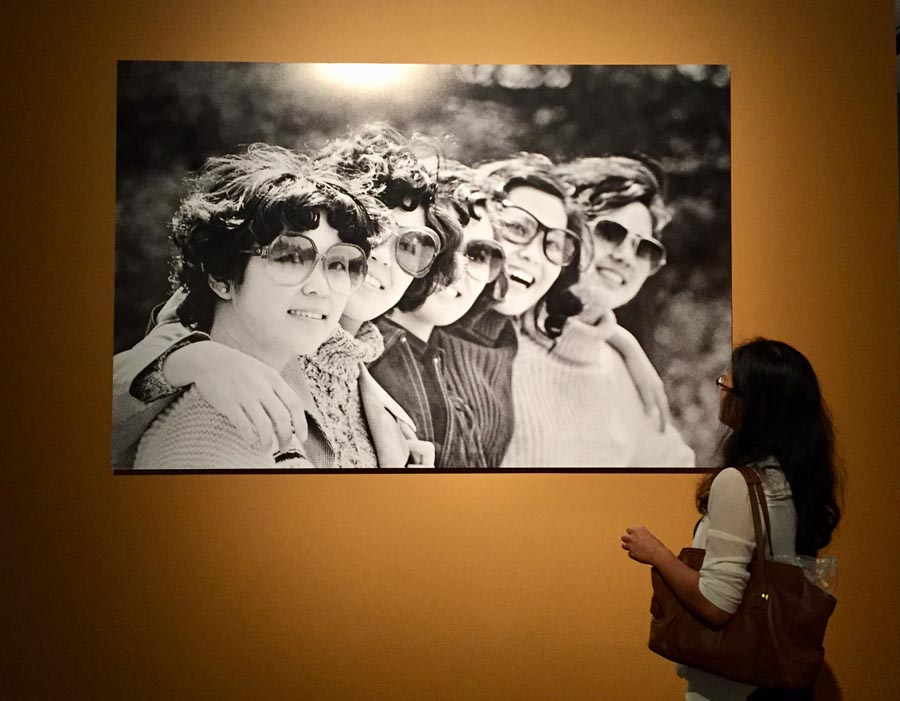 A visitor looks at a photo taken by Wang Wenlan that depicts China's fashionistas in the 1980s wearing sunglasses and sporting thick, curly hair. [Photo by Li Ping/chinadaily.com.cn]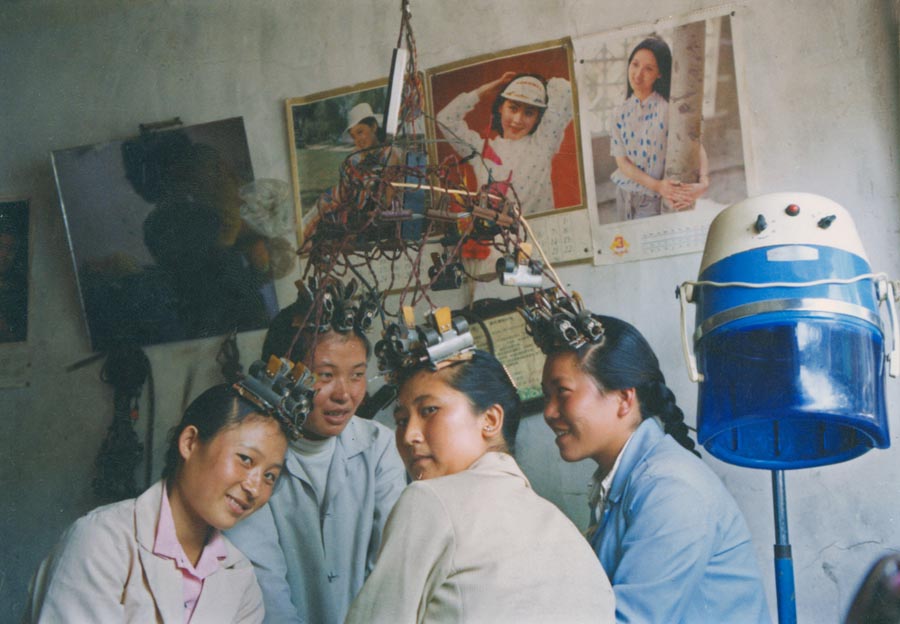 Women pictured getting perms in Xiaguan township, Dali in Yunnan province in 1985. [Photo by Liu Jianhua/cpanet.org.cn]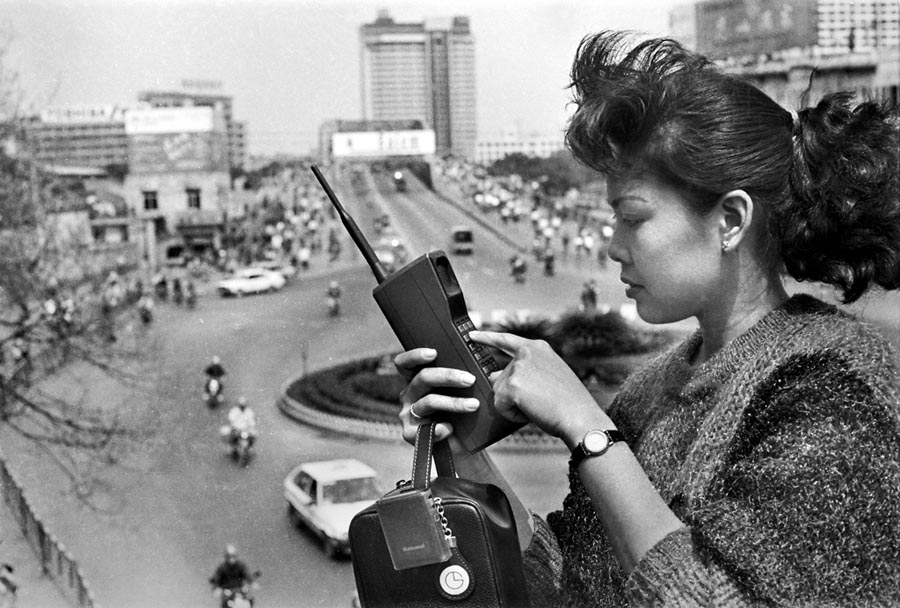 A fashionable Chinese woman uses a dageda, China's first-generation mobile phone, in Guangzhou, South China's Guangdong province, in 1987. [Photo by Ye Jianqiang/cpanet.org.cn]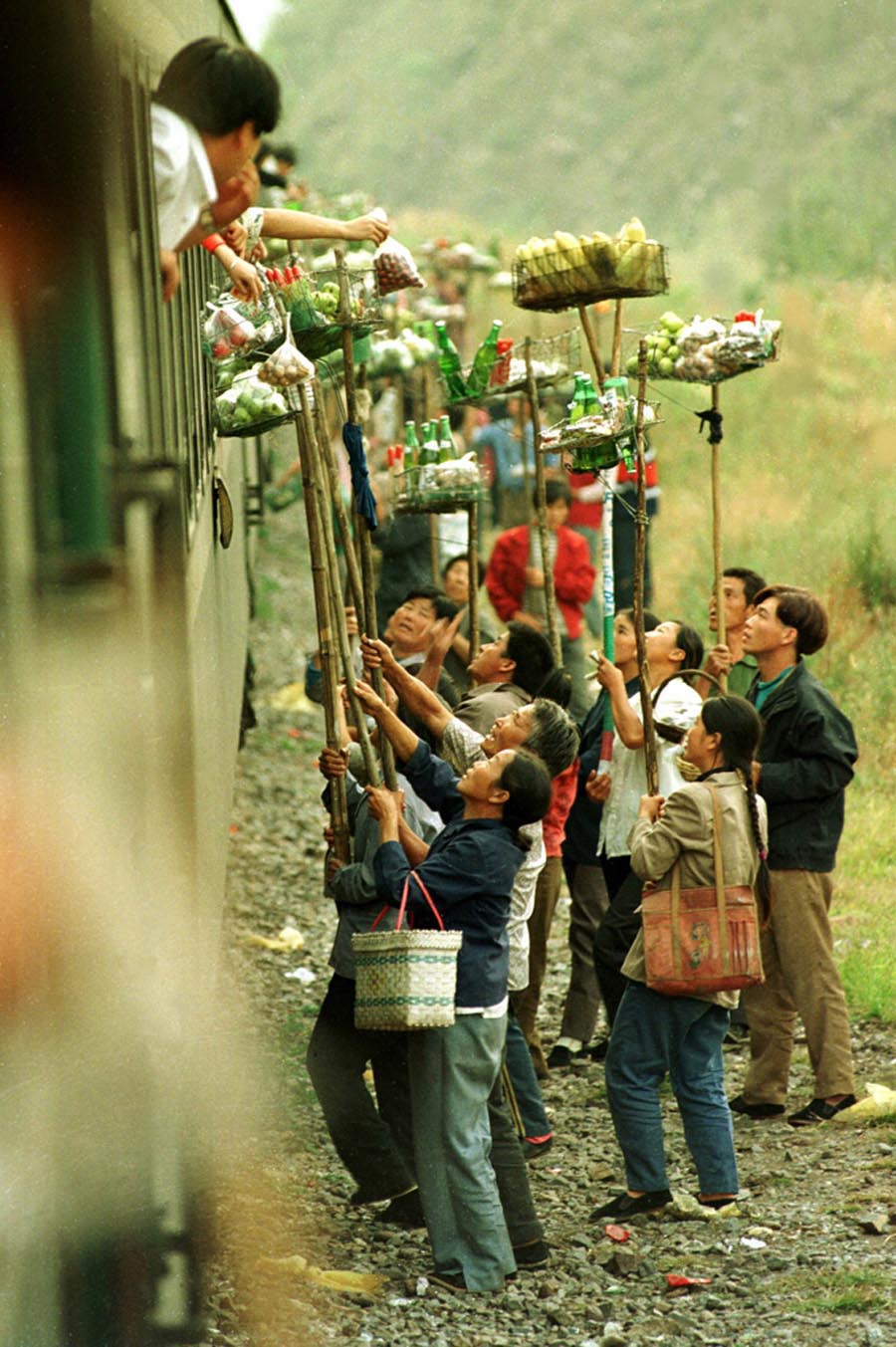 Vendors sell local specialties to passengers on a train from Beijing to Qinhuangdao city in Hebei province in December 1996. [Photo by Zhou Chaorong/cpanet.org.cn]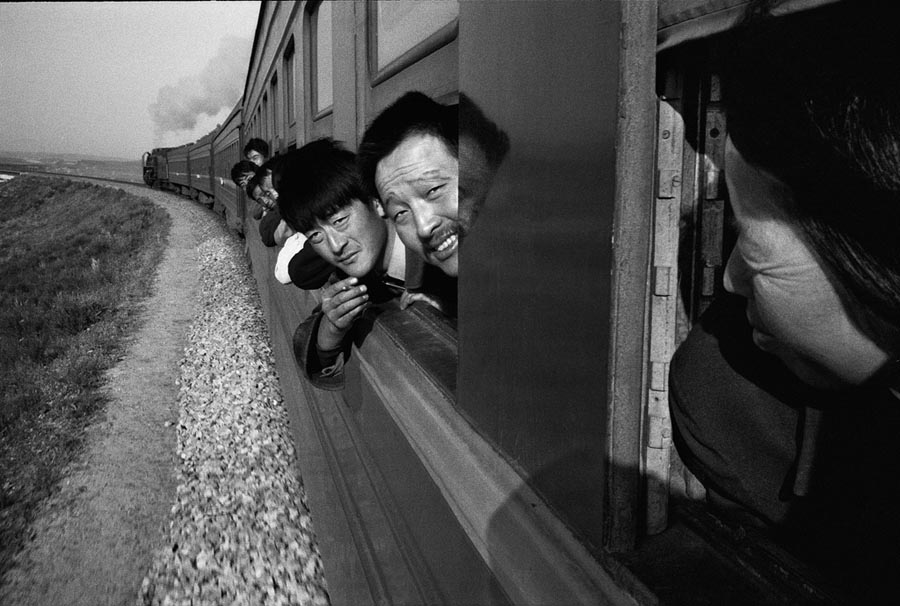 Passengers on a train from Tongliao to Jining in Inner Mongolia pictured in 1998. [Photo by Wang Fuchun/cpanet.org.cn]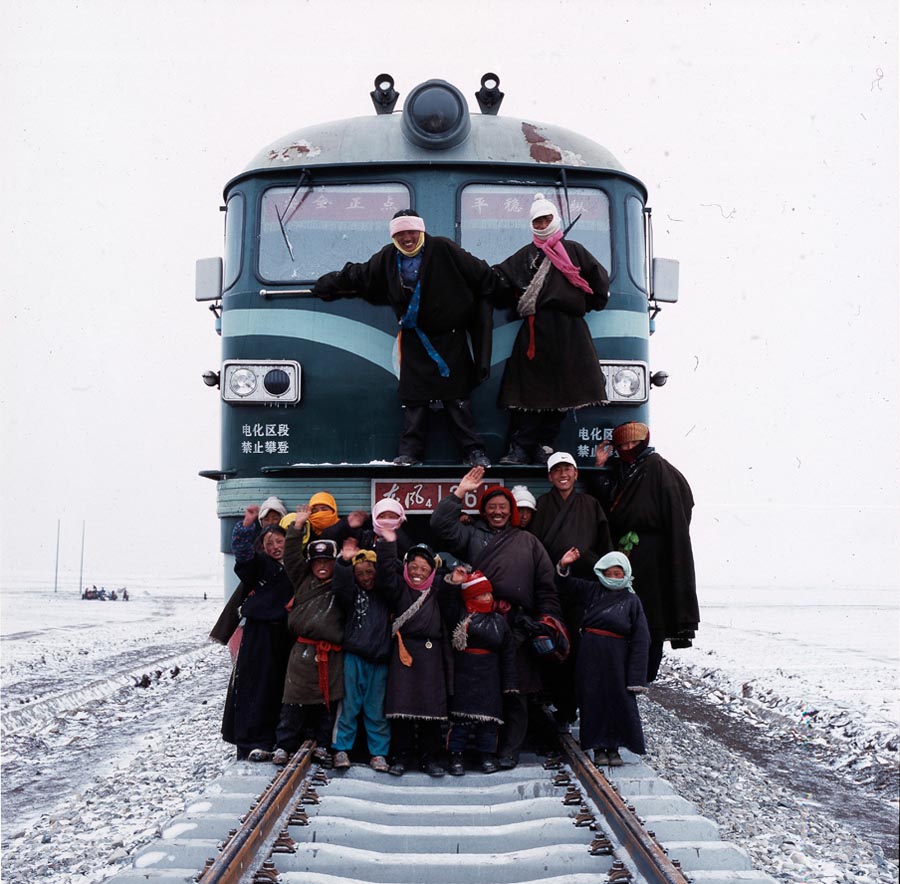 The first train bound for Tibet's snow-covered plateau, pictured in 2005. [Photo by Che Gang/cpanet.org.cn]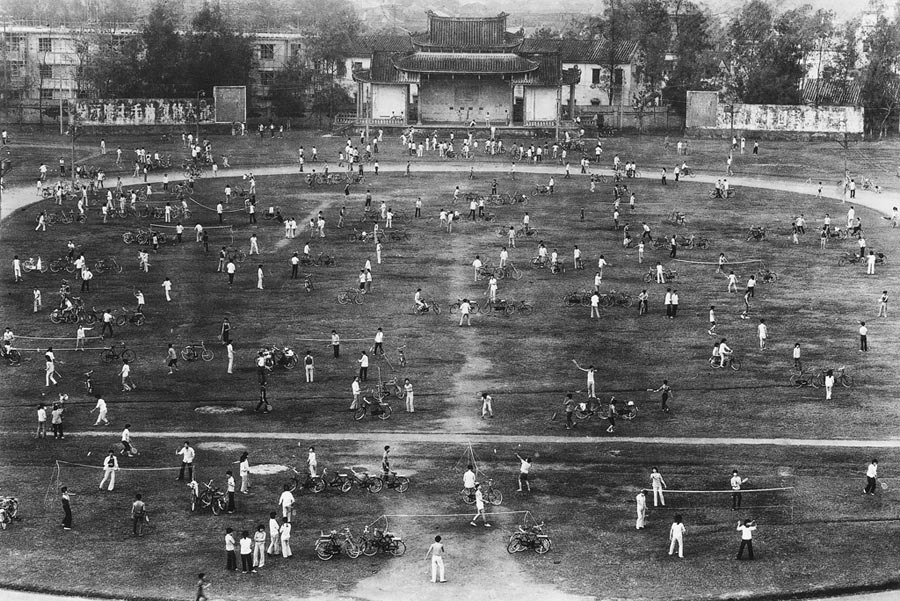 People pictured playing badminton for morning exercise in Jieyang, Guangdong province in 1982. [Photo by An Ge/cpanet.org.cn]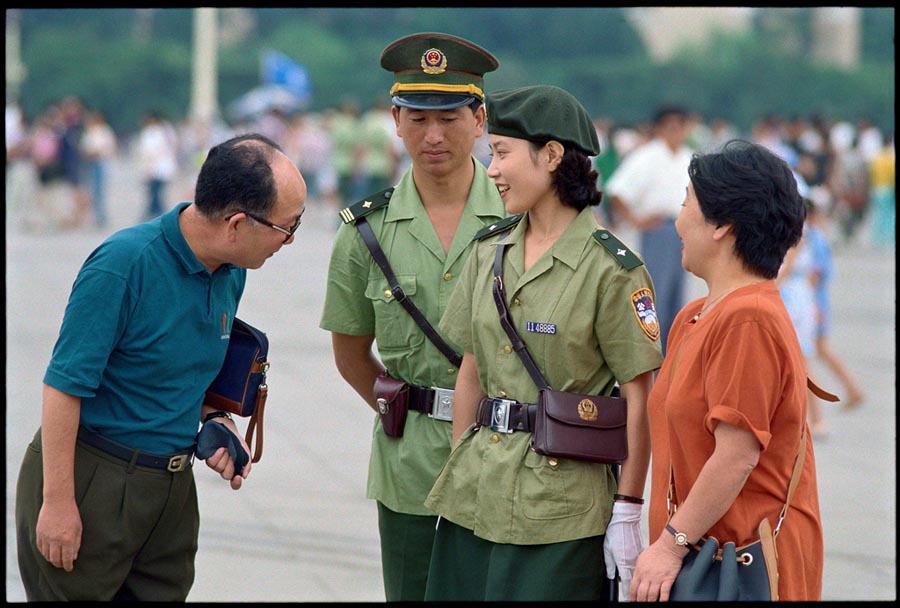 One of Beijing's first group of patrol women pictured at Tian'anmen Square on Aug 24, 1995. [Photo by Lu Beifeng/cpanet.org.cn]
A mother helps her son do his homework in Nanjing, Jiangsu province on a summer evening in 1991. [Photo by Tian Ming/cpanet.org.cn]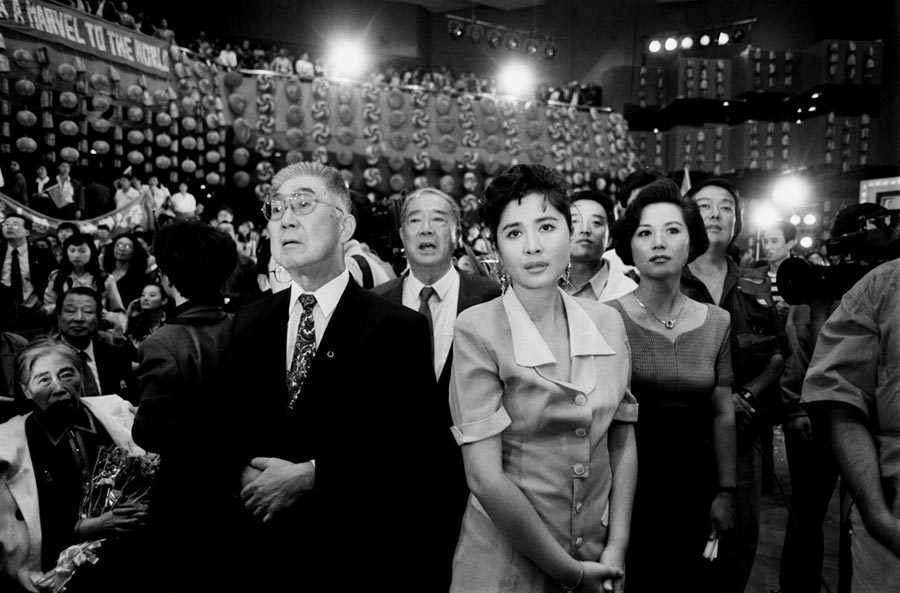 People watching a live broadcast of the bid for the 2000 Olympic Games look shocked when Sydney was announced as the host city on Sept 24, 1993. Beijing lost the bid to Sydney by two votes. [Photo by Liu Zhankun/cpanet.org.cn]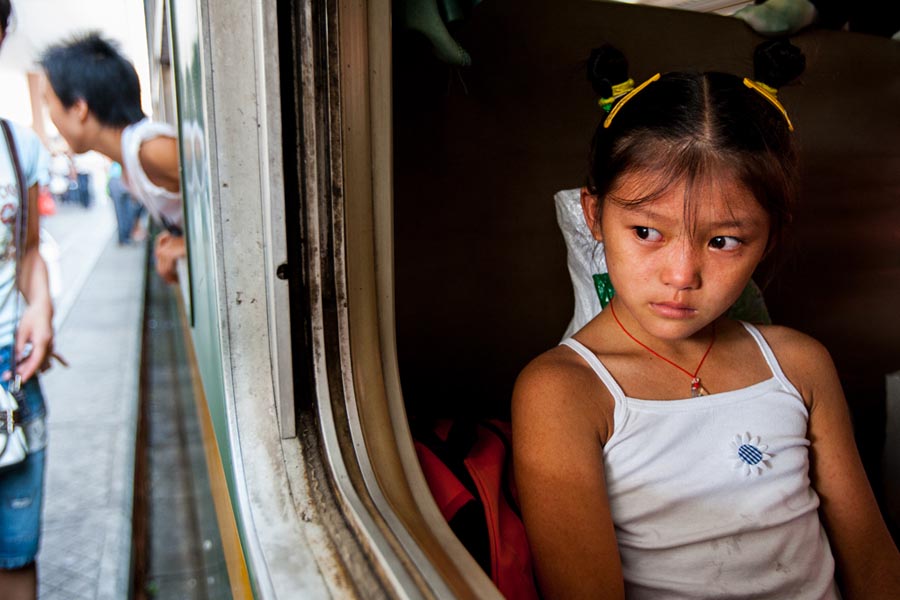 Fu Xiangjun, a 10-year-old child from Southwest China's Chongqing, is pictured in tears on a summer day of 2006, when she had to separate with her parents who left for work in East China's Hangzhou. The family could only reunite on holidays. [Photo by Fu Yongjun/cpanet.org.cn]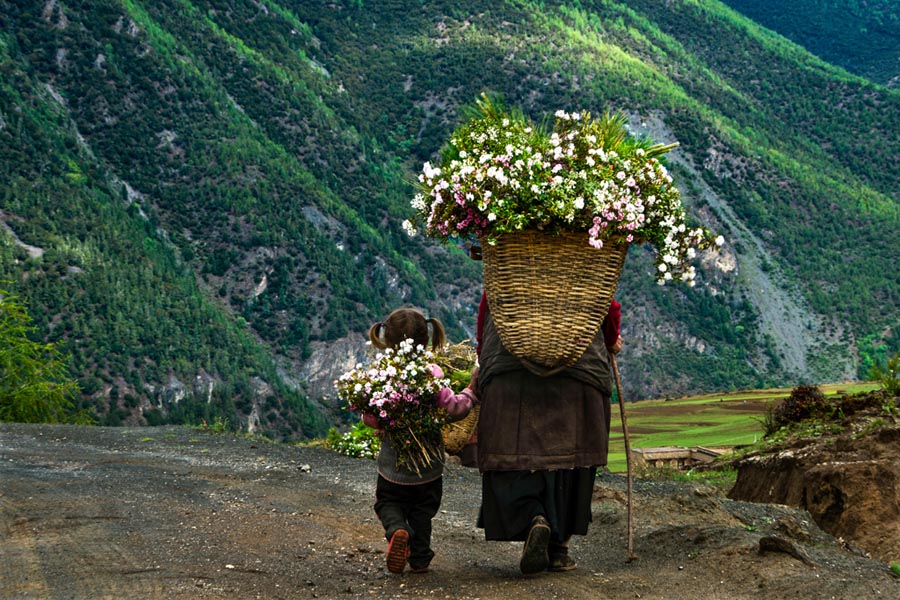 An elder and her granddaughter are pictured carrying home two baskets of flowers in Xiangcheng county, Garze in Sichuan province in May 2013. [Photo by Mo Dingyou/cpanet.org.cn]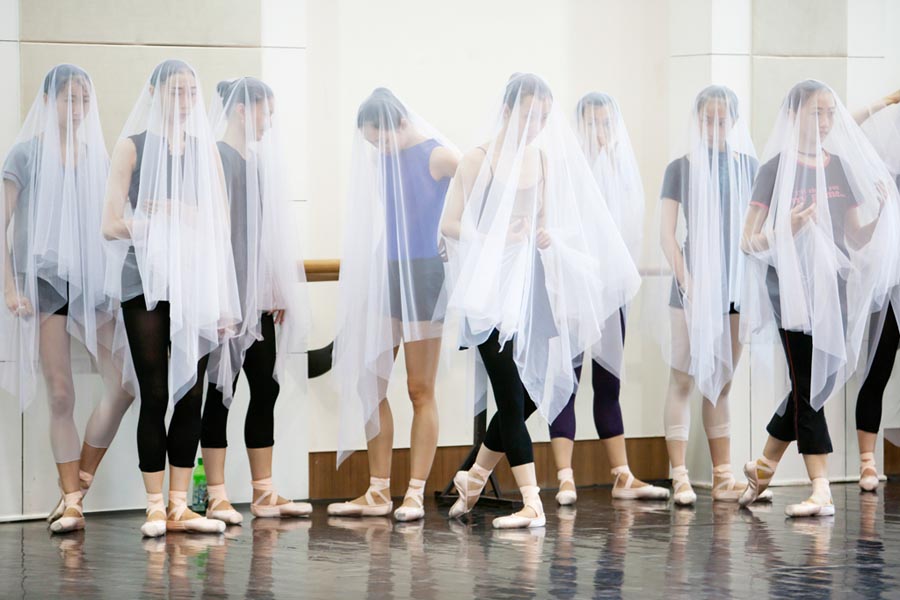 Dancers from the National Ballet of China rehearse for romantic ballet Giselle on Aug 25, 2006. [Photo by Liu Yang/cpanet.org.cn]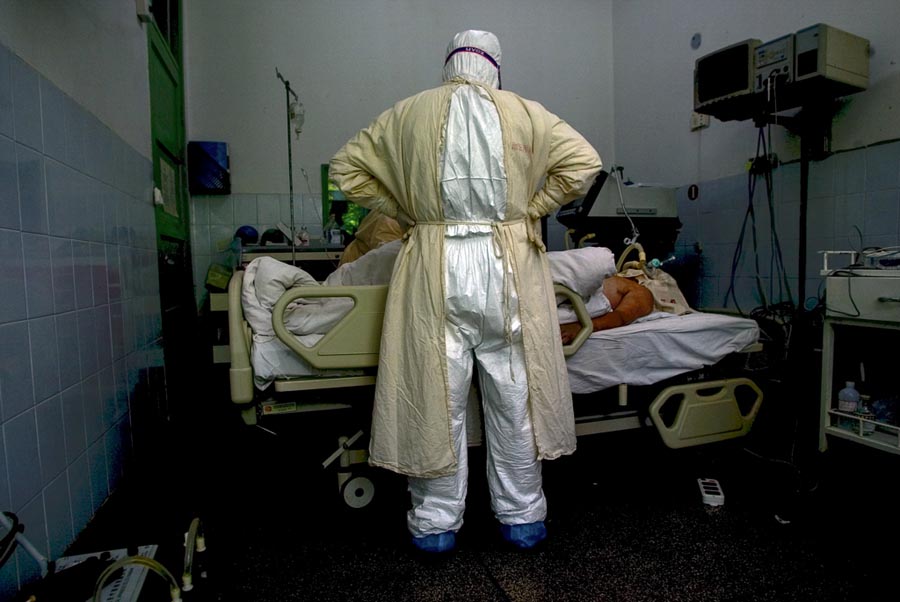 A doctor stands in front of a patient who died of SARS on April 30, 2003. The SARS outbreak in China lasted from late 2002 to 2003. [Photo by He Yanguang/cpanet.org.cn]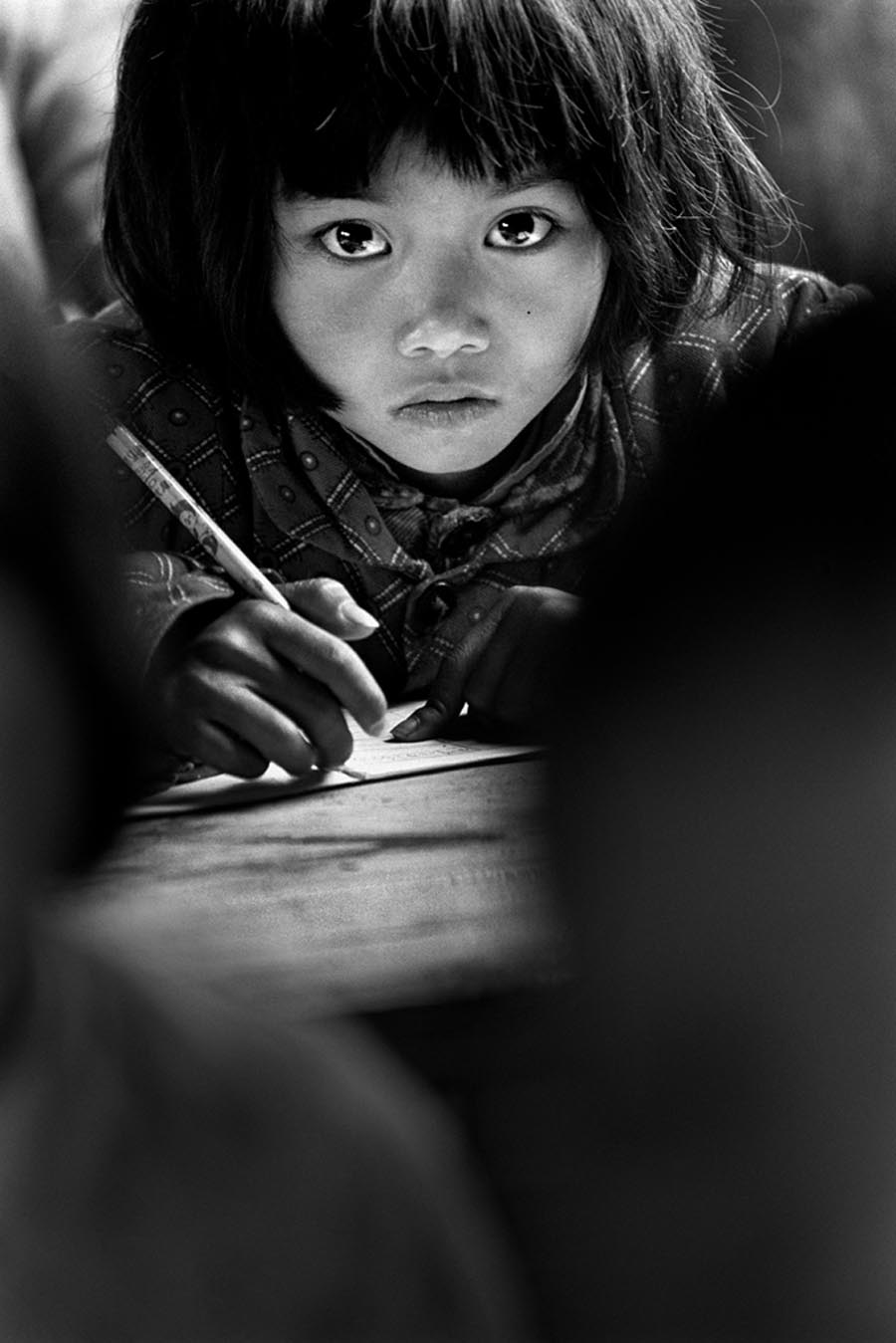 Eight-year-old Su Mingjuan became an overnight sensation in April 1991 when a photo showed her studying in a cold and shabby classroom in poverty-stricken Jinzhai county, East China's Anhui province - her hometown. Su had to walk some 12 kilometers to attend school. Her photo was widely used by media outlets, and later became a poster for China's Project Hope charity to help children in need. [Photo by Xie Hailong/cpanet.org.cn]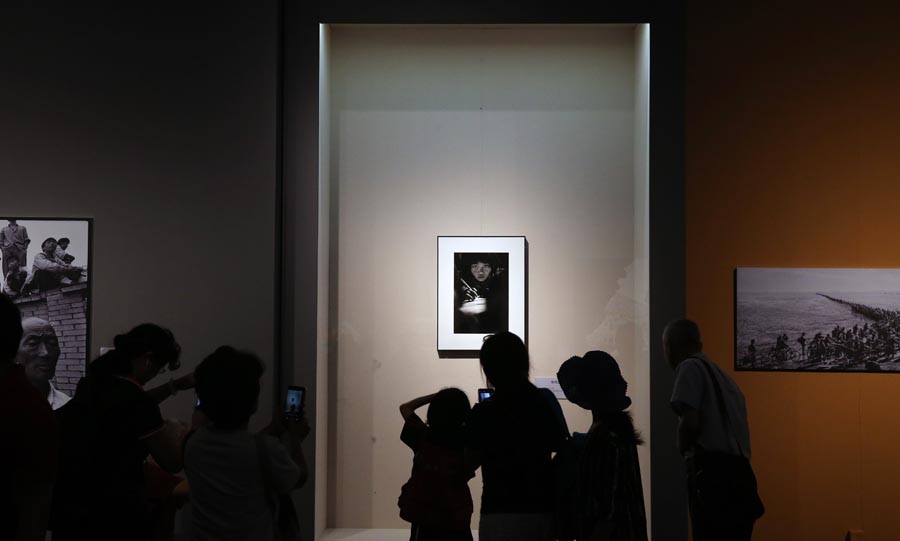 Visitors look at the iconic poster for China's Project Hope charity at the National Museum of China in Beijing on Aug 30, 2018. [Photo by Jiang Dong/China Daily]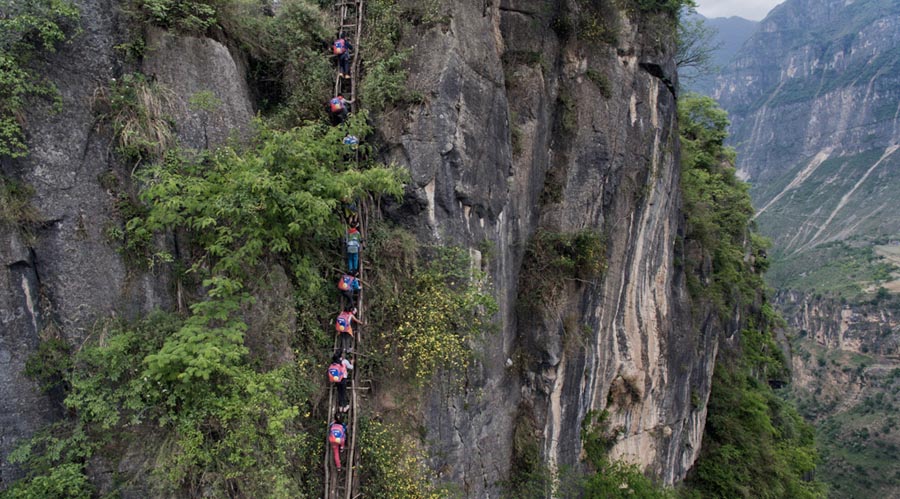 Atuleer village in Zhaojue county, Liangshan Yi autonomous prefecture of Southwest China's Sichuan province, is a genuine "cliff village", 800 meters above the ground. In May 2016, 15 children were pictured climbing down 17 rattan ladders, accompanied by their parents, in order to attend school. [Photo by Chen Jie/cpanet.org.cn]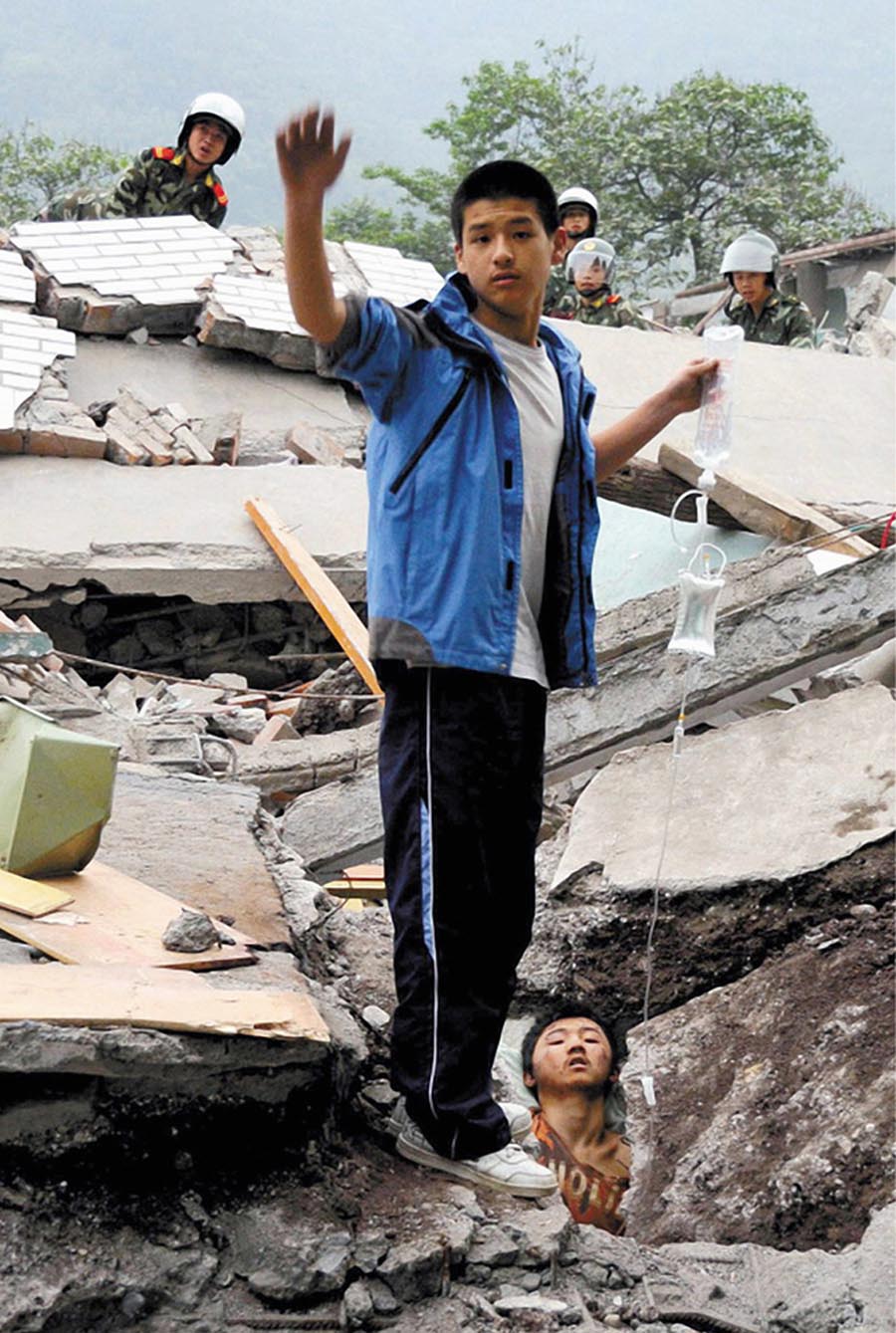 A heart-wrenching photo taken on May 13, 2008, shows Li Yang, a middle school student in Wenchuan, Sichuan province, holding an infusion bag for medical treatment of his classmate Liao Bo, who was trapped in ruins after the devastating Wenchuan earthquake. [Photo by Chen Xie/cpanet.org.cn]
A 1984 photo shows a man working at a construction site in South China's Shenzhen, China's first special economic zone in Guangdong province. [Photo by Zhou Shunbin/cpanet.org.cn]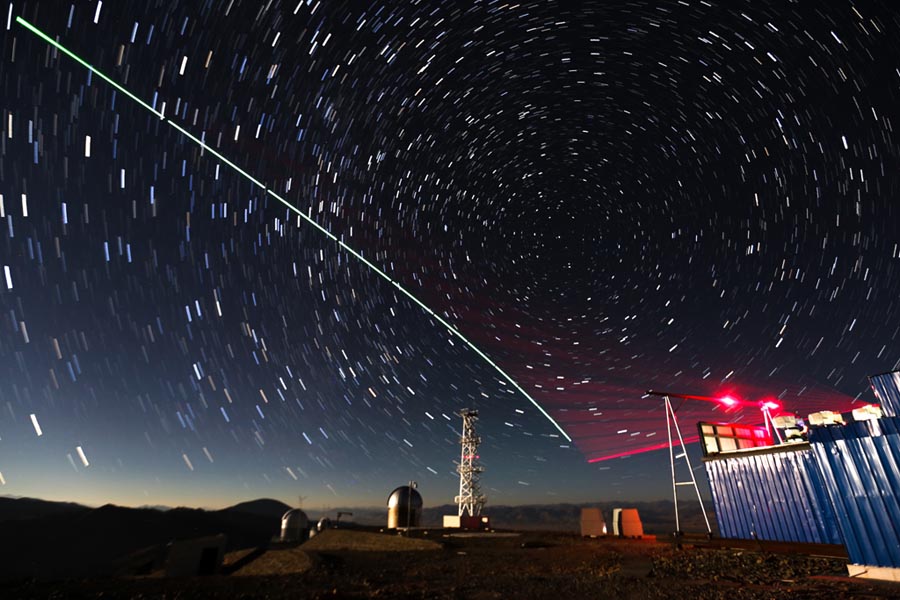 A photomontage of quantum teleportation between quantum science satellite Micius and a ground station in Ali, Tibet autonomous region, on Dec 9, 2016. [Photo by Jin Liwang/cpanet.org.cn]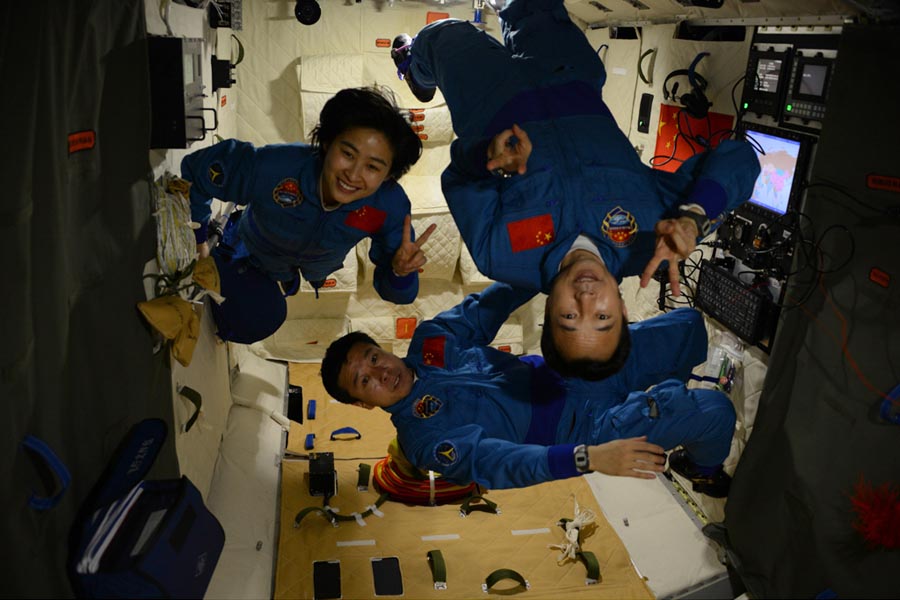 The crew of the Shenzhou IX takes a selfie in the craft on June 27, 2012. [Photo courtesy of the Shenzhou IX crew/cpanet.org.cn]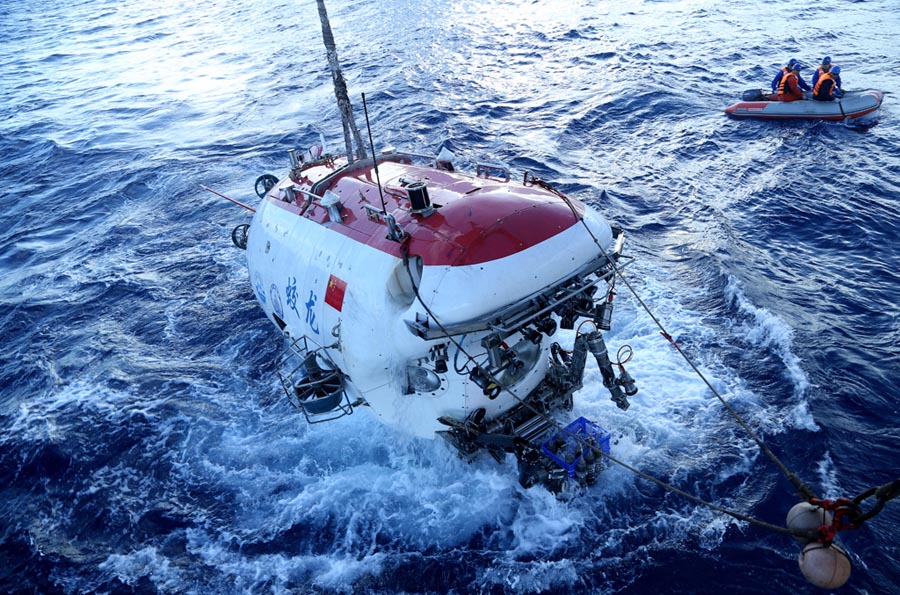 China's manned submersible Jiaolong is lifted from water after diving 6,583 meters below sea level on June 11, 2017. [Photo by Liu Shiping/cpanet.org.cn]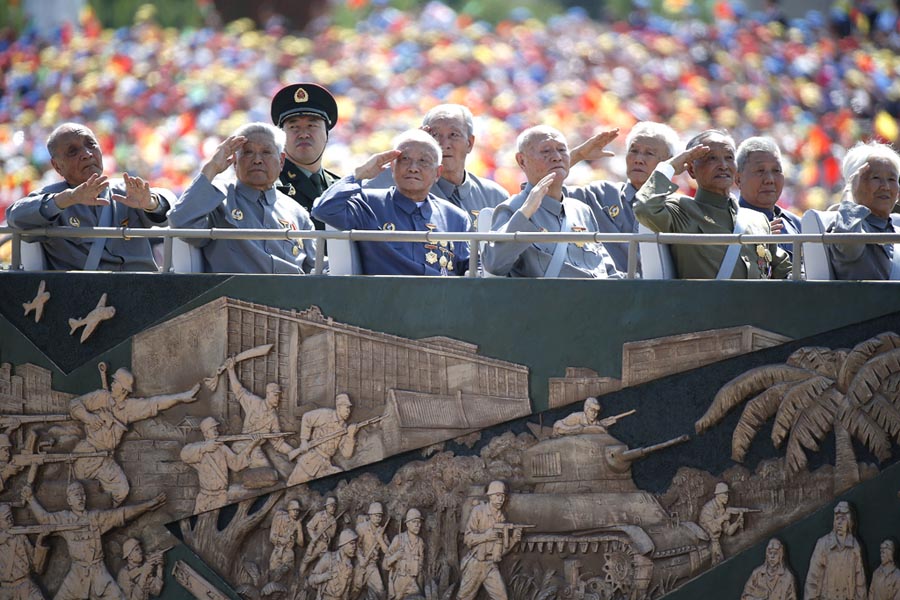 Veterans are pictured at China's V-Day parade celebrating the 70th anniversary of the victory of the War of Resistance Against Japanese Aggression and the World Anti-Fascist War, in Beijing on Sept 3, 2015. [Photo by Liu Zhankun/cpanet.org.cn]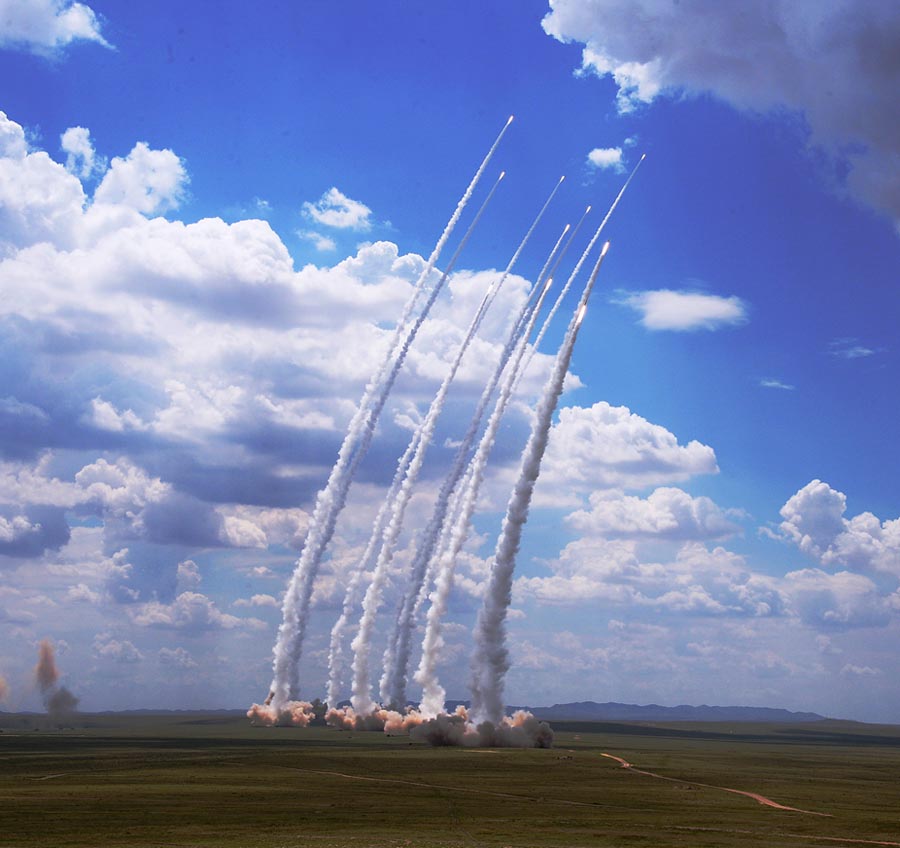 Missiles are fired in Zhurihe, Inner Mongolia on July 29, 2017, in a grand parade to mark the 90th founding anniversary of the People's Liberation Army. [Photo by Liu Jun/cpanet.org.cn]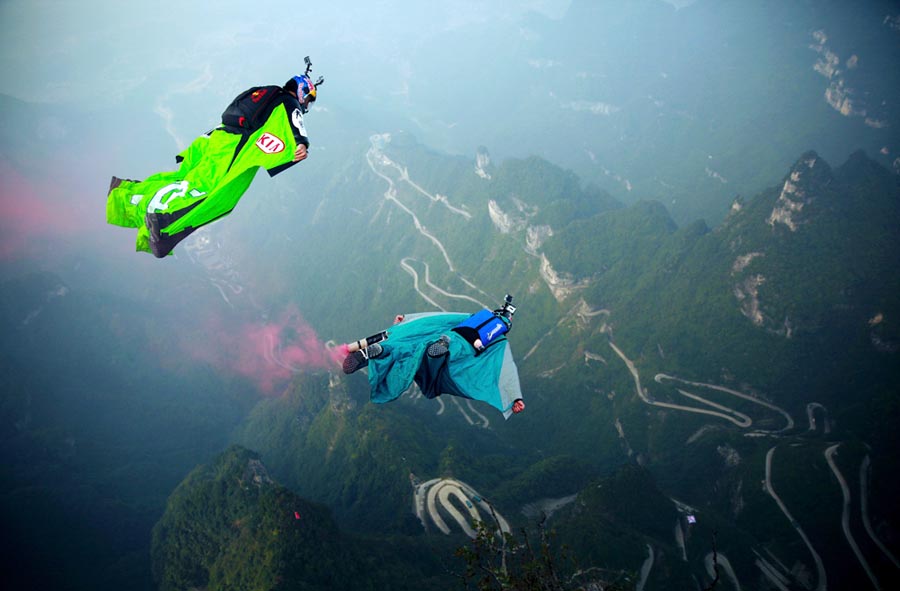 Daredevils compete at an international wingsuit flying competition at Tianmen Mountain in Zhangjiajie, Hunan province in October 2014. [Photo by Zhang Xueqin/cpanet.org.cn]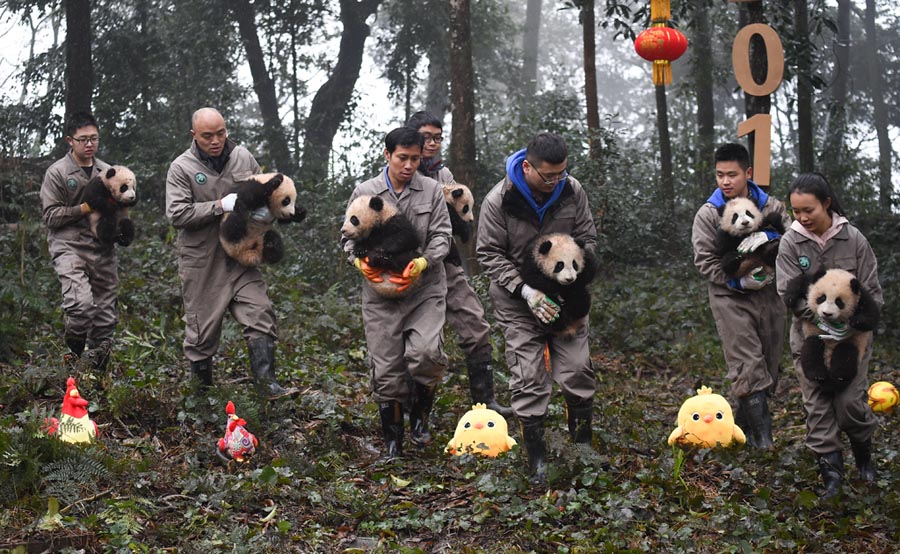 Eight baby pandas meet the public at a panda research base at Bifeng Gorge in Ya'an, Sichuan province on Jan 11, 2017. [Photo by Xue Yubin/cpanet.org.cn]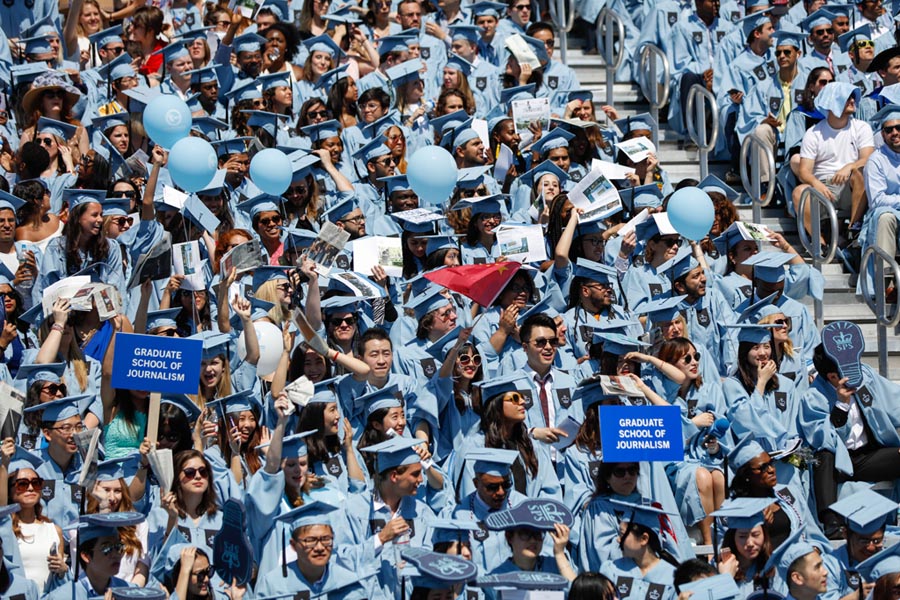 Two Chinese students wave the national flag of China at the graduation ceremony for postgraduate students at Columbia University in New York on May 17, 2017. [Photo by Liao Pan/cpanet.org.cn]


Presented by Chinadaily.com.cn Registration Number: 10023870-7
Copyright © Ministry of Culture, P.R.China. All rights reserved