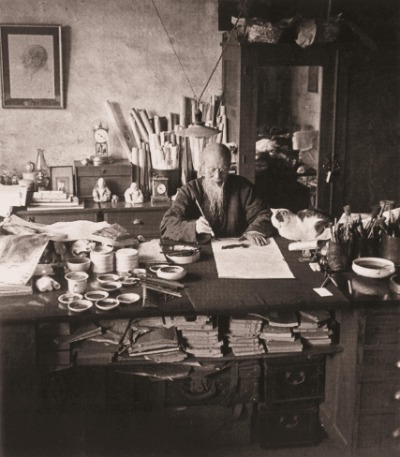 Qi Baishi paints at his Beijing residence, accompanied by his cat.[Photo provided to China Daily]
Qi Baishi's landscape paintings are ruling the exhibition circuit in China decades after being criticized for not following convention, Lin Qi reports.
Qi Baishi, the late ink artist, won the hearts of generations of Chinese with his paintings in two main styles - gongbi, where details of the subject are captured by brush strokes, and xieyi, a more sketch-like approach. His works depict butterflies, bees, dragonflies and birds in the gongbi style, amid flowers, fruits and vegetables in the xieyi style.
Yet Qi (1864-1957), who had a successful career in the flower-and-bird genre, was criticized for his landscape pieces for not conforming to the conventional style that Chinese painters before him followed with their mountain-and-water paintings. Qi once said that he faced "strong disapproval from mainstream artists, which nearly made me quit".
But today his landscape art is being recognized by both artists and collectors. In fact, one such piece, Twelve Screens of Landscapes, fetched 931 million yuan ($135 million) at a Beijing auction in December, making it the most expensive Chinese artwork ever sold. Three of his five top paintings sold at auctions were landscapes, too.
The Twelve Screens of Landscapes is actually an album of paintings that he completed in 1925 and gave to a doctor who had treated him for a severe illness. After the auction record was made, some said they hoped that the market price of Chinese art would also rise.
Qi created three landscape collections, including this album, and completed the first, which was commissioned by a salt trader in Jiangxi province in 1900. The location of this collection is unknown. In 1932, he completed the third and last collection as a gift for Wang Zanxu, a military officer in Sichuan province who had been collecting his art for a long time. In return, Wang helped with Qi's travels in Sichuan for several months in 1936.
Compared with the record-setting collection, the paintings given to reward Wang's consistent sponsorship, titled Twelve Screens of Landscapes in Four Seasons, demonstrate Qi's further progress in brushwork during the 1930s. The paintings, each measuring 1.38 meters long, depict the changing scenery of the seasons. They are now in the collection of the China Three Georges Museum in Chongqing.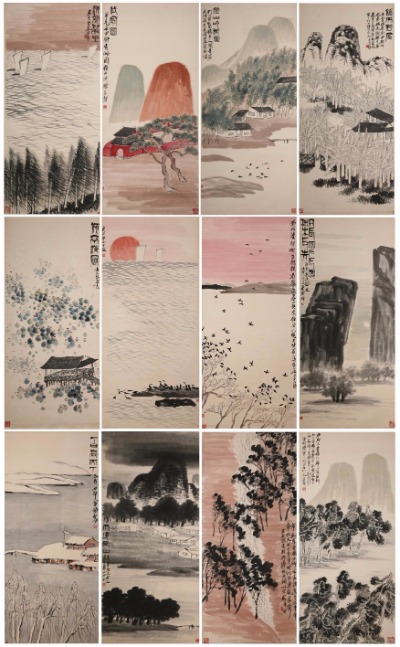 Qi Baishi's iconic painting, Twelve Screens of Landscapes in Four Seasons, is shown at the Art Museum of the Beijing Fine Art Academy.[Photo provided to China Daily]
As part of an effort to increase people's understanding of Qi and his art, the Twelve Screens of Landscapes in Four Seasons collection was transported from Chongqing to Beijing, where they are now on show at The Landscape in Mind Surprises the World, an exhibition at the Art Museum of Beijing Fine Art Academy that runs through Sept 23.
Sharing the limelight at this exhibition dedicated to Qi's landscape art are dozens of major works, sketches and drafts from several institutions, such as the Beijing Fine Art Academy, the Palace Museum and the Liaoning Provincial Museum in Shenyang that boast rich collections of Qi's artworks.
The record-breaking sale has ignited people's interest in learning more about Qi, prompting a number of well-curated exhibitions at home and abroad. Besides the exhibition at the Art Museum of the Beijing Fine Art Academy, a show of Qi's art is being held at the Palace Museum through Oct 8.
Wu Hongliang, director of the Art Museum of the Beijing Fine Art Academy, says the museum will exhibit the academy's collection of Qi's works in Liechtenstein and Japan within the year.
Qi became the academy's honorary head when it was established in 1957. He died a few months later and his family donated a number of his works and collections to the academy.
Wu says Qi endeavored in the realm of classic Chinese art - he was adept at painting, calligraphy, poetry and seal carving - and his moves to reject the highly formulated styles popular at the time were "spontaneous with similar movements in Europe in the early 20th century, such as post-impressionism and fauvism".
"I wonder how Qi would feel in the next world," Wu says, joking, "if he knew his works were going places today?"
The master would have felt pleased, as traveling brought significant changes to his landscape works. He undertook five separate journeys across the country between 1902 and 1909, famously known as "five outings and five returns", which inspired him to develop his own individual style.
When Qi set out to visit a friend in the north of China, he was a father of three children, who felt discontented with a potential future as a rural painter in his native Hunan province.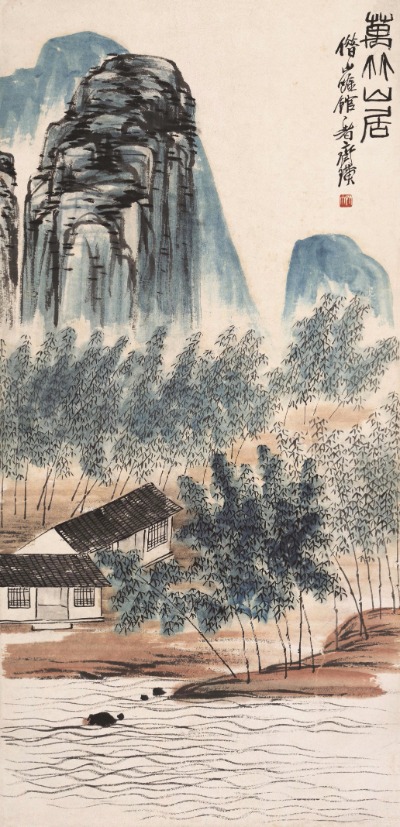 Qi Baishi's iconic painting, Houses and Bamboo, is shown at the Art Museum of the Beijing Fine Art Academy.[Photo provided to China Daily]
His extensive travels over a seven-year period afterward covered major cities, including Xi'an, Beijing, Tianjin, Shanghai, Guangzhou and Hong Kong.
Before the trips, Qi taught himself to paint by learning from Jieziyuan Huapu, a standard manual on Chinese ink painting, and copied the works of great painters from centuries ago.
Nature invigorated him, liberating him from the restraints of conventional rules. He gradually reduced the heavy layering and shading of the subjects and instead applied as few strokes as possible to reinforce the serenity and purity of the natural scenery. He quit using a long-favored monochromatic style and adopted a vibrant palette to convey the vitality of nature.
He rediscovered himself among the mountains and rivers. Even though his depiction of objects didn't look delicate enough to meet the standard approaches he had learned from painting manuals, he continued to convey his feelings through his art.
After returning from his final trip, Qi produced two collections of landscapes, Twenty-four Scenes of Shimen and Jieshan Tu, which show his initial experiments with a new approach. They are both on show at the ongoing exhibition at the Art Museum of the Beijing Fine Art Academy.
"I want to borrow from nature," he had once said of the subjects he painted.
Qi's paintings have led the audiences, whether in the past or the present, into the panorama of nature and introduced them to a Chinese cultural spirit that emphasizes a return to natural simplicity.
His paintings also reveal that he remained positive and peaceful, says Mei Mosheng, a painter and researcher at the China National Academy of Painting.
"He lived a long life, being genuine, simple and diligent."
If you go
9 am-5 pm, closed on Mondays, through Sept 23. 12 Chaoyang Gongyuan Nan Lu, Chaoyang district, Beijing. 010-6502-5171.